Top 10 Tower Speakers: $3,000 or Less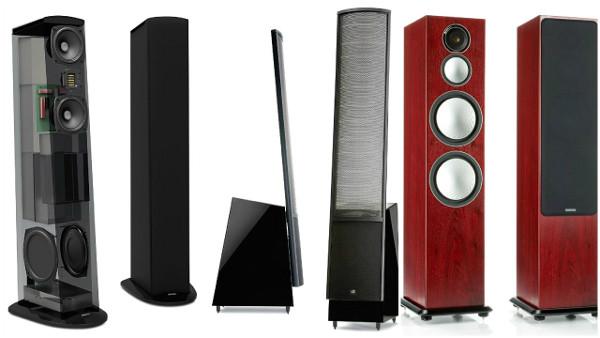 Floorstanding "tower" speakers have been the darlings of audiophiles forever. It's no wonder: The best towers deliver dynamic, full-range sound with exceptionally well-integrated and powerful bass, along with the neutral midrange and detailed high-end and air you can expect from any well-designed smaller speaker. Towers can stand on their own or serve as the centerpiece of a kick-ass home theater, and many can eliminate the need for a standalone subwoofer on much music or even movie content.
We've compiled a list of 10 top performing towers for your consideration and offer a rationale for why each model made the cut along with a link to the original review (just click on the speaker name/model number). Per-pair prices start at $1,400 and scale up to three grand with several models in the $2,000 range. You really can't go wrong with any of these speakers.
GOLDENEAR TECHNOLOGY TRITON SEVEN: $1,398/pr
(reviewed as part of a multichannel home-theater setup, November 2013)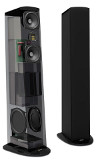 If you're in the market for a small tower, it's hard to beat the value proposition of the GoldenEar Triton Seven. The newer, slightly larger Triton Five ($1,998/pr) will give you similar performance with deeper bass (an S&V-measured –3dB point at 49 Hz vs. 62 Hz), but if a powerful low-end without a separate sub is your end goal, the self-powered Triton Three tower (–3db@27 Hz, described elsewhere in our list) shares the same sonic profile. All the Tritons are defined by an essentially flat response that rises slightly in the highs, but it's the delicacy, transient snap, and imaging of the company's proprietary magnetic-planar folded ribbon tweeter that makes them special.
PARADIGM MONITOR 11: $1,598/pr
(reviewed as part of a multichannel home-theater setup, SoundandVision.com, October 2013)

We've got to hand it to Paradigm: the latest update of its long-running Monitor series has brought the line to new heights for a new generation of listeners. At less than $1,600 for the pair, the Monitor 11s deliver excellent bass (we measured the –3dB point at 42 Hz) and a truly crisp high end delivered by a 1-inch aluminum dome tweeter that's been tuned for a little peak around 15 kHz. Reviewer Tom Norton evaluated these as the centerpiece of a full Paradigm Monitor theater system, praised for its "excellent value" and "immensely satisfying" performance with music and movies.
Definitive Technology BP-8060ST: $1998/pr
(reviewed as part of a Dolby Atmos home-theater setup, January 2015)

Definitive Technology makes some outstanding late-generation towers, among them the new flagship Mythos ST-L ($4,998/pr) introduced last year. But the BP-8060 ST, based on a 2011 update of one of Def Tech's early and most iconic designs, not only remains in the line but represents a unique proposition among today's tower offerings. First and foremost, it's a bipolar speaker that radiates sound from both the front and back baffles of the speaker. This makes it sensitive to room placement—you'll ideally want it out a bit from the back wall so the rear soundfield has room to bloom. But if you have some flexibility with placement, you'll be rewarded with a remarkably deep, three-dimensional soundstage that few speakers can match, especially at this price point. Second, these are powered towers that play down to a measured 39 Hz prior to room reinforcement. Third, if you're using them in a full home theater system (as we did), they can be upgraded at any point to be Dolby Atmos-enabled by adding the company's beautifully integrated A60 caps ($499/pr).