TiVo Series3 HD Digital Media Recorder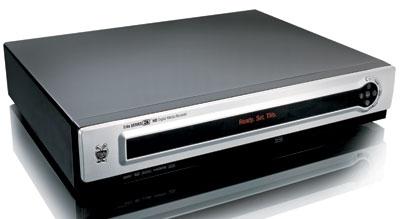 Despite their award-winning graphic interface, TiVo digital video recorders have been losing ground to the DVRs supplied by local cable companies, in part because TiVo couldn't record HDTV programs from cable TV. Now the brand that replaced the phrase "to tape" is playing catch-up: Its new recorder can save two high-definition shows at once either from cable or over the air, even as you play a previously recorded program. Its 250-gigabyte hard drive can store up to 32 hours of high-def programming or 300 hours of standard-def.
The TiVo Series3 HD Digital Media Recorder contains slots for two CableCARDs, which you can lease from your cable company for about $1.75 each per month (at least in my area). Each card decrypts all the digital channels you subscribe to, including premium channels, though you'd still need a separate tuner from your cable company to access video-on-demand.
The Series3 is the most capable and attractive DVR yet. With six tuners (two analog, for conventional terrestrial stations or analog cable channels; two ATSC, for terrestrial DTV; and two digital cable), the Series3 is compatible with everything except satellite. The OLED display on its front shows the names of programs being recorded, and the 36-button remote is completely backlit. This is also the first DVR to be certified by THX, an assurance program for audio and video quality.
SETUP The main difference between a Series3 and previous models is those CableCARDs, which have to be installed by your cable company. That experience can vary: S&V got white-glove service from Time Warner in New York, but even so, it took a couple of days to iron out all the kinks.