TiVo Series 2 DVR
Photos by Tony Cordoza
We've been raving about the pleasures of TV viewing using a video hard-disk recorder (HDR) since 1999, the year TiVo debuted. Now owners of Series2 TiVos who live in a home equipped with a wired or wireless network have a new reason to cheer: TiVo's Home Media Option. Besides all the old tricks of pausing a "live" TV show or having TiVo record every episode of American Idol, you can now watch a show on the TiVo in your bedroom even though it was recorded on the one in your living room. In addition, you can use TiVo to play MP3 songs or view photos stored in a computer on your network. And if you're away from home, you can use the Internet to tell your TiVo to record a show.
Slippersnet, the low-tech way of shuffling a videocassette or disc from, say, living room to bedroom, works flawlessly for removable media when you own multiple VCRs or DVD players. It's not so easy when your favorite shows are stored internally on a fixed hard-disk drive. The Home Media Option lets you access any program stored on another TiVo within your home. (You can't send programs over the Internet, however.) The option is available to owners of TiVo Series2 HDRs - also sold by Sony as the SVR3000 and previously available (now discontinued) from AT&T Broadband as the TiVo Series2 DVR (digital video recorder) - only after they've installed one or more recorders and subscribed to the TiVo service for each unit. (Pre-Series2 TiVo models don't have USB ports and are not compatible.)
You need to connect TiVo to a phone line to get it working when you take it out of the box, but once you've activated the Home Media Option, the phone hookup can be disconnected since the program guide and software updates are subsequently downloaded through your broadband (cable modem or DSL) connection and home network. To experience your digital photo and MP3 collections via TiVo, you'll need a PC running Windows 98 or higher on your network. (Macintosh support is expected later this year.)
Unlike ReplayTV's Models 4000, 4500, and 5000, TiVo Series2 models don't have an Ethernet-standard RJ-45 jack. TiVo claims that USB ports are more flexible since they can accommodate adapters for both wired (Ethernet 10/100BaseT) and wireless (Wi-Fi, or 802.11b) connections as well as future peripherals. Still, this does require you to buy an adapter, since none are included. TiVo recommends Linksys routers and adapters, and its online store offers only that manufacturer's USB to RJ-45 port and antenna adapters (for less than typical "street" prices for these products) - cautioning that other brands might not work with its recorders.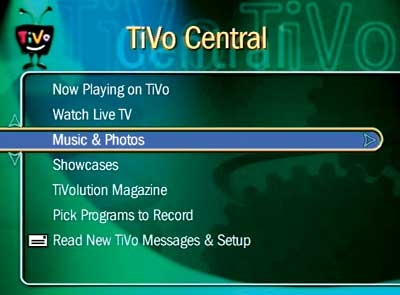 MP3 files and JPEG images stored on PC appear on TiVo's main menu.
Sound & Vision's new A/V test lab is equipped with cable-TV set-top boxes and Ethernet jacks in each of two ever-changing home theater setups. One currently houses a large plasma TV and the other a cozy flat-panel LCD set. A Linksys router, a DSL modem, and a PC server were already installed in a separate room. Because one TiVo was connected to the plasma TV and the other to the LCD set, I dubbed the first the Living Room TiVo and the other the Bedroom TiVo. The computer resided in the "home office," where I also attached a wireless access point (Linksys WAP 11) to the router for use in a Wi-Fi setup.
Fast Facts
KEY FEATURES • Transfers programs between TiVo recorders for viewing in different rooms • Plays MP3 files and photos from your PC • Streams selected online music and art from the Internet • Schedules recordings via the Internet

INPUTS/OUTPUTS composite/S-video, stereo, and RF inputs; two composite-video, S-video, two stereo, and RF outputs; two USB ports; serial and IR-relay ports; telephone jack

DIMENSIONS 15 inches wide, 3 inches high, 11 1/2 inches deep

PRICE $249 (40-hour model) or $349 (80-hour) plus $12.95 a month or $299 for lifetime of unit; Home Media Option, $99 for lifetime of first unit, $49 for each additional unit; Linksys 10/100 USB network adapter, $39; Linksys wireless USB adapter, $60

MANUFACTURER TiVo, Dept. S&V, 2160 Gold St., Alviso, CA 95002; www.tivo.com; 877-289-8486
My first step, though, was to plug each TiVo into the wired-only network. A TiVo menu screen provides a phone number to call to purchase the Home Media Option. After paying $99 for the first TiVo and $49 for the second, I was able to download and install the software on the PC. Then I went back to each TiVo and followed the guided setup on my TV screen to change the connection type from dial-up to network.
TiVo obtained its IP address automatically. For a field in which I didn't know what to type, the TiVo screen read, "Leave it blank if you're unsure." Then TiVo put up a screen that read, "These settings appear to be valid." I selected "Test Connection," and a few seconds later I was told, "Connection Succeeded." To my pleasant surprise, using the Living Room TiVo I was able to pull up thumbnail photographs from my Caribbean vacation stored on the computer and a list of programs previously recorded on the Bedroom TiVo. Amazingly, I never had to call TiVo tech support to get the Home Media Option working.
When you call up a program from a TiVo other than the one you're using, rather than simply streaming the program across the network for instant viewing, the Home Media Option first transfers it to the TiVo making the request - in other words, it copies it. As our tests (click to see "by the numbers") show, the transfer rate is highly dependent on the recording quality.
Transferring a show recorded at Basic or Medium quality does keep up with real-time viewing, even allowing you to fast forward through some commercials. But the picture quality reminded me all too painfully of VHS videotape. (The smearing of Jerry Orbach's tweed jacket as he turns toward his partner in a Basic recording of Law & Order was an eyesore.) You'll hit a wall, though, if you try to get ahead of a transfer in progress when a program has been recorded at High quality - the only compression rate I recommend, as it provides a good picture while still conserving some disk space.
For example, when I decided to watch a 2-hour High-quality recording of My Best Friend's Wedding from ABC Saturday Night at the Movies on the Bedroom TiVo, it took 113 minutes to transfer it from the Living Room TiVo, where I'd recorded it. Try to fast forward during a transfer, and inevitably you'll get stuck on a paused frame and the message, "Transferring more of the program. Please wait a moment, then press Play." Transfer rates turned out to be about half as fast when we replaced the Ethernet cables with wireless adapters.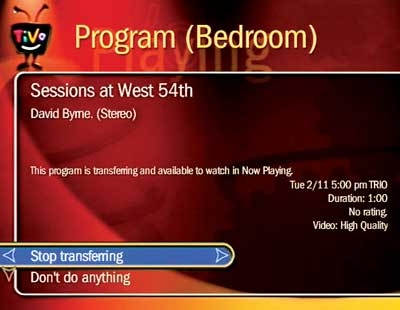 Just point and click to transfer a show from one TiVo to another.
TiVo does not support faster protocols, and a technical product manager suggested that users simply begin transferring a program well ahead of watching the show. Incidentally, if you begin watching a show on your living-room TiVo and decide to retire to the bedroom, you have the option of transferring just the unviewed portion to the TiVo there. In any case, it's a good idea to brush your teeth before pressing play.
Setup of the Wi-Fi version was fairly painless. Once I attached the soap-bar-size wireless USB adapters to each TiVo, lifted their 3-inch antennas, and punched in the name of the wireless access point, the two TiVos found each other's programs as well as the photos and music on the PC. They lost each other by the time I came back the next day, but I was able to get the Wi-Fi network running again by simply disconnecting and reattaching the AC adapter on the access point.
Wi-Fi is an attractive alternative to pulling cables through walls or floors, and TiVo expects the majority of its networked users will take that approach. In our setup, one TiVo antenna was about 40 feet away from the access point and the other about 18 feet away. System screens on each unit indicated 85% signal strength. According to TiVo, units can be placed up to 300 feet away. Depending on where network connections are available in your home, one TiVo could be wired and the other wireless. We were able to transfer programs that way, too.
In bringing up my list of more than 100 MP3 song titles, the snap-to-the-screen difference between wired and wireless was about 2 seconds. Once the music or slide show started playing, though, there were no interruptions with either setup. Unfortunately, the only way I could view my palm-tree beach pictures while listening to a playlist I'd put together that included Katrina & the Waves' "Walking on Sunshine" and Sheryl Crow's "Soak Up the Sun" was by turning up the volume from the TiVo in the other room. The product manager admitted that being able to view slides with music was near the top of a future-improvements list.
HIGH POINTS Networked TiVos let you train each one for different tastes but still share programs.
Network setup is easy.
LOW POINTS Can't serve up music and photos at the same time.
Program transfers can be very slow.
The Home Media Option also provides some online music and image content selected by TiVo. I was able to listen to the scant half-dozen songs available from Universal Music. Streamed directly from the Internet, the tunes could not be recorded on my TiVo. Similarly, seasonal photographs and some French Impressionist paintings from the Corbis Collection could be viewed but not saved.
One of the niftier new features is the ability to program your TiVo when you're away from home to record a show up to 20 minutes before the start of the broadcast. I logged into the Manage My Account page at TiVo.com from a computer across town and succeeded in having the Living Room TiVo save a game show due to start in 35 minutes. I also programmed the Bedroom TiVo to save Watching Ellie, slated for broadcast that evening. In the interim, I received an e-mail confirming that the program had been added to TiVo's To Do List. Very considerate.
Having a pair of TiVo recorders in a two-person household has a side benefit. Because TiVo can be trained to fill up its hard drive with programs it thinks you might like, there's always the problem of conflicting tastes. Finally, one TiVo can be customized to record heroine-in-distress tear jerkers, while the other can owe its allegiance to the History Channel. If two TiVos and a bridge between them can't bring domestic bliss to a TV-battling household, nothing will.