TiVo Coming to Comcast DVRs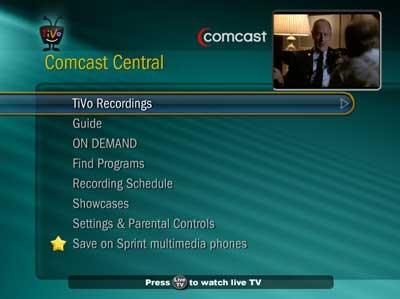 TiVo will be available on Comcast Cable DVRs
January 10, 2007 - TiVo service inside Comcast-leased cable boxes was supposed to begin last fall. Now, with trial deployments finally underway, the service is expected to be offered from the nation's largest cable operator later this year.
TiVo demonstrated the service on a Motorola 6400-series dual-tuner high-def DVR to Comcast executives in a private room at CES. Unlike the Series 3 HD Digital Media Recorder that TiVo sells to consumers, the 6400 models don't use CableCARDs. Since many of those Motorola boxes are already in viewers' homes, and the TiVo software is downloaded, TiVo says the cable company saves money by not having to roll a truck to subscribers' homes. Also, unlike the Series 3, video on demand is accessible, which makes the cable company happy since it can derive extra revenue from you.
In the demo, TiVo's search and WishList functions worked across cable channels and VOD offerings. Unlike the Series 3, the Motorola box doesn't receive over-the-air broadcasts, and the 30-second quick-skip button cannot be activated.
TiVo also has an agreement with Cox, another cable operator, to offer its software as a premium service. Pricing for TiVo on leased cable boxes hasn't been announced.