Tech Trends 2012: The TV Report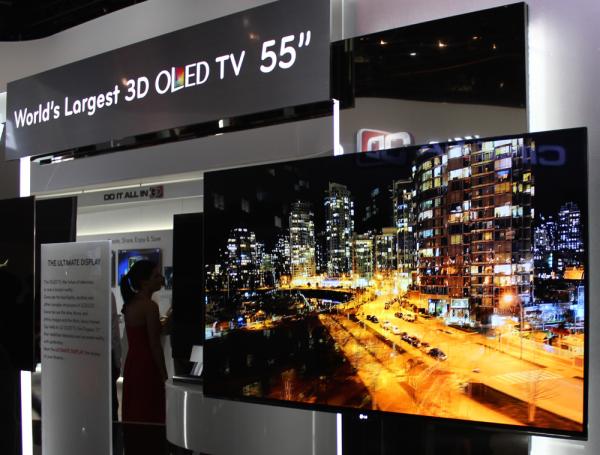 INEVITABLY, WHEN something cool comes out, it will influence everything that immediately follows. That's what happened with Avatar. In 2009, we all went to see it in 3D, and the following year stores were packed with 3D TVs and 3D Blu-ray players. (But, fatefully, no Avatar Blu-ray 3D discs.) The consensus on 3D TV since has been that consumers think it's, um, interesting, but maybe not so interesting that they need a new TV. No worries: TV makers have been hard at work coming up with new technologies to dazzle us — and to part us from our hard-earned cash.
At the CES 2012 trade show, which runs like clockwork every January in Las Vegas, there was plenty of evidence of the TV makers' industriousness. The most compelling displays were the wafer-thin (around 4 millimeters) OLED sets in the LG and Samsung booths. There were also a surprising number of 4K-rez screens — behemoths packing four times the number of pixels found in current 1080p HDTVs. And lest you think that 3D TV has left the room, almost all of the sets on display at CES — even the OLED and 4K models — were 3D-capable. Some didn't even require glasses.
OLED Arrives
After years of peering at small-screen OLED prototypes at CES, I was surprised to see 55-inch OLED TVs from Samsung and LG. These are on track to ship as real consumer products — LG's 55EM9600 even has a model number. Both OLEDs are 3D-capable 1080p displays measuring only a few millimeters thick. The differences are that LG's set uses passive 3D tech, while Samsung's uses active. Also, while the sub-pixels in Samsung's Super OLED panel are generated by individual red, green, and blue emitters — sans color filtering, which Samsung says cuts down on brightness — LG's version, which employs "white" emitters, uses RGB color filters with a white sub-pixel added to each triad. (Also said to enhance brightness.) No prices were announced for either set, but expect to pay somewhere in the $8,000 range if and when they arrive later this year.
4K: Up and Away
1080p-rez HDTVs offer plenty of pixels for the needs of most folks. So why were there so many 4K-resolution screens on display at CES? It's because TV makers obviously have the technology to produce them. And they're also assuming that there are enough early adopters willing to buy them — never mind the inconvenient fact that native 4K content doesn't exist in a consumer- friendly format. (No related news came out of CES on that front, either.) So, for the time being at least, 4K TVs will have to upconvert 1080p-format Blu-ray and 1080i/720p-format HDTV signals to fill all those extra pixels.
Among the 4K TVs was LG's Ultra Definition LM9600 Series model, an 84-inch, 3,840 x 2,160-rez LED that uses passive FPR (Film Patterned Retarder) tech to display 3D. Passive 3D on a 4K display actually makes a lot of sense since it gives you full 1080p resolution per eye, same as with active 3D tech on a 1080p TV. I managed to spend some time in front of the LM9600 soaking in its 3D image, which was crisp, bright, and free of the artifacts I encountered in last year's test of LG's first-gen passive 3D TV. No ship date yet, but LG says it also has plans to release Ultra Definition TVs in 60- and 72-inch screen sizes.
Other companies displaying 4K TVs at CES included Vizio, which showed its own 84-inch/3,840 x 2,160-rez/passive LED model, and Sharp, which ran side-by-side demos of 1080p- and 4K-rez TVs. Both sets in Sharp's demo showed the same 1080p content to reveal how even 4K upconversion can improve picture quality. (It did.)
Beyond 4K
CES is part cool stuff and a big part flat-out hype; it's rare to stumble upon a future-tech demo that makes your jaw drop. But Sharp's 8K demo was one thing that stood out from the rest. An 85-inch, 7,680 x 4,320-pixel display showed video sourced from an 8K "Super High-Vision" camera supplied by Japanese broadcaster NHK. The 1:1 pixel mapping (no scaling) resulted in a picture with stunning clarity that remained that way even during motion sequences. Why push 8K when 4K's still barely a blip on the radar? The answer to that question was hinted at in Sharp's nearby 4K-display demo: to create an image with enough dynamic range and detail to provide a "real-viewing equivalent to the natural world."
Google TV Redux
Yes, Google TV is back. (You didn't expect it to give up that easily, did you?) Version 2.0 popped up on a number of sets at CES, including models from LG and Vizio. (Samsung, too, reportedly plans to build the feature into select TVs.) Google TV 2.0 will also show up in Blu-ray players and standalone media receivers from Vizio.
Why should you care about GTV 2.0? Cloud-based gaming, for one: Vizio's V.I.A. Plus TVs will include the OnLive streaming service, which lets you play games like Assassin's Creed: Revelations and Batman: Arkham City from its 200-title library using wireless or USB-connected controllers. The Google TV-specific remotes that I checked out from LG and Vizio also looked like huge improvements over previous designs, physical interaction being key to a satisfying Web/ TV experience.
Hi, TV. . .
Company reps talking at TVs turned out to be a common sight at CES, with both Samsung and LG demonstrating Smart TV models that forego a traditional remote in favor of voice and gesture control. See Geoffrey Morrison's "Siri-ously Kinect-ed" for more info on the new TV control tech.
Big Impressions
Absurdly huge TVs have long been a standard item at CES, though these have mainly been rolled out for bragging rights. But at least one player is determined to go all-out huge with its 2012 LED TV line: Sharp. The company introduced more than 20 models with a 60-inch or larger screen at CES. Its Quattron 9 Series 3D LED models (available this summer), which will arrive in 60- and 70-inch sizes, are 240-Hz sets that feature full-array LED backlighting with local dimming and Quattron Quad Pixel Plus II technology. They also have built-in Wi-Fi and Sharp's new SmartCentral GUI.
Also forthcoming from Sharp is the Quattron 8 Series 3D LED line, slated to land this April in 60-, 70-, and 80-inch sizes. The 80-inch LC-80LE844U has a full array backlight, while the other sets are edge-lit. Otherwise, the feature set for all models is the same as for the Quattron 9 Series.
Plasma Paradise
New Panasonic plasma TVs are something we always like to hear about. For 2012, the company's Full HD 3D lineup includes four series: VT50, GT50, XT50, and UT50. The top-of-the-line VT50 models will arrive in 55- and 65-inch screen sizes sometime this spring. Features packed into the THX 3D-certified TVs include built-in Wi-Fi, Web-browsing capability, a new touchpad remote controller, and lightweight Bluetooth 3D glasses. And yes, according to Panasonic, you can expect even deeper blacks on this year's VT50 models courtesy of a new Infinite Black Ultra panel.
Also on tap from Panasonic are LED-backlit LCD models in screen sizes up to 55 inches. The line will be led by the WT50 Series models, which come in 55- and 47-inch screen sizes and are 3D-capable with built-in Wi-Fi. The company's LCD TVs have never inched above the 42-inch mark, so this year's supersizing means that it's moving beyond the try-it-and-see phase when it comes to LCD technology.
Where Is Glasses-Free 3D?
Toshiba's autostereoscopic 3D TV, a big attention getter at the last CES, was supposed to hit these shores by the end of 2011, but that never happened. Instead, the same set was on display again at this CES — reportedly on track to ship sometime in early 2012.
Here are the details for the uninitiated. Toshiba's glasses-free 3D set uses a 4K (3,840 x 2,160-pixel) LCD panel. A lenticular screen breaks the image up into nine "viewing positions," each of which shows a separate 720p-rez 3D image. A built-in camera can also be optionally enabled to track head movements and adjust the viewing sweet spot on the fly. The picture quality I observed in Toshiba's demo was definitely not up to the level of standard 3D using active or passive tech, but hey, no glasses were required. For some people, that fact alone will make all the difference.