Targus SoundUP iPod Sound Enhancer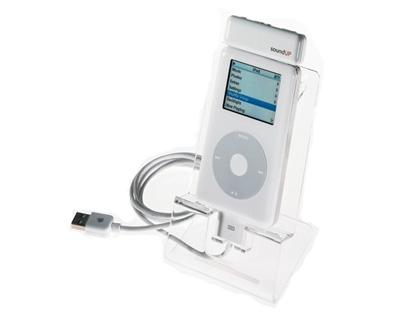 The compact Targus SoundUP iPod sound enhancer plugs into any third- or fourth-generation iPod or iPod photo and is said to "recreate studio-quality sound" from digitally compressed music. That's a big claim for such a little device - one we had to check out.
The Short Form
$30 / targus.com / 877-482-7487
Plus
•Fattens flat-sounding iTunes tracks •Smooths harsh-sounding iTunes tracks
Minus
•Alters mix levels of original recording
Key Features
•Dual headphone jacks •Remote pass-through connection •Processing-on/bypass switch •No batteries required
The SoundUP's enhancement is generated by Phantom Technologies' Ss3 processor, a circuit that derives "difference" channels by comparing out-of-phase information from the left and right channels in a stereo track. These get mixed back into the original left and right channels, which Phantom says can "restore the spatial qualities inherent in the audio."
Targus says that for best results you should use the SoundUP iPod sound enhancer with headphones having an impedance of 16 ohms (earbuds, mostly), but it seemed to work fine with my Sennheiser PX 200 portable phones - a relatively good 32-ohm set. The SoundUP's processing basically bring up the level of background instruments. The result was a fatter, more spacious, and not unpleasing sound, but it wasn't especially accurate - vocals were more buried in the mix than normal. Comparing a PJ Harvey track on CD with both a regular iTunes version and a SoundUP'd one, I found that the regular version sounded more faithful to the original CD. On the plus side, the processing helped mask some negative aspects of iTunes' compression, like a harsh, "hashy" tone often evident in the playback of high-hat cymbals.
BOTTOM LINE The Targus SoundUP iPod sound enhancer is an interesting idea, though I doubt joggers wearing earbuds really need "studio-quality" sound. Still, if you're willing to try anything to improve the sound of those 10,000 compressed tracks sitting on your iPod, the SoundUP is worth a listen.
LATEST VIDEO