Back to the '70s: Tannoy Legacy Series Speakers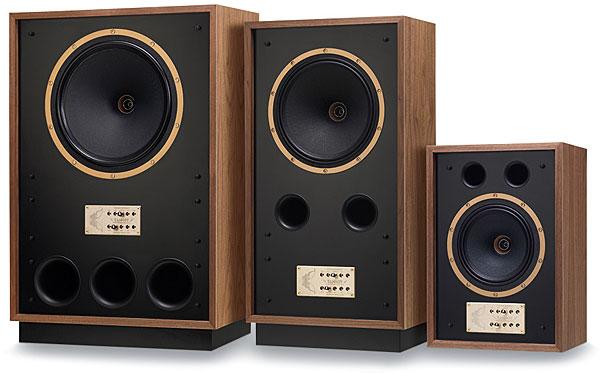 Do you feel like you're back in the '70s, when vinyl ruled and fashion was…well, let's just say, questionable?
There's a good reason for that: Tannoy's new Legacy Series is based on the popular High Powered Dual (HPD) Series released in 1974, the year after Pink Floyd mixed The Dark Side of the Moon at London's legendary Abbey Road Studios on a pair of newly installed Tannoy Lancaster monitors. Although substantially updated with the latest materials and driver technologies, all three of the Legacy models—Eaton ($5,500/pair), Cheviot ($6,500/pair), and Arden ($8,000/pair)—share something special with their predecessors: They're built around an updated version of the Dual Concentric driver Tannoy invented way back in 1947, two decades after Guy R. Fountain founded the company in London.
The latest generation of that famous driver—the only driver in each model—is a paper/pulp cone woofer with a Dual Concentric tweeter mounted in its "throat." Tannoy says the arrangement ensures that low and high frequencies are dispersed in a 360-degree pattern that follows the contour of the "tulip" waveguide surrounding the tweeter; the waveguide also acts as a phase plug and aids time alignment. Compared with the Dual Concentric drivers used in the original HPD models, the new versions have been substantially upgraded, resulting in lower distortion, higher sensitivity, and improved clarity. Updates include the use of an aluminum/magnesium alloy for the dome of the tweeter, said to extend response out to 30 kilohertz, an improved motor structure with a ferrite magnet and edge-would coils, and a sophisticated two-channel crossover network.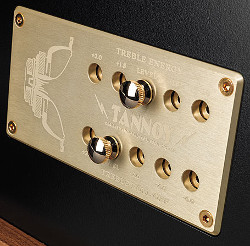 Honoring the heritage of the original HPD series—which was introduced to bring the sound of the recording studio to home hi-fi—the new Legacy models are handcrafted and quality-checked and tested at Tannoy's factory in Scotland. All are highly efficient—with sensitivity ratings of 89, 91, and 93 decibels—and boast a vintage-looking gold panel on the front baffle with settings for Treble Energy and Treble Roll Off, adjustable in 1.5- and 2-dB increments, respectively.
The primary difference between the models is size: The Eaton is a 21-inch-tall bookshelf model with a 10-inch driver and two ports; the Cheviot is a slender floorstander that stands 34 inches tall with a 12-inch driver and two ports; and the Arden is a 3-foot-tall floorstanding model with a 15-inch driver and three ports, a design said to ease room placement. If you're a fan of Tannoy, the new Legacy Series deserves closer inspection.