Talking Shop: California Soundworks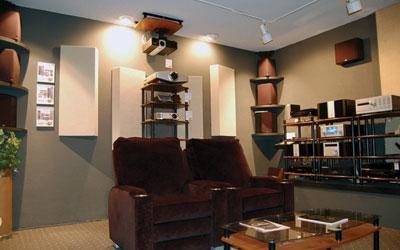 Like many other A/V stores, California Soundworks (californiasoundworks.com, 661-945-0971) started out as a home stereo store selling gear to audiophiles. That was back in 1979. Not long after, it jumped into the initial home theater craze by featuring a demo room with a Novabeam projector (an original three-tube front-projection unit by Henry Kloss) and Klipschorn speakers. Recalling that room, one of the store's founders, Rich Calande, chuckles: "It was the bomb."
Today, California Soundworks (based in Lancaster) is both a shop and an installer. The 7,000-square-foot store, offering home and car gear, now features three demo rooms. The largest includes a Sony 1080p projector, Lexicon and Rotel processors, and a screen by Stewart Filmscreen.
Calande says that being in a predominantly blue-collar area means that most of the company's installations are in the range of $10,000 to $15,000, although some jobs do run between $20,000 and $50,000. But the trend he sees now is simply that more and more people these days are interested in home theater, even if it's done in a modest fashion.
"Most people don't even realize how affordable big screens and projectors have become," he says. "Once we show them what's available and get someone interested, we have them work with our installation crew. To get a feel for what the customer really wants, we do an in-home consult. We conceptualize the whole thing, dial in further on the product, and go from there. And our forté is that we take care of people long-term."
For flat-panel TVs, Calande stocks models by LG, Fujitsu, Panasonic, Pioneer Elite, Sharp, and Sony. For speakers, he relies on Klipsch (because of its more modest price range) and, at the high end, B&W: "They redid their 600 Series, and that should be a big hit for us."
Like many other retailers, California Soundworks expects to face a number of challenges this year. "One of the biggest is the MP3 crowd and the iPod generation," Calande laments. "They just don't know what good sound is. It's our job to educate them."
LATEST VIDEO