System Builder: 2006 Dodge Ram 1500 ST Quad Cab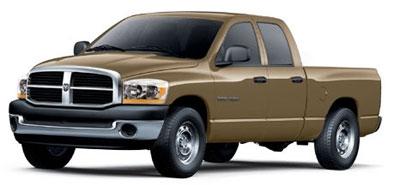 Americans love trucks. Whether they're for carrying stuff, commuting, or just cruising, pickups are so popular that they've been the best-selling vehicles in the US for almost 30 years. For this installment of System Builder, we picked the '06 Dodge Ram 1500 ST Quad Cab (sticker price: $22,050) for an audio-system makeover. The base model comes with a stock CD radio and four speakers, so we asked two shops - one in the big city of Chicago and another in the bayou country of Louisiana - to come up with $1,500 and $5,000 sound-system upgrades. One thing's for sure: Each Ram overhaul sure packs plenty of jam per dollar.
$1,500 Upgrade
The Setup
$160 Eclipse SE8495 6x9-inch four-way speakers (front doors) $100 Eclipse SE8355 5.25-inch three-way speakers (rear doors) $40 PowerAcoustik NB-1 1-inch tweeters $300 Two Rockford Fosgate P210D4 10-inch subwoofers $200 Custom subwoofer box $280 Planet Audio VX2004 amplifier $40 Two PAC SNI-15 line-output converters $90 Hooker Audio amplifier installation kit $20 Stinger Bass Blocker capacitors $270 Installation labor and materials
---
$1,500 TOTAL
Troy Bienvenu, owner of Music Vision in New Iberia, Louisiana, says he finds himself doing lots of OEM upgrades these days. "We mainly specialize in systems at around $2,000 and down," he confirms. For the Ram's $1,500 upgrade, Bienvenu dropped aftermarket speakers into the factory locations in the doors and added a set of tweeters to the A pillars. "We put the tweeters up high to help raise the soundstage," he notes. "They're surface-mounted, and then I'd pass the wire behind the A pillar trim panel."
For low bass, Bienvenu would build a custom box that fits underneath the back seat to house two 10-inch subwoofers. "All you'd see is a little bit of carpeting," he explains. "It integrates into the truck very nicely." A four-channel amplifier that powers all of the speakers (and takes the signal from the Ram's stock CD radio after it passes through a line-output converter) would be hidden under the driver's seat. "That leaves the passenger's side open if the owner ever wants to add another amplifier," Bienvenu observes. "It also has more room than the passenger's side, and it's easier to work on, especially when you're trying to dial in the setting on the built-in crossover."
Bienvenu would also add passive filters to fine-tune as well as protect the speakers. "I'll put a capacitor on the 6x9s, the 5.25s, and the tweeters to filter out any unwanted low frequencies," he says. "Plus, if the customers play with the crossover on the amp, they won't destroy the speakers."
As for future upgrades, Bienvenu says that adding a good aftermarket head unit (read: receiver) would bump up the price another $200 to $300. "Then," he adds, "you can add satellite radio and, depending on which radio you choose, an iPod." But of course.