Symbol Audio Modern Record Console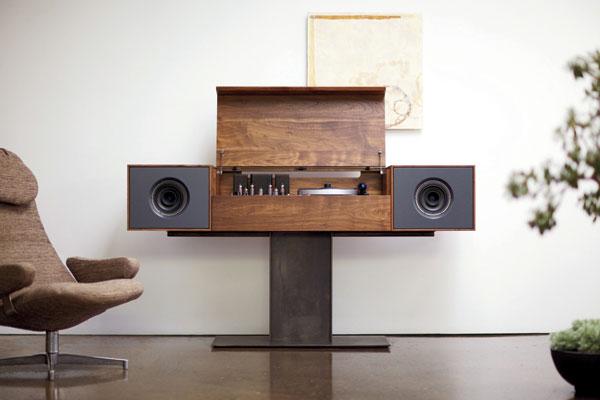 Visions of the Zenith (yes, Zenith) hi-fi console in the living room of my childhood home filled my head when I saw the Modern Record Console (MRC). The Zenith was simple in design with an AM/FM tuner and turntable under the lift-up top of a luxurious walnut cabinet with louvered speaker grilles. My parents listened to Herb Alpert and Dionne Warwick while I obsessed over
Abbey Road
, the album that launched my LP collection. My parents tolerated it—maybe even secretly liked it. Ah, but I digress…
The brainchild of Blake Tovin and Matt Richmond, the MRC is a sophisticated update of the classic hi-fi console that is handcrafted at Symbol Audio, the company Tovin founded in 2012. But this is not your (or my) father's console. With a price tag of $26,500, you fully expect the 66 x 18.25 x 34.75-inch system to be packed with serious audio componentry—and it is.
Inhabiting the solid walnut cabinet (available with white, gray, or black speaker fronts) are a Pro-Ject RPM 5.1 belt-driven manual turntable with a carbon-fiber tonearm and Sumiko Blue Point #2 moving-coil phono cartridge, a custom-designed 2 x 15-watt tube amplifier that feeds an unassuming pair of 6.5-inch full-range high-efficiency drivers, and an 8-inch subwoofer with its own dedicated 250-watt amplifier (both of which reside in the hand-patinaed steel pedestal that supports the console). The speakers are custom-engineered by Norwalk-based Omega and boast a sensitivity of 93 decibels SPL. The final component, an integrated preamp designed by ENG Vista of Queens, New York, lets you select phono, an auxiliary input, or the MRC's most modern touch—a Wi-Fi-based media streamer (Apple Airport Express or Sonos Connect—your choice).
"Owning an MRC is like owning a yacht in that each one is handcrafted and the experience of using it is transformative," Tovin says. "The MRC cultivates a deeper sensory connection with the music through rich textures, classic design, and pure playback." If you live in the New York metropolitan area, you can see the Modern Record Console at the Symbol Audio showroom in Nyack, about 25 miles north of midtown Manhattan.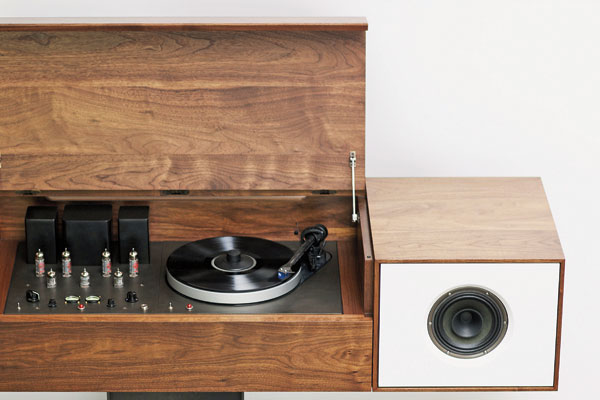 Symbol Audio • (845) 358-9430 • symbolaudio.com