SVS Launches 3000 In-Wall Subwoofer
The new SVS 3000 In-Wall subwoofer promises deep, chest-pounding bass. It is a state-of-the-art architectural subwoofer designed to seamlessly integrate into both existing rooms and new construction. It leverages active dual 9-inch high-excursion SVS-designed drivers and serves up an abundance of power and precision. The company says it "delivers massive output with pinpoint accuracy."
The system features two custom-designed, high-excursion 9-inch drivers enclosed in a discreet, sealed aluminum and MDF cabinet that's designed to fit in a standard sized stud bay.
SVS customized its award-winning Sledge amplifier platform for this system. The amplifier has 800-watts RMS and 2,500-watt peak power, Class D efficiency, and a programmable 50MHz Analog Devices DSP. The company says the 3000 Micro subwoofer's amplifier maintains high-current output, even during difficult low-frequency playback, without clipping or bottoming out.
Integrators will appreciate the flexibility offered by the 2U rack mount amplifier. The amp can power one subwoofer with 800 watts. For a more visceral low-frequency experience, or to fill a larger listening area, a single amplifier can also supply 400 watts each to a dual-subwoofer array. The amplifier's front panel has a built-in LED display and controls for p[programming the 3000 In-Wall subwoofer. You can also use the SVS smartphone app to adjust the sub.
SVS subwoofer DSP smartphone apps for Apple, Android, and Amazon devices offer convenient control and custom presets. Integrators can program one-touch presets for music, movies, gaming, and other listening modes. The 3000 Micro subwoofer also has multiple standby and wake-up modes for easy AV system integration.
The 3000 Micro subwoofer uses high-quality materials. Custom-formed aircraft-grade aluminum panels form 2.5mm-thick front and rear baffles around an MDF frame, creating a rigid, sonically inert driver enclosure. Even at high volumes, extensive front-to-back bracing eliminates cabinet resonances, claims SVS. The detachable magnetic grille is acoustically transparent and can be painted to match any decor.
Whether it's a retrofit or new construction, SVS ensured installing the 3000 In-Wall subwoofer is easy. It comes with a template for precise mounting hole cutouts. Screw holes can directly mount the enclosure to a stud. A template-equipped pre-construction kit is available for new construction. Crucially, the enclosure's resonance-free design produces clean, distortion-free low-frequency output.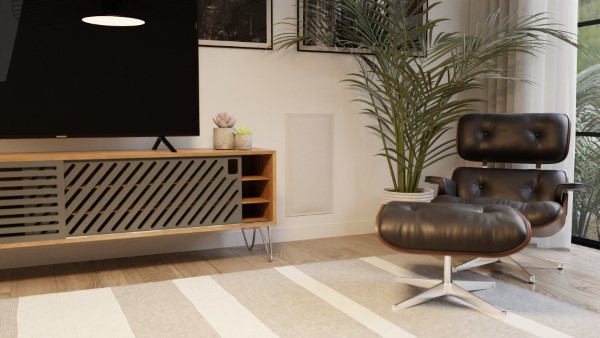 "The 3000 In-Wall subwoofer has been in development for quite some time from SVS because our engineers were never content with anything less than reference performance for this important category," said Gary Yacoubian, SVS President. "An architectural subwoofer that delivers truly breathtaking output with astonishing depth and accuracy, plus sophisticated tuning and control is a first. No more compromises for clients who want reference quality bass without taking up floorspace."
The SVS 3000 In-Wall Subwoofer is currently available through authorized SVS dealers, with an MSRP of $1,999 for a single-subwoofer system and $2,999 for a dual-subwoofer configuration.
For more information, visit svssound.com