S&V Valentine's Day Picks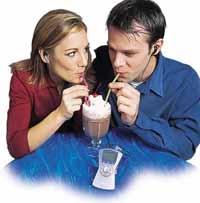 Edited by Michael Gaughn Photos by Tony Cordoza Share Wear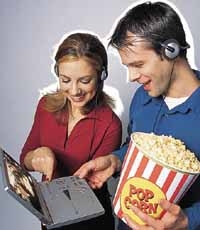 Like a lot of couples, these two products don't appear to have much in comon. First International Digital's iRock 680 ($120), left, is a karaoke-friendly MP3 player, while the Toshiba SD-P2000 portable DVD player ($800), right, lets you watch your discs on a 9-inch widescreen LCD display. So what brings them together? Dual headphone jacks. Hardly an earth-shaking feature, but not a common one either. Now you and your soul mate can share flicks and tunes anytime your hearts desire.
Silly Love Songs
Whisper sweet nothings in your honey's ear, or go one better and get cozy with some karaoke. IVL Technologies' Plug-and-Play Karaoke System

($80) packs all the electronics-even the music!-into the microphone. Just hook it up to your TV (lyrics appear on the screen), or for higher fi, connect it to your audio system. Fifty songs (like The Troggs' "Wild Thing" and Elvis's "Always on My Mind") are included, and you can get thousands more at onkeysongs.com. Can't carry a tune? Pitch correction ensures you'll sound just like Madonna. And digital spatial effects can make it seem like you're singing from a stage, in the shower, or on a mountaintop. Ain't love grand?
-Jamie Sorcher
Burning for You
Remember the mix tape-all those special songs lovingly sequenced on a cassette? Today, you can create compilations for your sweetheart in a few moments on CDs instead. TDK's second-generation portable veloCD ReWriter, the UP-241032 ($199), burns a CD-R in just 4 minutes. Or use the supplied Digital MixMaster software to rip MP3 and other audio files from your computer to a CD.
-J.S.
Picture of Love

Separation may make the heart grow fonder, but a picture is worth a thousand words-especially when you only have to pay for sending a photo instead of yakking on the cellphone for an hour. Samsung's $300 SPH-A500 phone and optional camera ($100, not shown) let distant lovers exchange VGA-quality pictures via Sprint's PCS network. You can even store an album of treasured moments-or not-so-treasured moments. It's your call.