Super-Size HDTV Page 4
SonyThe Lamborghini of LCD projectors
Sony's Cineza VPL-HS10 - a 2003 Sound & Vision Reviewer's Choice Award winner - was a sleeper product that delivered great picture quality at a reasonable price. And now there's a new high-def LCD model, the Cineza VPL-HS51. At $3,500, it costs more than its predecessor but features a number of refinements, including an automatic iris control and a Real Color Processor (RCP) for tweaking colors. And if that wasn't enough, Sony also throws in software to fine-tune all aspects of the HS51's setup via a connected PC.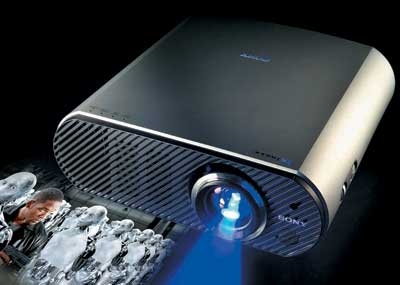 CINEZA VPL-HS51
DIMENSIONS (WxHxD) 13 5/8 x 5 7/8 x 14 5/8 inches WEIGHT 12 1/2 pounds PRICE $3,500 MANUFACTURER Sony, sonystyle.com, 888-315-7669
PLUS • Great looks • Excellent HDTV and progressive-scan DVD performance
MINUS • Some edge enhancement with standard-def programs
I don't drop this kind of praise very often, but the new Cineza is a masterpiece of industrial design. Its semi-ovoid form hugs the ceiling without appearing boxy - a perfect example of form following function. In other words, it looks totally pimp.
As in the other projectors here, fan noise was minimal with the lamp set to Low. Horizontal and vertical lens-shift controls are tucked away neatly on the side, while a full suite of video connections - including an HDMI input and a VGA jack for a computer - are around back.
Sony provides a substantial remote control. The backlit keypad includes buttons to directly access the three picture presets and three user memories. There are also large + and - buttons for making quick brightness and contrast adjustments. You press the Input button and toggle through the selections to switch sources.
SETUP Setting up the Sony was easy. After centering and focusing the picture, I stored my adjustments for each video input in the user memories. In addition to an iris control, there are a number of controls to help you get satisfying blacks, including three black-level and three gamma settings. Color was also accurate enough out of the box that I didn't need to use Sony's RCP controls, though they seemed pretty powerful when I played with them.
PICTURE QUALITY The dark areas of Del 's loft in the opening scene from I, Robot showed good shadow detail, and blacks were rich and fairly deep. I could even tell that the black Converse hightops he dons were made of leather, not canvas. Activating the Advanced Iris feature helped increase image contrast, but I also felt that the Cineza did well without it. Color rendition was excellent in all scenes, both dark and light. Skin tones looked natural, and the occasional colored object - like the purple coat of an apparent purse-snatching victim - looked vivid and bright.
The one glitch I noticed was the tendency to add edge enhancement to standard (480i) images - an effect that showed up as a faint "halo" around things like horizontal lines. But HDTV looked fantastic. In a Ken Burns PBS documentary on the boxer Joe Louis, the craggy faces of the elderly sportswriters came through with intense detail - almost too much for comfort! And the black-and-white shots of old photos showed a rich range of tones that looked consistent wherever they fell on the screen.
---
Sony's latest Cineza projector offers great image quality and useful features, and it's one of the coolest-looking projectors I've ever seen. Best of all, it doesn't cost much more than a budget HDTV projector. PDF: Features Checklist PDF: In The Lab
LATEST VIDEO