Super-Size HDTV Page 2
Panasonic Good performance, reasonable price
Panasonic's PT-AE700U is the successor to its PT-AE500U, a model that changed my previously pessimistic view of LCD front projectors. The AE700U incorporates everything that was good about its predecessor and then some. Improvements include a powerful 2 x zoom lens, a dynamic iris for automatic contrast optimization, and a host of picture-adjustment options.
PT-AE700U
DIMENSIONS (WxHxD) 13 1/4 x 3 3/4 x 10 5/8 inches WEIGHT 8 pounds PRICE $2,995 MANUFACTURER Panasonic, panasonic.com/projectors, 800-211-7262
PLUS • Powerful 2x zoom lens • Very good performance for price
MINUS• Flimsy remote control • Slightly soft picture
The Panasonic has a no-frills look. It's basically a silver-toned box with a lens jutting out the front. With the projector sitting on my coffee table, I was happy to find that fan noise was negligible in the Low lamp mode. The full suite of video/computer connections includes an HDMI (High Definition Multimedia Interface) jack - the new smaller, refined version of a DVI connector that carries digital audio as well as video.
Panasonic's tiny remote control feels a bit flimsy. But it features a backlit keypad and provides direct-access buttons for inputs so you can quickly switch between video sources. There are also buttons to call up the seven picture presets, three picture settings you define yourself, and Cinema Color Management submenus without having to scroll through the menu system.
SETUP The Panasonic gives you plenty of adjustment options to aid in first-time setup. In addition to the 2 x zoom lens (the zoom range on the other projectors here maxes out around 1.5 x ), there's a joystick-controlled horizontal and vertical lens shift for off-center positioning. The Cinema Color Management feature is powerful but also kind of overwhelming - it lets you pick out an individual color using a cursor and alter its saturation, hue, and brightness without affecting other colors onscreen.

A more immediately useful feature is the projector's trio of user memories. After making adjustments for each video source I had connected to the Panasonic, I was able to store my customized settings for instant recall.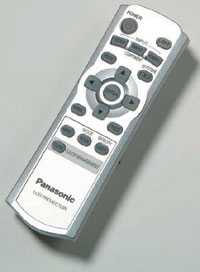 PICTURE QUALITY It didn't take much effort to get the AE700U looking good - the combination of its Cinema 1 picture preset and Low lamp setting delivered very good contrast and color rendition. The shadows lurking in the corners of the loft apartment occupied by Del (Will Smith) in I, Robot had a slightly reddish cast, but in a scene under the Chicago El tracks - one of the very few in the movie with natural light - colors on the graffiti-strewn walls looked vibrant, and both Del and a teenager following him had natural skin tones.
While the Panasonic's ability to draw out shadow detail was good for an LCD projector, it was slightly dim and its picture a bit soft compared with the other projectors in this group. Still, high-definition programs - like a PBS documentary on wildlife in Cuba - looked mouth-wateringly good for the most part. An aerial shot of the Cuban coast showed a rich range of subtle blue/green hues where the sea butted up against the shore, while a closeup of a lizard revealed a landscape of bumps and creases lining the creature's hide.
---
At $3,000, Panasonic's PT-AE700U is a true high-def bargain. Its picture sharpness was a notch below that of the Sony or Hitachi in this comparison, but its overall combination of price, performance, and features is tough to beat.
PDF: Features Checklist
PDF: In The Lab
LATEST VIDEO