Super-Size HDTV Page 3
Epson Let there be light
Epson is a big company that makes lots of stuff, including digital cameras, printers, TVs with built-in printers, and, yes, LCD front projectors. The $2,999 Powerlite Cinema 200+ is its midprice home theater model, an HDTV-grade projector with picture brightness to spare (its 200-watt lamp outshines those of the other projectors here, which range from 130 to 150 watts). A notable perk is its Cinema Color Editor software, which lets you set up the projector using a PC or Macintosh computer hooked up to its USB port.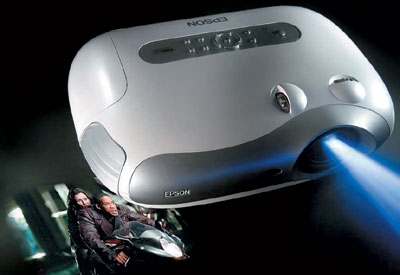 POWERLITE CINEMA 200+
DIMENSIONS (WxHxD) 17 1/4 x 5 1/ 4 x 12 5/8 inches WEIGHT 11 3 /4 pounds PRICE $2,999 MANUFACTURER Epson, www.epson.com, 800-463-7766
PLUS • Bright image • Natural color
MINUS • Poor picture contrast • Mediocre upconversion of standard programs • No digital DVI or HDMI input
Housed in a silvery white case whose curves seem organic, the Epson looks like a high-end projector. Fan noise was very low with its Theater picture preset - the one I mostly used - but much higher with the Dynamic or Living Room setting. Its input options are fairly complete, but there's no DVI or HDMI jack for connecting a DVD player or satellite/cable receiver - an oversight in a high-def projector.
The remote control Epson provides with the Cinema 200+ has a substantial feel, and its backlit keypad makes it easy to locate buttons in the dark. There are four direct-input buttons for quickly selecting video sources, a Color Mode button for selecting among the five factory picture presets, and a Memory button to quickly call up one of the four custom picture presets you can create.
SETUP The combination of the Epson's horizontal and vertical lens shift and four adjustable feet made setup easy on my coffee table. Unlike the other projectors, which have manual zoom and focus rings located on the lens, on the Epson you adjust the lens via buttons on the remote control. After selecting an appropriate preset for black level in the setup menu, I tweaked color, brightness, contrast, and color temperature for each input, storing all of my settings in the memory menu.

PICTURE QUALITY The first thing I noticed when I played I, Robot was that the shadows in the opening loft scene looked more gray than black. There wasn't much shadow detail in the dark regions of Del 's home, which consequently looked murky. Likewise, in a scene in a bright concourse where the detective speaks with a hologram of the robotics genius Dr. Lanning, the picture was pale and washed out. Shots with less extreme contrast, however, showed the Epson's color accuracy to be very good. For example, in a squad-room scene where Del chats with his superior officer, their skin tones looked natural.
On the whole, standard-def (480i) programs didn't fare very well on the Epson. I frequently saw stair-stepped "jaggies" on the edges of moving objects. But high-def programs came across with very good detail. The bright image really drew me into a concert program, Ultra Festival, on the INHD channel. The show's laser lights, smoke, and computer animations (on a video wall behind the performers) all looked clear and colorful. A crisp high-def image was also the norm when I caught X2: X-Men United on HBO HD. But as with DVDs, I noticed poor shadow detail and picture contrast in HDTV movies.
---
Epson's Powerlite Cinema 200+ delivers bright, crisp HDTV images at a good price. But that brightness comes at the expense of contrast and picture subtlety. However, if you're looking to beam a big picture in a room where you need some ambient light (like to keep kids from tripping in the dark), the Cinema 200+ is worth considering. PDF: Features Checklist PDF: In The Lab
LATEST VIDEO