Step By Step: How to Run Wire Through a Wall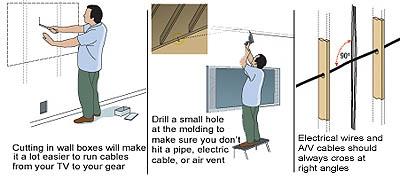 Jeremy Levee of Houston, Texas, wrote to say that he enjoyed my "Step by Step" column on how to mount a flat-panel TV. But he realized that a TV on the wall is just artwork until you've fed it the proper cabling and asked if I might shed some light on wiring behind walls. Jeremy, your wish is my command!
STEP 1: LOCATION IS EVERYTHING Ideally, your gear should be on a stand just below the TV. This not only makes running wires easier, but cheaper, too - quality cables are pricey, and HDMI gets finicky over distances. Test the cable to make sure it works before you run it. (Trust me on this!) If your gear is below your TV, skip to Steps 3 and 6.
If you plan to mount your flat-panel above a fireplace, there are some other things to consider. A ventless fireplace usually has a large void around it that's tailor-made for wires. But if you have a traditional brick fireplace, you're in trouble. Unless you're willing to frame out so you can run wire behind sheetrock - which will radically affect the look of the room - you'll have to live with exposed wires.
STEP 2: FIND THE BEST ROUTE If your gear isn't below the TV, the best path between them is usually through a crawlspace or attic. If you don't have either, you're in for a much harder job that's probably best left to a pro.
STEP 3: CHECK BEHIND THE WALLS You'll likely find one of four things behind your sheetrock: nothing (great), fiberglass insulation (not too bad), spray foam insulation (a real bear), or something solid like poured concrete (forget it). Cut in a wall box near your gear and behind where the TV will hang. (A box with an open back will make your life a lot easier.) Thin fiberglass "glo-rods" can help you determine how far up (or down) the wall you can go. You might encounter horizontal pieces of wood between the studs called purlins. While these act as fire blocks and strengthen the walls, they make running wire a lot harder, and getting through them means using a long drill bit or cutting in additional wall boxes near the purlins.
Sometimes it's easier to route wiring through a closet or pantry. Any wall boxes you cut in here will likely go unnoticed, while giving you access to drill through any obstacles.