Star Wars 3D Falls Flat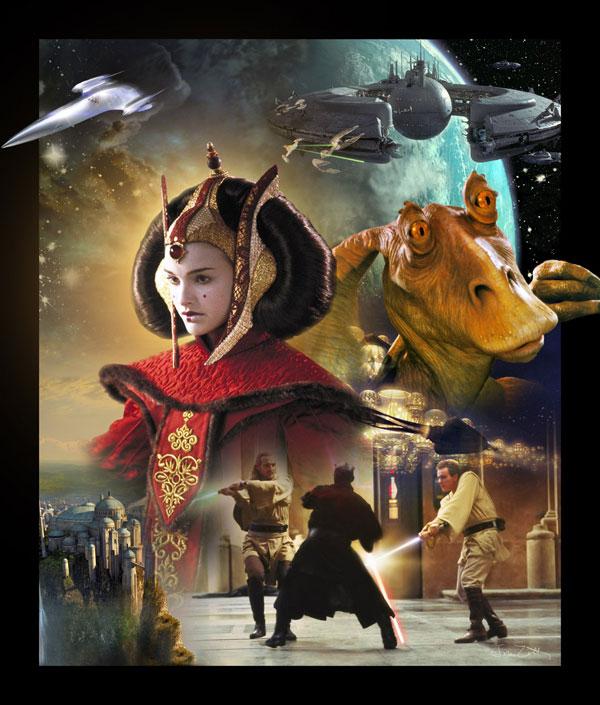 Last night, I saw
Star Wars Episode I: The Phantom Menace
in 3D—RealD, not Imax, which was showing
Journey 2: The Mysterious Island
instead. That Dwayne Johnson vehicle looks pretty bad from the trailers I've seen, but I bet the 3D is better than it is in the new
Star Wars
release.
Of course, Star Wars is a 2D-to-3D conversion, which can look dreadful (remember Clash of the Titans?), but it can also look very good (think Tim Burton's Alice in Wonderland). I had high hopes that George Lucas would take the time and money to do it right.
Alas, no. For one thing, many scenes are not in 3D at all—I found I could have watched a good deal of the movie without the glasses. The title and opening back-story scroll do not gain depth as they recede until they are far in the background, where the depth is minimal. Some cityscape scenes and even shots of planets in space have no depth, though others do. Likewise, shots of spaceships from nearly head-on should have lots of depth, but they have none here, nor do most of the close-up shots of characters and their backgrounds.
What 3D there is comes and goes—for example, there is none in the crowd shots during the pod race and very little in the race itself, but there is depth behind the two-headed race announcer. And when it's there, it's very subtle. For the most part, nothing extends in front of the screen plane, and objects behind the screen plane are at roughly the same apparent distance, giving these shots a cardboard-cutout appearance. One of the only exceptions I saw was the shaft where Darth Maul falls to his death, which looked like it receded into the distance.
Lucas must have signed off on the conversion, but given his reported perfectionism and how protective he is of the Star Wars franchise, I'm shocked that he did. The 3D is generally so subtle, it adds very little to the experience, though I admit that might be better than trying to do an extreme 3D effect.
The ads say this is Star Wars like you've never seen it before, but that's a serious overstatement—it looked much the same to me. And of course, no amount of 3D can make Jar Jar Binks less annoying!