My Big Fat, Super-Duper CES Wrap-Up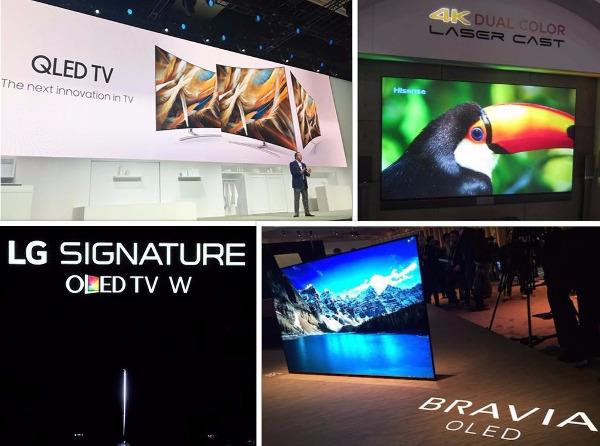 Now that I have your attention…CES 2017 is in the history books. While I haven't yet heard the final attendance, I'm certain that somewhere north of 150,000 people were jockeying for position when I visited the Las Vegas Convention Center, the heart of the event. It's also supplemented by several other venues, including the Venetian Hotel, traditionally the site of the specialty (i.e., high-end) audio exhibits.
The video high point of the big show for me was Sony's CLETIS (Crystal LED Integrated System). It's a self-emissive display that essentially uses LEDs small enough to be the actual pixels, rather than merely as backlights for an LCD display—the latter being how current "LED" sets operate. Before you get too excited however, this technology, used here to produce a 32' by 9' video wall, is not yet a consumer product, even for a more modestly-sized flat screen set. It's ready now for commercial use, but isn't on the boards for an affordable consumer product—at least not yet!
OLEDs and LCDs and Short Throw Projectors
These are a few of my favorite things. CLETIS is still a future dream, but OLEDs are of the here and now. And in perhaps the worst kept pre-show secret, Sony did indeed launch OLEDs at the show. Dubbed the A1 range, two models will be available this year at 55- and 65-inches. The prices are yet to be determined (the lack of anticipated prices was common at the show). But given that Sony's pricey Z9D LCD lineup will continue to be the company's flagship line, it's likely that those OLED prices will be competitive. The A1's OLED panels will reportedly be sourced from LG, but with Sony's own processors and other electronics.
Not that LG itself is standing still. In fact, selling its OLED panels to other manufacturers will make for increased production, perhaps lower unit prices, and thus (we hope) more competition and therefore lower prices for the consumer. Win Win.
LG's 2017 UHDTV line includes an extensive selection of LCD designs, from the new, premier "Super UHD" range. But when we think of LG we think of OLED, and the new LG OLED range is said to offer higher brightness than last year's models, though still well short of the HDR peak brightness levels possible from LCD designs (a difference I have found, in practice, to be visible but less striking than the numbers might suggest—the eye doesn't respond linearly to increased luminance).
The most buzz at LG's booth was generated by the W7 range (65" and 77"). Dubbed "Wallpaper" for its extreme thinness (2.5mm), it can sit a mere 4mm from the wall for a total wall to screen depth of under 7mm, or just over a quarter of an inch. The space-hogging drive electronics reside in the separate, Atmos (2.0.2 only) soundbar (included). In fact, no stand is provided; the W7s must be wall mounted. But the wall mounting looks to be simple; the set comes with a metal plate that screws into the wall, which attracts magnets imbedded in the light screen (only 16 pounds for the 65-incher!). While no pricing was provided to us, an unconfirmed report suggested it will be $8,000 for the 65" W7. I would have expected higher. If that price is correct, it's a positive sign for the prices we might see in LG's "lesser" OLED models.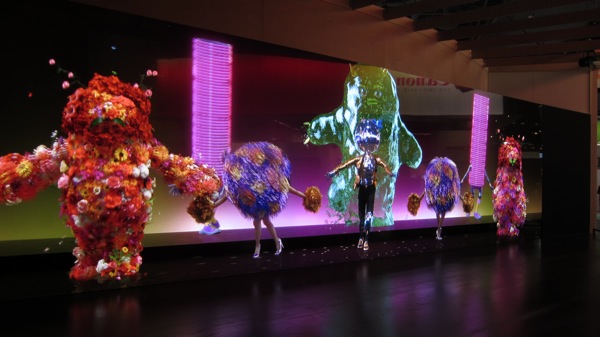 Not to be denied its place in the sun, Samsung also launched its own range of new LCD sets. The new top designs are dubbed QLED (last year's SUHD designation is history) and include the flagship Q9F range plus the step-down Q8 and Q7. Thanks to a new metallic quantum dot development, the sets are said to offer brighter HDR highlights, the full P3 color space, and color accuracy throughout a wide luminance range (the so-called color volume). The sets are also claimed and (in a demonstration) displayed better off-axis performance than we usually see in most LCD designs, though OLEDs and in-plane-switching LCD designs (the type used by LG) can still do better. Samsung's One Connect box, which puts all of the inputs in a small chassis remote from the set itself, now links to the set via a thin, almost invisible fiber optic cable.
Sony announced support for the Dolby Vision high dynamic range (HDR) format in its new sets, in addition to the currently supported HDR 10. LG announced that their new sets, which as in last year's models can do both HDR 10 and Dolby Vision, can be updated in firmware to support both HDR by Technicolor and Hybrid Log Gamma (HLG), two HDR metadata-free formats proposed (but not yet accepted) for use with proposed ATSC 3.0 standard. Samsung, however, remains HDR 10 only.
Since the demise of its outstanding plasma displays, Panasonic's visibility in the consumer TV market, at least in the U.S., has evaporated. The company showed only a single UHDTV at the show, an OLED. But as was the case last year, it was neither featured nor prominent in Panasonic's booth. While it will be available in Europe in June, a possible U.S. launch remains an open question.
The past few CESs have featured a number of Chinese manufacturers marketing new UHDTVs under their own name (some of them also produce panels for non-Chinese manufacturers). The most prominent of these are Hisense and TCL. A third company, Changhong, has displayed at previous CESs, but has little retail presence in the U.S. Keep in mind, however, that CES draws both media and marketing representatives from beyond our borders.
TCL announced support for both HDR 10 and Dolby Vision (but not HLG) in its new C and P series UHD sets. Oddly, the top of the line C series doesn't have full backlit local dimming, while the P series, one step down in price, does. That makes the P series, with models ranging from 50- to 65-inches, a potential bargain line with prices beginning at $499 for the 50-inch model.
Hisense promises equally eye-opening prices for its flat screen sets. But even they aren't ignoring the high-end. Both 70- and 75-inch models in the H10 series will be available in July. The 70H10D is expected to list at $6,000; the 75H10D's price is TBD. Both will have flat screens and feature full backlit local dimming and support for both Dolby Digital and HDR 10.
Hisense also showed its Laser Cast short throw projectors, including a 2K model currently available at $12,999. Most intriguing was the 4K Laser Cast model, slated to launch this summer at a price to be determined. Other short throw projectors were available from a number of vendors, including Sony, but the 4K Hisense was the best I saw at the show (it helped that the lighting in their booth was a bit more subdued than elsewhere).
These short-throw projectors are designed to sit within a few inches of the screen and can even be built into a hutch or other piece of furniture. When I first saw the first such a design, from LG at a CES a few years ago, I thought it looked awful (admittedly it was on the brightly lit show floor). While they now show more promise, such designs still can't as yet compete with a conventional projector in a darkened room.
UHD Blu-ray
The first UHD Blu-ray players from LG and Sony were announced, as were new UHD players from both Samsung and Panasonic. Panasonic showed several models, including the currently available, flagship DMP-UB900 (February/March 2017 print edition and to be posted here soon). Samsung launched two new models. But as far as we know the only UHD players introduced to date that can do both HDR 10 and Dolby Vision are from Oppo and LG (on the Oppo, a not yet available but promised firmware update will be required for Dolby Vision).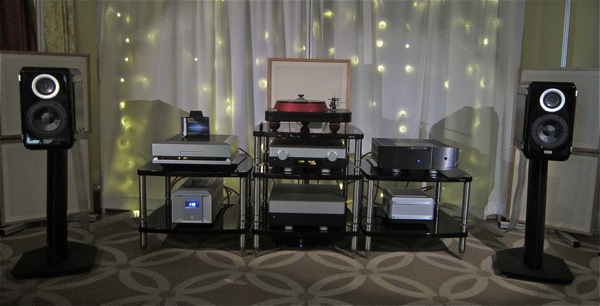 The Canals of Venice
Granted, the canals in the Venetian Hotel in Las Vegas aren't real, but the high-end audio gear there certainly is. It's heavily 2-channel, with home theater gear always in short supply but not entirely missing. Dirac Live (an prominent room/speaker correction program) was convincingly demonstrated in an Atmos setup using an Arcam AVR and KEF speakers. Both JVC and Wolf Cinema demonstrated spectacularly good laser-based projectors ($35,000 for the JVC, $50,000 for the Wolf Cinema, the latter based on JVC technology) but with indifferent sound—though the latter was not the point of the demos.
JVC also announced upgrades to its more affordable line of lamp-lit, 4K (via pixel shift) projectors, now known as the DLA-X570/DLA-RS420 ($4000), DLA-X770/DLA-RS520 ($7000), and DLA-X970/DLA-RS620 ($10,000). All three offer a 100 lumen brightness increase, and increased contrast ratio from the prior models (now 1800, 1900, and 2000 lumens respectively), incorporate a low latency mode for gaming (2 frames vs. 7 in the other modes) and automatically sense and change settings for HDR sources.
Frustrating computer crashes at the show limited my audio blogs to a trickle, but I'll catch up here with three standouts. Revel showed two new models in the Performa range. The F208Be ($10,000/pair) is an upscale version of the F208 ($5,000/pair) floor-stander. Its cabinet is identical to the F208, but its drivers are all new. The tweeter is beryllium (thus the Be in the model number…duh) while the two woofers and the midrange are said to be ceramic (I suspect some sort of ceramic deposition is employed and not pure ceramic, but don't know for certain). There's also a new Performa stand-mount design featuring a ceramic woofer-midrange and beryllium tweeter. Unfortunately, there are no plans to offer a revised Be version of the Performa 3-way center channel. Bummer. May the demonstrations and letter writing campaigns begin: Free the C208Be!!
Andrew Jones is a Brit living in California and now designing speakers for a German company. But no need to unpack that; all you need to know is that after the raging success of his newish Debut and newer UniFi speaker lines for Elac, both of them budget friendly, Jones is about to deliver a blow to higher-end products with the Elac Adante line. Odd name: I can find Andante in the dictionary designating a moderately slow musical pace. Adante is a stranger to Webster, but no matter.
The $2,500/pair stand-mounts (matching stands are a $500/pair option) on demo also carry a rather inelegant model name: AS61GB, though that might change by the time the Adante line becomes available in late spring.
But there was nothing at all inelegant about the punchy, clean, and altogether superb sound they offered, driven by a rack of Audio Alchemy electronics. The three-way speaker employs titanium cones, plus higher-end versions of the concentric midrange-tweeter drivers that Jones' has used in all but the least expensive of his recent designs (the Uni-Fis have concentrics, the Debuts do not).
In addition, unlike many high-end speaker lines, Elac's Adante doesn't ignore the home theater market, offering a chunky, matching 3-way center at $2,000. There will also be a floor-stander for $5,000. All of the Adante speakers will be available in either a gloss black or gloss white finish. A woodgrain finish will also be available, but the exact veneer options are still under consideration.
Before he started work at Elac, Andrew Jones designed speakers for both Pioneer (at the budget end) and TAD (at the nosebleed end). But the TAD speaker demonstrated at the show is not a Jones design. The new Micro Evolution One is a relatively small stand-mount. At $12,500/pair it's hardly a budget design, but it's less than half the price of the next step up for a TAD home speaker. And while admittedly I wasn't able to visit every room at the Venetian, I heard nothing at the show that impressed me more.
The TAD electronics that drove the Micro Evolution One were likely far more expensive than the speakers themselves, but I suspect most of what I heard could be achieved with electronics even as relatively affordable as the Audio Alchemy's that drove the Adante speakers in the Elac room (estimated at around $6,000). And while there is no TAD center speaker, I suppose you could use three of the Micro Evolution Ones (ulp!) across the front since they're small enough that one of them could also serve as a proper center channel!