The Sound of Style Page 4
Omnisat V2 series
With their thin aluminum cabinets and sculptured look, the speakers in Mirage's V2 series appear to come from the same universe as the Infinity system. But take a closer peek and you'll see a difference. The speakers in the Mirage package are Omnipolar models featuring a top-mounted midrange/tweeter array. An additional component called the Omniguide, a saucer-shaped deflector that hovers directly above the driver, directs the sound in a spherical 360° pattern. The idea is to maximize the level of reflected sound coming from the speaker to create a wider, deeper, more lifelike presentation.
The system's anchor is the Omnisat V2 FS tower, each of which comes with a tempered-glass base that provides both metal spikes and rubber feet for carpet or bare-floor installations. Rounding out the system are the V2 CC center speaker, V2 surrounds, and S10 subwoofer, a handsome wood-veneered model.
Setup
My setup followed pretty much the same lines as for the Infinity system. Both the V2 CC and V2 surround satellites come with hardware for wall and ceiling mounts, and Mirage also offers stands ($149 a pair) for the surrounds, though I ended up using my own stands.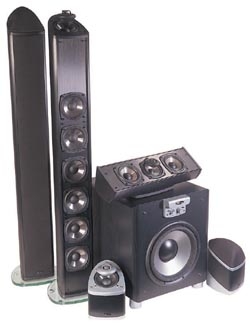 Music Performance Listening first in stereo with the V2 tower/S10 sub combination, I played my trusty Bill Frisell CD. Mirage's claims for spacious, involving sound were quickly verified: the ride cymbal had a crisp, open sound that conveyed complex overtones and texture, and the processed electric-guitar sounds were cast with a width and depth that belied the slim towers' appearance. In Frisell's version of "Moon River," the acoustic-guitar leads had a smooth, natural tone. Unaided by the subwoofer, the V2 towers produced passable bass. With the sub in the mix, the sound was strikingly full, with Dave Holland's acoustic-bass lines coming through cleanly from the top to the bottom of the scale.
When I fired up Rammstein, the Omnipolar sats did a great job of conveying concert ambience, with discrete handclaps cutting through the general roar. A synthesized propeller sound was consistently solid as it arced across the front and then the rear channels, and the singer's monstrous voice sounded full and clear coming from the V2 center speaker. Dynamics overall were excellent - just what you want for heavy metal. I was also impressed at how cleanly the sub rendered both the bass guitar and kick drum.
LATEST VIDEO