Sony Serves Up "Total Entertainment"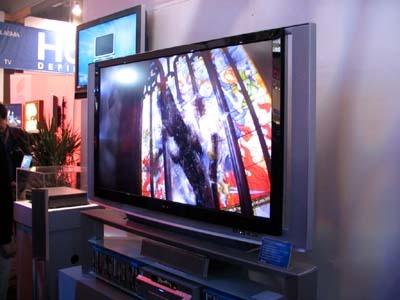 Sony's new 55-inch, 1080p SXRD rear-projection HDTV is 30 percent thinner than earlier models.
Sony sees itself as a "total entertainment company, not just a revitalized electronics company." Though information on pricing and availability was not immediately available, new products were abundant at the company's pre-show preview. Its Bravia 55-inch, 1080p SXRD LCoS rear-projection set is 30 percent thinner than earlier models. And its latest 46-inch LCD and 82-inch Bravia LCD TVs feature "wide color gamut" technology for more lifelike color reproduction.
In car stereo, Sony is moving removable faceplates beyond mere anti-theft protection. Its new xPlod drop-and-drag now packs a gigabyte of flash memory in the faceplate, so that you can download music from you PC via its built-in USB port.
The novel DCR-SR100 hard-drive camcorder includes Dolby Surround recording capability. With an optional Bluetooth wireless microphone, you can record to the center channel from across a large room. As Sony noted, you can plant the mike on your child to make him or her the star of the class play or musical.
Sony also demonstrated a professional movie theater video system it calls 4K SXRD. This digital video projector has 4,000 x 2,000 resolution for a total of 8.8 megapixels, four-times that of HDTV. Sony aims to replace the film projector at your local cinema with it. (Mark Cuban's Landmark art theater chain will begin using 4K SXRD projectors this spring.)
Check out more CES news. Back to Homepage What's New on S&V
LATEST VIDEO