Sony Pro BVM-E250 & E170 OLED Monitors
Home-theater geeks like me have been waiting for large-screen OLED flat panels for years now, but all we've seen so far are concept products at trade shows and one 11-inch consumer model from Sony for $2500. Recently, however, a ray of hope issued from Sony Professional when it introduced two new OLED monitors, the BVM-E250 and BVM-E170, for the pro market.
With screens measuring 25 and 17 inches diagonally, these monitors are designed to be mounted in racks, so they don't need to be super slim or sexy-looking. Both have a native resolution of 1920x1080 and all the benefits of OLED, including superior blacks, fast response time, and wide color gamut—specifically, the digital-cinema P3 gamut, which I hope can be adjusted to match Rec.709 used for HDTV. Standard inputs include two HD-SDI, 10-bit DisplayPort, and 12-bit HDMI with HDCP, and four slots in the chassis can accommodate various input cards.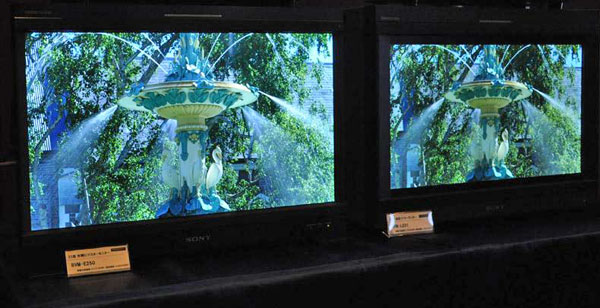 Touted as a true replacement for CRT monitors, the BVM-E250 (left) was shown next to a 23-inch BVM-L231 LED-backlit LCD pro monitor (right) at the Hollywood Post Alliance (HPA) Technology Retreat last week. While it's difficult to see in this photo, the OLED monitor was said to have a much wider viewing angle, better color, and deeper blacks. Among the claims by Sony are a panel life of 30,000 hours (about 10 years at eight hours per day, seven days per week), better energy efficiency than LCD, faster pixel-response time and more contrast than CRT, and negligible processing latency.
Of course, pro equipment is generally very expensive, and these monitors are no exception—$26,000 for the BVM-E250 and around $15,000 for the E170. But this news bodes well for those of us who yearn for a big OLED TV—the E250 is the largest commercially available OLED produced to date, and if it can stand up to the rigors of professional use, even larger consumer versions might not be far behind.