Sony Previews 4-Speaker Home Theater System, New Flagship Soundbar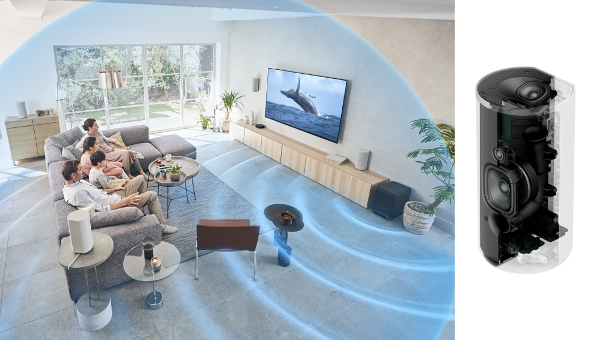 Sony is previewing a new flagship Dolby Atmos-capable soundbar and home theater system that creates an immersive sound field from four compact speakers. Both are due out early fall.
The HT-A9 home theater system comprises a small wireless hub that connects to the TV via HDMI and uses proprietary sound mapping and dual microphones built into each speaker to deliver what Sony calls an immersive "360 spatial sound" experience with up to 12 "phantom" speakers. The system works with Dolby Atmos and DTS:X soundtracks and is also able to synthesize an "all encompassing" experience with sound from above and to the sides from stereo and conventional surround program material without precise speaker placement, according to Sony.
When the system is connected to certain Sony Bravia TV models, system control and sound settings are integrated with the TV, which also serves as the system's center-channel speaker.
Each speaker has a built-in three-channel amplifier and mates a soft-dome tweeter with a rectangular "wide directivity" woofer and up-firing driver to produce omnidirectional sound from a compact, semi-cylindrical enclosure with a flat back for placement on or against a wall. Total system power is rated at just over 500 watts. Sony says there's no need to rearrange furniture or adhere to precise speaker positioning thanks to "sound field optimization" that compensates for different speaker heights and distances.
The A9 supports Dolby Vision high dynamic range (HDR) along with 8K and 4K/120 passthrough, voice control through Google Assistant and Amazon Alexa, and audio streaming via Bluetooth, Wi-Fi, Chromecast built-in, Spotify Connect, and Apple AirPlay 2. In an effort to make compressed music sound more natural, the system uses artificial intelligence and Sony's DSEE (Digital Sound Enhancement Engine) Extreme technology to "restore high-range sound in real time."
For those who want a more robust music listening experience, the A9 supports hi-res audio up to 24 bits/96 kHz and is compatible with the 360 Reality Audio format Sony introduced a couple years ago.
The HT-A9 will sell for $1,800 when it becomes available in the September/October time frame.
A New Flagship
Slated to ship around the same time, Sony's new top-of-the-line HT-A7000 ($1,300) soundbar is a 7.1.2-channel design with an up-firing height driver and "beam tweeters" at either end of a low-profile cabinet 51 inches wide and just over 3 inches tall that also houses seven front facing drivers, including two rectangular woofers. While the system supports Dolby Atmos and DTS:X, it can also create immersive virtual surround sound from other formats, according to Sony, and uses the company's sound field optimization to calibrate the sound to the environment.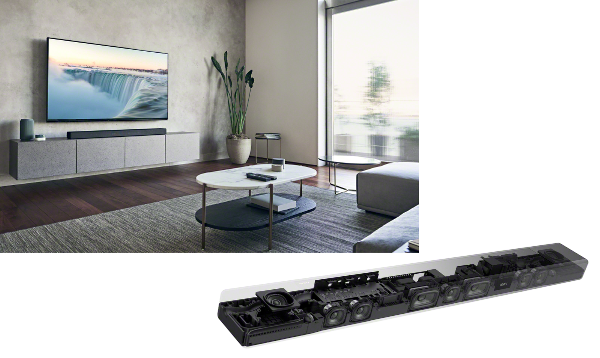 Like the HT-A9, the soundbar is optimized for use with Bravia TVs — soundbar settings automatically appearing in the TV's onscreen Quick Settings menu — and, except for the sound mapping, is equipped with all of the audio and video features noted earlier for the HT-A9. Connections include two eARC-enabled HDMI ports, an optical audio input, a minijack analog input, and a USB port.
For those who crave deeper bass and a more immersive surround experience, Sony also announced two wireless subwoofer options and a set of wireless surround speakers designed to pair automatically with the HT-A7000 soundbar. Delivery is slated for September/October to coincide with the arrival of the HT-A9 sound system and HT-A7000 soundbar.
The SA-SW5 subwoofer ($700) mates a 7-inch driver and down-firing passive radiator with a 300-watt amplifier in a vertically oriented cabinet 16 inches tall, while the SA-SW3 ($400) pairs a single 6.3-inch woofer with a 200-watt amplifier in a slightly larger ported enclosure standing 18.6 inches tall. The SA-RS3S surround speakers ($350/pair) are two-way designs with 2 x 50 watts of onboard power that can be mounted on a wall or used freestanding on a stand or shelf.
For more information on the HT-A9, visit sony.com. Click here for more on the HT-A7000 soundbar.