Sony Launches 8K TVs, Bigger Screens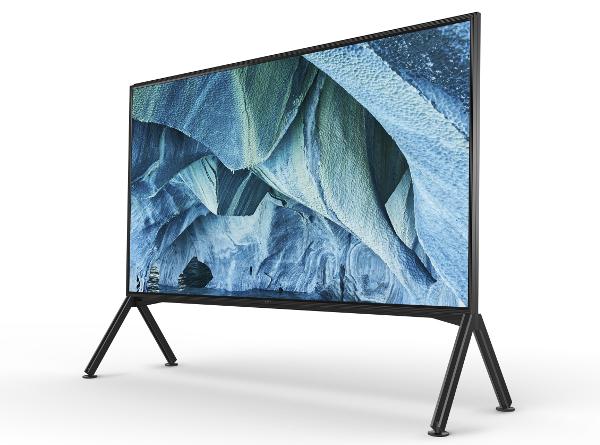 At a press conference on the eve of CES 2019, Sony unveiled its first two 8K TVs, its first TVs with built-in Dolby Atmos decoding, and a new flagship Master Series with larger screen sizes up to 98 inches.
Sony also expanded Netflix Calibrated Mode to more TVs and launched its latest IMAX Enhanced TVs, which access the new "Privilege 4K" IMAX Enhanced streaming service due in the spring. The service promises "a blockbuster selection" that includes Venom from Sony Pictures, Sony said.
In a related announcement, IMAX said three other streaming services — Tencent Video in China, FandangoNOW in the U.S., and Rakuten TV in Europe — will stream IMAX Enhanced content to IMAX-certified devices. The content will join IMAX Enhanced content already available on select 4K Ultra HD Blu-ray discs.
Master Series 8K LCD TVs
Sony's first two 8K TVs are LCD models appearing in the flagship Master Series in a 98-inch screen size (pictured) and an 85-inch size. Both feature 8K-capable HDMI 2.1 inputs to access 8K content from future 8K playback devices. Until 8K content is available, the TVs also upscale any video content to near-8K picture quality.
Sony went with plus sizes in 8K so people could perceive 8K's higher resolution at typical viewing distances, said Robert Brennan, product technical manager for home entertainment and sound. To maximize the visual impact of a 4K TV, viewers should sit no farther away than three time the screen's height, but for 8K viewing, viewers should sit no farther than 1.5 times the screen's height, he explained. With an 85-inch 8K TV, therefore, a viewer should sit no farther than six feet from the screen. "Beyond six feet, you fall back to 4K viewing," he said.
No 4K LCD TVs appear in the 2019 Master Series, which in 2018 featured two 4K LCD models at 75 and 65 inches.
Master Series 4K OLED TVs
The flagship Master Series also features three 4K OLED TVs in screen sizes of 77, 65, and 55 inches. In contrast, the 2018 Master Series featured only two 4K OLEDs at 65 and 55 inches.
As in 2018, all Master Series TVs are CalMAN-ready, but the feature expands outside the Master Series for the first time to the A8G 4K OLED series and to the X950G series of LCD TVs. These TVs reduce picture-calibration time for installers to as little as 5 minutes from one or more hours when running CalMAN software on a laptop.
Netflix, IMAX Modes Abound
Also like their 2018 predecessors, all Master Series TVs feature Netflix Calibrated Mode and IMAX Enhanced certification. The two features also appear in the X950G 4K LCD TVs, and IMAX Enhanced appears in the A8G OLED series. The former series comes with screen sizes of 85, 75, 65, and 55 inches. The A8G series features 65- and 55-inch screens.
When the user-selectable Netflix Calibrated Mode is engaged, TVs are supposed to reproduce the colors, contrast, and resolution that content creators see on a mastering monitor. The mode is intended for use with Netflix's HD, 4K, and 4K HDR content, whether produced by Netflix or by other studios.
Under the IMAX Enhanced certification program, TVs must meet minimum performance requirements for resolution, color, contrast, and dynamic range to take full advantage of IMAX Enhanced 4K Blu-ray discs and other IMAX Enhanced content. The TVs must also have screen sizes of 65 inches and up.
IMAX Enhanced content undergoes IMAX-proprietary post-production processing to improve picture quality on premium TVs, which would otherwise reveal more native artifacts in the IMAX content, IMAX said. In addition, any IMAX Enhanced home-entertainment titles originally shot with IMAX cameras feature an expanded aspect ratio similar to that of IMAX theater screens, eliminating black bars across the bottom and top of 16:9 TVs and filling that space with more pixels.
All of the new TVs feature HDR 10, HLG, and Dolby Vision high dynamic range (HDR) technologies, for now eschewing the SL-HDR1 and the Samsung-backed HDR10+ technologies. All of the new TVs also run the Android TV OS and feature built-in Google Assistant.
Dolby Atmos Comes to TVs
To boost audio performance, Sony is joining LG in bringing Dolby Atmos decoding to TVs. The immersive-audio format appears in all of the new TVs but the two A8G series models.
Also to enhance sound, the OLED TVs continue to offer Acoustic Surface Audio technology, which aligns individual sounds and voices with their on-screen locations and enables individual sounds to pan across the screen.
For the first time, Sony is bringing a similar audio experience to LCD displays, offering Acoustic Multi-Audio technology in Master Series LCD TVs and X950G LCD TVs. In the Master Series, the technology uses four front-facing speakers, two on top and two on bottom. In the X950G series, Sony uses what it calls "sound-positioning tweeters."
TVs with either sound technology can double as a center-channel speaker in a multi-speaker home theater system.
The price and availability of all 11 TVs unveiled at CES will be announced in the spring. For comparison purposes, Sony's 2018 Master Series was introduced at suggested retails from $4,499 to $6,999.
More Highlights: eARC, 4K Blu-ray, and Audio
A wide-bandwidth eARC (enhanced Audio Return Channel) port is available in Master Series like last year and expands to the X950G series, enabling the TVs to pass through Dolby TrueHD and DTS HD Master soundtracks, along with Dolby Atmos and DTS:X metadata, from the TVs' HDMI inputs to TV-connected AV receivers or soundbars.
Sony also announced a new 4K Blu-ray player. The UBP-X800M2 replaces the UBP-X800 and adds Dolby Vision and HLG HDR technologies to its predecessor's HDR 10. Carryover features include multichannel SACD and DVD-Audio playback, Dolby Atmos and DTS:X surround, and 4K streaming services such as Netflix and YouTube. It'll be available in the spring. Pricing wasn't disclosed, but its predecessor retails for $249.
Sony also announced its first turntable with a built-in Bluetooth transmitter, which sends music to Bluetooth speakers or to Bluetooth-equipped home audio systems. The LX310BT is due in the spring at a yet-to-be-announced price.
Sony also launched its first Atmos/DTS:X-equipped soundbar with built-in subwoofer instead of an outboard subwoofer. The 2.1-channel HT-X8500 is due in the spring at a price that wasn't announced. The company's other three Atmos/DTS:X sound bars are priced at $499, $899, and $1,499.