Sonus faber Looks to Spring with 1st Outdoor Speaker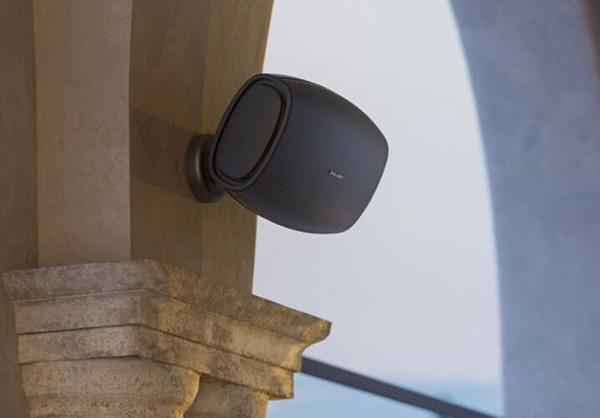 Sonus faber, the Italian company known for its striking speaker designs, previewed its first outdoor speaker at last week's Integrated Systems Europe (ISE) show in Barcelona.
Slated to ship in the spring, the new Aster speaker ($450) is an IP-65-rated speaker, meaning it's impervious to dust and resistant to rain and direct water sprays.
While it lacks the stately appearance of its indoor counterparts, the soft lines of the slender speaker enclosure is aesthetically pleasing and appropriate for inconspicuous wall mounting with an integral aluminum bracket that allows the speaker to be easily tilted up or down in 15-degree increments. No tools are required to position the speaker thanks to a clever spring-loaded mechanism in the bracket, which provides a 180-degree range of motion when the speaker is horizontal (the speaker can be positioned vertically).
The Aster is a two-way design that mates a 6-inch woofer and 1-inch tweeter in a slender enclosure with a bass-boosting passive radiator on each end that contributes to a rated low-frequency cut-off of 61Hz (–3dB). The enclosure is made of weather- and UV-resistant PC-ABS that blends polycarbonate and ABS for greater strength and heat-resistance.
Available in black or white, the speaker weighs just over 9 pounds and is 11.5 inches long; it protrudes about 8 inches from the wall when mounted. For more information, visit sonusfaber.com.