Sonus Faber Grand Piano Home surround speaker system
John Lennon's line in "Come Together"—"Got to be good-looking 'cause he's so hard to see"—sums up the sleek, shapely appearance of Sonus Faber's new Grand Piano Home L/R speaker. With its warm, leatherette-wrapped front and rear baffles and sculpted black-lacquer-like side cheeks, the gently sloping design exudes European elegance even as it seems to disappear under its own good looks.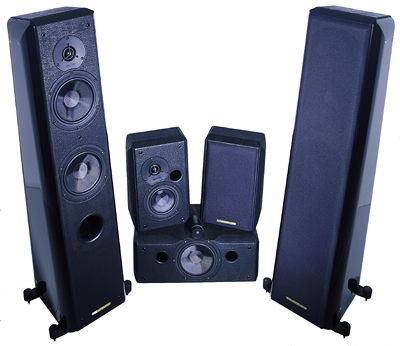 While superficially resembling the original Grand Piano, which I reviewed in the May 1998 Stereophile, the Home is larger and trades in the 2-way-with-passive-radiator design for a 21/2-way system. Two 7-inch coated glass-fiber-cone woofers handle the lows. The lower bass driver, tuned with a front-mounted port, rolls off gradually above 200Hz. The other 7-inch driver's response continues up to 3kHz. The advantage of this arrangement is that you gain the bass heft of the larger radiating area of the double drivers operating in tandem, without the beaming and intermodulation (IM) distortion problems that can occur when you try to get a larger, single LF driver to simultaneously produce upper mids and bass. A ferrofluid-cooled, 11/2-inch silk-domed tweeter fitted with a "spider" delivers the high frequencies. All drivers are magnetically shielded. The claimed frequency response is 35Hz-20kHz at 90dB sensitivity. The Home's single set of high-quality binding posts replaces the original Grand Piano's biwirable pair.
The new Solo Home center-channel speaker features a familiar-looking, freestanding tweeter in a microphone-like encasing, but it is smaller and far less cumbersome than the company's original center-channel design featured in the Concerto Solo, which I reviewed in July/August 1998. I found the sound of that speaker, with its center-mounted, 3/4-inch tweeter flanked by a pair of 6-inch woofers, to be overly warm in the midbass, giving voices an unpleasant chestiness. The Solo Home uses the same tweeter and 7-inch woofer as the Grand Piano in a smaller, front-ported baffle that shares the Grand Piano's leatherette look. Efficiency is somewhat lower, at 88dB, with claimed response of 40Hz-20kHz.
Rounding out the system is the compact Wall surround speaker, four of which were supplied for this review so I could listen to Dolby Digital EX and DTS-ES. The Wall, too, is a front-ported 2-way featuring a single 6-inch glass-fiber-cone woofer and the same 11/2-inch silk-dome tweeter used in the other speakers. Despite its small size, the Wall is claimed to go down to 60Hz—well below the THX standard of 80Hz.
All drivers are built by well-known manufacturers, such as Vifa and Scanspeak, to Sonus Faber's specifications. The unique cabinetry is Sonus's own, as I found out when I visited their factory after covering the Top Audio hi-fi show in Milan a few years ago. The Home-series cabinets consist of a folded MDF center section that's open on the sides and includes the front baffle, rear, top, and bottom. The box is sealed by the side panels, which are decoupled when mounted to control resonances. The design is ingenious, cost-effective, and, in Sonus's hands, aesthetically pleasing.
During that visit I spent time with Sonus Faber founder and chief designer Franco Serblin and watched him "voice" a new speaker, the Cremona, which has since been released. In designing his speakers Serblin uses a combination of science and art to achieve a canny balance to which music lovers and home-theater enthusiasts have responded positively. When I visited, ground was about to be broken for a capacity-doubling new factory.
The Sonus Faber Sound and the Grand Piano Home
Franco Serblin is an all-around aesthete who knows good food, wine, dress, art, music, conversation—and sound. In the Home he's created another gorgeous-looking speaker line with an exquisite sonic balance focused on where the music is: the midband. But more than that, in the Grand Piano Home he's built a speaker that can play louder, go lower, is easier to drive, and has fewer obvious colorations than the original—especially in the upper midrange, where the GP was slightly prominent. I have no doubt that the Infinity IL60s I recently reviewed will probably measure better, but for sheer listening pleasure, I'd choose the Grand Piano Homes for music and movies.
Sonus Faber's specialty is palpability—the sensation that the event is occurring in your room, or that you've been transported to the event. This is where the art comes in. The Grand Piano Home's tonal balance is wide open, even slightly sharp in the upper mids/lower trebles, but completely free from "electronica" or etch. The top end just seems to sail silkily into airy oblivion—even if, in reality, the very top is probably rolled-off gracefully. Even in less than ideal home theaters, where speaker placement is limited and defined by monitor placement, the GP Homes' sound never seemed to be coming from drivers in a box. This is an extremely difficult sensation to achieve—especially at this price point.