Sonos Introduces Playbar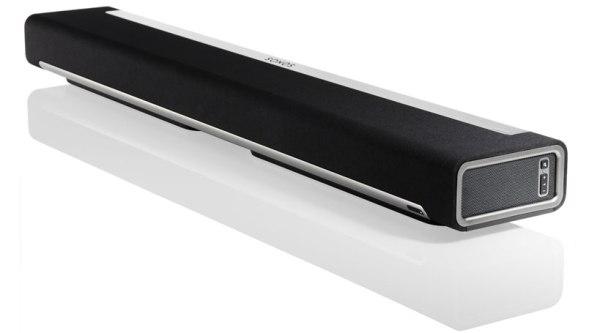 As a service to our readers, HomeTheater.com publishes selected manufacturer-supplied announcements and press releases for products that we think might interest you. Content is posted here exactly as issued by the manufacturer and does not imply endorsement of any kind by Home Theater or any hands-on experience by its reviewers or editors. Visit our Reviews area to browse test reports for products that have been formally evaluated by our expert staff.
INTRODUCING SONOS PLAYBAR
Unleash Your TV Sound. Unleash All The Music On Earth.
Santa Barbara, CA - Tuesday, February 12, 2013 - Sonos, Inc., the leading manufacturer of wireless audio systems, today introduced SONOS PLAYBAR™, the soundbar for music lovers. PLAYBAR brings immersive HiFi sound to the TV and, being a full Wireless HiFi System, streams all the music on earth through one easy-to-use player. HiFi meets HiDef globally beginning March 5.
"Sonos has transformed the way people listen to music throughout the home and now we're bringing our wireless HiFi approach to home theater," said John MacFarlane, CEO, Sonos, Inc. "PLAYBAR will change everything about the sound experience in your living room, bringing together amazing HiFi sound for your TV and wireless access to the world's music in a radically simple way."
The sophisticated all-in-one design of PLAYBAR combines exposed aluminum with high performance speaker fabric for a look that's timeless, understated and because it does not require a subwoofer or speaker wire, easily fits into any room and setup. Its built-in sensors help PLAYBAR automatically adjust EQ and channel orientation so it can lie flat on the TV stand or rotate for low profile wall-mounting above or below the TV.
Under the hood, PLAYBAR gets its punch from nine individually amplified speakers: six mid-woofers to deliver deep, rich low-frequency sounds, and three tweeters for crystal clear high-frequency detail. PLAYBAR's advanced speaker array technology combines hardware and software to create a surprisingly wide soundstage beyond the physical soundbar, while maintaining crisp, centered vocals. Whether you are watching a movie, playing a game or streaming a song from Pandora or Spotify, PLAYBAR will always sound much clearer, not just louder.
Designed for easy setup and use, PLAYBAR connects to the TV with a single optical cable, playing everything that is connected to it, including cable boxes, Blu-ray players and game consoles. It understands common audio formats output by TVs including Dolby® Digital. Customers can control the volume or mute with a regular TV remote or with one of the free Sonos Controller apps for iPhone, iPad, Android, Mac or PC. PLAYBAR works seamlessly within the Sonos wireless audio family: Pair PLAYBAR with the award-winning SONOS SUB for deep waves of spine-curling, jaw-dropping sound and add a pair of PLAY:3s to act as wireless surround speakers for an immersive 5.1 home theater surround sound experience.
PLAYBAR will retail for $699 USD (€699, £599) and will be available for purchase at Sonos.com, Amazon.com, Best Buy / Magnolia Home Theater, P.C. Richard & Son and many other retailers around the world.
Sonos also released a free software update for the Sonos Wireless HiFi System. Sonos System Software 4.0 introduces enhancements that make it faster and easier to play all the music on earth. Sonos Favorites provides one-touch access to your favorite music from any Sonos source (music library, streaming services and radio stations), right from the music menu. The Sonos Controller for Android features a new widget that allows you to control Sonos directly from your Android home screen. Plus, the Sonos Controller for iPhone has been optimized for the larger screen of the iPhone5. The free one-button software update is available now.