Solar-Powered Earbuds Promise Endless Playtime, No Charging Cables
Urbanista, the Swedish lifestyle brand specializing in reasonably priced wireless headphones and earbuds, is now shipping the solar-powered Phoenix noise-canceling wireless earbuds it announced in August.
Hailed as a "world's first" in the earbuds category, the $149 Phoenix relies on the same Powerfoyle solar technology used to charge the full-size Los Angeles wireless headphones ($199) introduced in 2021. Thanks to a small solar panel on the charging case, the earphones charge continuously when they are stored in the case as long as it is exposed to any form of (artificial) indoor or outdoor light. The solar panel is described as efficient, harvesting light that is diffuse, partially shaded, and coming in from wide angles. The patented solar cells were first used on the POC Omne Eternal self-powered bicycle helmet.
In addition to getting rid of the charging cable, the earbuds feature active noise cancellation with a transparency mode and are rated to play for up to 8 hours before they have to be returned to the charging case, which boasts a battery reserve of 34 hours to keep the music playing, even in low-light conditions. A USB charging cable is provided as a back-up when the charging case ends up in your backpack.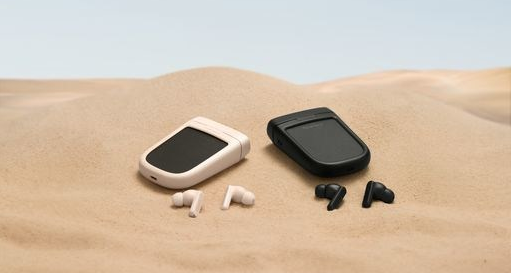 Based on Bluetooth 5.2, the Phoenix earbuds are water-resistant, support multipoint connection for connecting two devices simultaneously, and power on and off automatically when they are placed in or removed from your ears.
Sound is produced by a pair of 0.4-inch dynamic drivers and Urbanista provides a companion app for iOS and Android phones that makes it easy to monitor solar charging and battery levels, customize earbud touch controls, and change EQ settings to personalize the sound. Noise reducing microphones are said to filter out ambient sounds to improve call quality.
The earbuds are available in black or "desert rose" (pale pink) and come with an assortment of small, medium, and large silicone eartips. For more information, visit urbanista.com