Sitting Room Pretty
Constructing a theater from scratch in a custom-built home can be a challenge, but remodeling a room in an established home can sometimes be even more demanding.
That was the case with this 7,800-square-foot home in Siesta Key, Florida. For the second remodel in its 26-year existence, the homeowner called in custom builder, Rick Oswald, owner of OZ Build and Design, based in Sarasota, FL, to fashion a theater on the home's second floor. Ryk Schoonheim, owner of Sarasota-based Sights, Sounds, and Such then outfitted the room with the latest gear.
The unique location of the 572-square-foot space made it an unusual option for a theater. An open sitting room with a 14-foot ceiling (and a floating tray ceiling at 10 feet), it is situated between three bedrooms in a high-traffic area, yet it's a natural gathering spot for this family of five.
Oswald first built a wood floor to serve as a perimeter around the raised carpeted area and then added art deco–style woodwork around the theater. The wood treatments left the area with some hard surfaces to combat, so Schoonheim installed QuietRooms fabric-stretched acoustical wall treatments—an environmentally friendly type of application that doesn't use traditional fiberglass panels. To eliminate as much reflection as possible, Schoonheim also treated the ceiling, a huge surface area that is often overlooked.
For video, Schoonheim installed a Vidikron Model 50 DLP projector (chosen in part because it is practically silent during operation) with a 123-inch Stewart film screen. The screen features a four-way masking system that drops fabric from the sides, top, and bottom to crop whatever aspect ratio is displayed.
To keep the room as uncluttered as possible, all eight black gloss Energy Veritas speakers are hidden in the room. Four surround speakers are installed behind the acoustically treated fabric panels, while the front speakers and 1,500-watt Velodyne SPL1200R 12-inch subwoofer are nestled inside the cabinetry. A Denon AVR-4806CI A/V receiver (which also streams pictures and music from the local computer network) and Denon DVD-1940 progressive-scan DVD player are situated in an AT48 gear rack from AVRAK. A Philips Pronto TSU7500 remote with color touchscreen controls the entire system.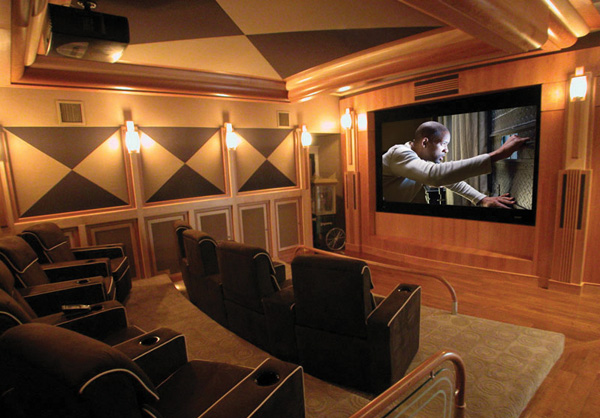 Lighting was an important factor for the family, so plenty of options have been programmed. For instance, as the main lights dim, the steps remain illuminated to prevent injury. There are also several scenes from All On, to Half Dim, to Movie Mode.
Just as the home theater was nearing completion, one small detail was nagging Oswald. The Vidikron projector is only available in white. White works great in many applications because most ceilings are light in color, but it didn't lend itself to the dark colors of this room's dcor. Schoonheim removed the projector the next day and sent the chassis out for a custom paint job to match the acoustical wall treatments.
Just one look at this cozy communal theater is proof that any room in the home—even in an unusual location—can be transformed.
Equipment List:
Stewart Filmscreen 123-Inch BRIC Four-Way Masking Screen
Chief RPAU Ceiling-Mount Bracket for Projector
Denon AVR-4806CI A/V Receiver
Denon DVD-1940 DVD Player
Energy Veritas 2.0Ci Center-Channel Speaker
Energy Veritas 2.2i Bookshelf Speaker(2)
Velodyne SPL1200R Subwoofer
Proflex Optical Cable
SCP HDMI Component Cable
Philips Pronto TSU7500 Remote Control
Philips RFX6500 RF Extender for Pronto Remote
4-Inch Cooling Fan
Panamax MAX1500-UPS Surge Protector
AVRAK AT48 Equipment Rack
QuietRooms Acoustical Wall System