Simaudio Moon Evolution Pre/Pro & Power Amp
The Moon brand from Canadian high-end stalwart
Simaudio
is well known among audiophiles, but I didn't realize that its premium Moon Evolution line also includes some multichannel home-theater products. Submitted for your consideration are the CP-8 preamp/processor, HDS-8 HDMI switcher, and MC-8 modular multichannel power amp.
The CP-8 offers 7.1-channel operation with Audyssey MultEQ XT automatic room calibration, and different sources can be sent to three zones. It can decode all the modern video and audio formats, including Dolby TrueHD and DTS-HD Master Audio, and NSV Precision Video processing includes Faroudja DCDi (admittedly, a bit dated at this point), 1080p passthrough, and analog-video upscaling to 1080p via HDMI.
Speaking of HDMI, the CP-8 has only two HDMI 1.3 inputs, so Simaudio offers the HDS-8 HDMI switcher with five inputs and one output. It supports a data-transfer rate of 6.75Gbps (sadly, not the full 10.2Gbps that HDMI 1.3 is capable of), and it can auto-detect which source is active. An RS-232 port allows full automation with control systems such as Crestron.
Last, but certainly not least, is the mighty MC-8 power amp. Its modular design lets you populate the chassis with two to seven channels of amplification—specifically, 250 watts/channel of continuous power into 8Ω, 500Wpc into 4Ω, and 1000Wpc into 2Ω—and the oversized power supply with its proprietary toroidal transformer provides plenty of dynamic range for any soundtrack. The amps operate in Class A mode at outputs up to 5W for greater efficiency at typical listening levels, and balanced-differential circuitry is used throughout. Be forewarned, though—this beast requires a 220-240V AC outlet, and like the CP-8, it's designed to remain powered up at all times for optimal performance.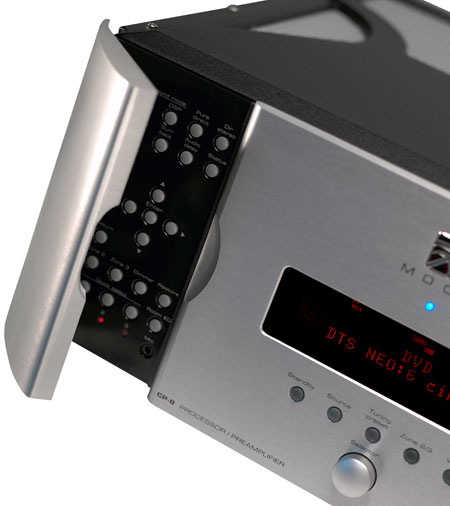 Of course, if you have to ask how much, you can't afford them, but I'll tell you anyway. The CP-8 lists for $20,000, and the HDS-8—which is essential for this system in my view—is another $2500. The MC-8 starts at $17,000 with two channels, and each additional channel adds $1000, up to $22,000 with seven channels. That's $44,500 for a fully loaded system, but you're likely to get quite a ride for your money.