Silicon Valley's Next Stand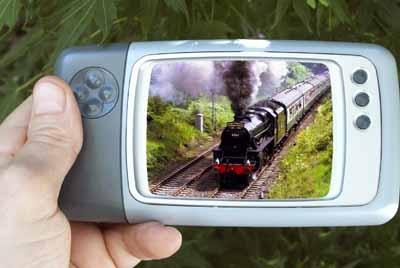 (Photo Illustration on home page by Dan Vasconcellos. Photos in story by Terry Schmitt.)
SANTA CLARA, CA-As the Invertigo roller coaster at Paramount's Great America pulls you 138 feet above the flat Silicon Valley floor, the brown Diablo Mountain Range looms to the east and the green Santa Cruz Mountains to the west. As you look down from the swaying steel car, you see the Santa Clara Valley plastered with low-slung corporate parks, interrupted by Freeway 101 and the South Bay. Once identified more with Spanish missions and farmland than with silicon chips, it's now known simply as "the Valley" among those in the computer industry. Spotting the many Porsches in the endless parking lots, you'd think that California's second gold rush, first in personal computers and then the Internet, was still going on, rather than the worst high-tech recession anyone can remember. The Valley's jobless aren't exactly holding up signs that say, "Will work for bandwidth," but there is near-universal agreement that the freeways are a whole lot less congested. Spinning the positive, Paul Saffo, director of the Institute for the Future, argues that the economic fires that have scorched the Valley have served to clear out dead wood and prepare the ground for a surge of new growth. During a week in which I visited several companies and R&D facilities in the Valley, I came to the conclusion that Saffo is probably correct, but the eventual fruit of that new growth will look different from what we were used to. Nearly everyone I talked with identified the digital home and the entertainment cravings of its occupants as the Valley's next big opportunity.
Pushing the Envelope
Driving from Great America, SonicBlue is one mile and two turns away. Formerly known as S3, this company is a good starting point to assess the changes underway in the Valley. In acquiring ReplayTV video hard-disk recorders, Rio MP3 players, and the Go-Video line of VCRs, DVD players, and related products, SonicBlue's focus has shifted from producing graphics chips that other manufacturers use, to making electronics gear for ordinary people. Its ReplayTV division is taking advantage of emerging home-networking technology with models that let you use your remote control to "space-shift" remotely recorded programs from room to room as easily as you time-shift them.
SonicBlue's Replay TV portable video player, being developed in cooperation with Intel for sale in late 2003.
By having space-shifting products available now rather than later in the decade, when home networking and broadband access become more mainstream, SonicBlue has attracted the wrath of Hollywood. Not only can ReplayTV owners decide how to distribute shows to TVs within their homes, but they can also send shows to a limited number of other ReplayTV owners around the country via cable modem or DSL connections, albeit at a transfer rate that makes overnighting a videocassette more attractive. You can also leapfrog a block of commercials in an instant without having to touch the remote-something cranky viewers call crap-shifting. "It's such a compelling device that once you have it in your home, you become not only addicted to it but an advocate for it," said Greg Ballard, SonicBlue's CEO. His comment sounds like something Apple Computer's CEO, Steve Jobs, might say about Macintosh owners who turn into Mac evangelists. In SonicBlue's case, movie studios and TV networks have sued the company to make ReplayTV a lot less viewer-friendly and a lot more in tune with their vision of pay-per-play. The resulting trial, expected to take place in Los Angeles federal court in late 2003, can be seen as entertainment-dominated Southern California vs. tech-centric Northern California. (And you thought intrastate rivalry was limited to baseball?) Meanwhile, plans are going ahead for SonicBlue to collaborate with its Santa Clara neighbor, Intel, which makes most of the CPU chips for Windows-based computers, to develop a portable video player (PVP). An Intel spokesman explained that rather than introducing its own PVP models, the company is offering a design platform on which companies like SonicBlue can build products. About the size of a paperback book, SonicBlue's hard-disk-based recorder will feature a 4-inch color LCD and is planned to be available in late 2003 for under $1,000. It's designed to accept programs transferred from a ReplayTV set-top unit or to receive other multimedia content from a PC. Dr. Nikhil Balram, VP of marketing for SonicBlue's Connected Home Products, said the PVP would be a superset of the company's currently available RioRiot MP3 jukebox since it would also play native ReplayTV files. Like a portable DVD player, a PVP would be most useful on long trips. Imagine recording a season's worth of your favorite TV series. You could watch 22 episodes of
Smallville
, say, just as easily as
Superman
I, II, III, and IV.
Big Plans for Pronto
Meanwhile, Philips is looking to extend its line of Pronto remotes beyond just A/V control. Sugata Sanyal, director of the Pronto product line and remote-control systems at the company's Silicon Valley Center in Sunnyvale, told me, "We live and drink technology here. The Valley is so technology-centric it sometimes ignores that first and foremost, things have to be easy to use." In focusing on how technology will evolve in the living room during the next few years, Sanyal has looked at luxury homes that are already equipped with elaborate, custom-installed A/V systems. "We've taken the home theater and put it in a box. The challenge today is, how do you take the digital home and put it in a box?"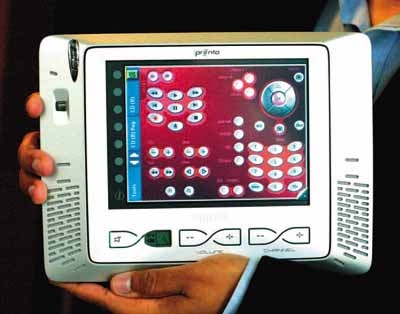 A prototype of a next-generation wireless Pronto remote for controlling home-entertainment systems and watching videos.
In Sanyal's plan, Pronto, currently a "universal" A/V remote control with a monochrome screen, morphs into a much more broadly capable device with a 6-inch color screen. He expected a version would be available early this year that could store an electronic program guide (EPG). After downloading two weeks' worth of guide information by connecting the Pronto to your computer, you could change channels or set your VCR to record a program by simply touching the little screen. Just remember to keep an unattended Pronto pointed at your TV, since it's still an infrared controller. Things should become even more interesting later this year when a Wi-Fi-enabled version will take on some of the capabilities of a wireless tablet PC. (See "When Your Home Outsmarts You," left, for more about Wi-Fi.) While you wouldn't necessarily use it to browse the Internet, the new Pronto, Sanyal said, would become "a handheld TV companion just as the PDA is a PC companion." Among the scenarios he envisions for Pronto as a personal viewing device are: • Watching 15 minutes of soccer streaming off the Internet-anywhere in the house. • Displaying a picture-in-picture (PIP) on your lap instead of in a corner of the TV screen, so you can keep an eye on the game without detracting from the movie that the rest of the family is watching. • Wedded to a hard drive, the new Pronto sits in a cradle to record your favorite TV shows. Then you detach it to take the shows with you for playback while traveling.
Bending Light
My last stop is at another cookie-cutter corporate park by a freeway. But the tenant, Silicon Light Machines (SLM) in Sunnyvale, is far from pedestrian. On a 10-foot screen in a dark room I savored some of the best-looking front-projected video and still images I've ever seen. The 1,920 x 1,080-pixel picture was not only high definition but also progressive-scan. The resolution was so good, in fact, that I could almost feel the lint on a woman's coat or the fuzz on a peach. SLM exploits micro electromechanical system (MEMS) technology in what it calls the Grating Light Valve (GLV) to diffract laser light using an array of tiny movable ribbons mounted on a silicon base. The GLV uses six ribbons as the diffraction gratings for each pixel. The alignment of the gratings is fractionally altered by electronic signals, and this displacement controls the intensity of the diffracted light in a very smooth gradation.
Click here to see the GLV diagram (PDF)
To create an HDTV-equivalent vertical array, there are 6,480 ribbons in a line. Unlike the miniature matrix found at the heart of an LCD- or DLP-based projector, the GLV is one-dimensional. The red, green, and blue laser sources shine onto the GLV linearly, forming 1,080 pixels. A mirror scans across this one-dimensional image horizontally to sweep a two-dimensional image across the screen faster than the human eye knows what hit it. GLV proponents claim that the device is capable of a contrast ratio of more than 3,000:1. In the breadboard-type system I saw, the equipment took up as much space as an SUV. However, SLM's owner, Cyprus Semiconductor, has licensed the technology to Sony for projection applications. (It can also be used for printing and telecommunications.) Sony showed a prototype at an electronics fair in Tokyo this fall. The company indicated last June that it was aiming to introduce production units for the professional and high-end home theater video-projection markets within two years. Final design and pricing have not been set. Technology overload is a not uncommon sensation in the Valley. I visited other companies and witnessed more demos than I have space to report on here, but nearly everyone I met talked about the future in accelerated terms. Maybe the future used to take longer, but in the perpetual sun of the Valley, everything will be faster, smaller, cheaper, and-above all-cooler than anything we've seen yet.
---
Much more on this story, including an interview with two scientists from the Xerox Palo Alto Research Center, appeared in the January 2003 issue of
S&V
.