Showtime: Apple's New iPod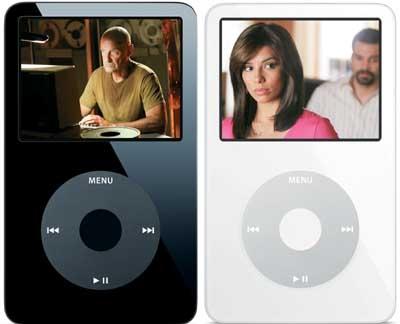 •30 GB, $299 ($399 with 60 GB) •23/8 x 41/8 x 3/8 in (1/2-in depth with 60 GB) •43/4 oz (51/2 oz with 60 GB) •320 x 240-pixel, 21/2-in LCD screen •Plays AAC, MP3, Audible, WAV, and AIFF audio •Plays MPEG-4 and H.264 video in M4V, MP4, and MOV formats •Displays JPEG, BMP, GIF, TIFF, PSD (Mac only), and PNG photos •Rated battery life: 14 hours for music playback, 2 hours for video (20 hours music, 4 hours video for 60-GB version) •apple.com >> 800-692-7753
Don't call it the Video iPod! That was unquestionably Apple's message after it introduced its latest flagship digital music player. Although the iPod's newfound video abilities were clearly the biggest news in the upgrade (5G, to the iCrowd), Apple appeared wary of terrifying people by hinting that something had happened to their favorite music player. The iPod is still alive and well - it just plays videos now. You know, if you want 'em.
Well, I want 'em. Now that I've got a digital cable box with a DVR, I'm into TV like never before, and it's getting tough to keep up, even with fast-forwarding through commercials. If there's any way to get up to date on Threshold during my daily commute, sign me up.
The new iPod promises to do just that. While portable video players are common these days, Apple's seamlessly integrates with the iTunes online service, which offers a few ad-free TV shows for easy download along with thousands of music videos and vidcasts. Plus it has the bytes to store them - 30- and 60-gig versions are available. All that capacity comes in handy when a single episode of
Night Stalker
takes up 200 MB.
It's no surprise the new iPod keeps the same successful design, size (although the new model is a bit thinner than previous generations), and interface - the often-imitated but never-equaled Click Wheel. It comes in either traditional white or nouveau black, just like the iPod nano.
Black or white, the iPod is still just as effective at doing what the iPod does best: making you look cool. In fact, watching video on your iPod in public is probably the best nyah-nyah you can give a less up-to-date techno-hipster. As a video 'Podder, you ascend to a higher caste in the social hierarchy of portable electronics, a step up from mere passive music listeners, and certainly well above the annoying brats jabbing away at their PSPs.
VIDEO CHOPS But what exactly are you looking at? The iPod's 2.5-inch (diagonal) screen is about the same size as the viewfinder on most camcorders - passable in a pinch, but hardly the best way to watch a thrillfest like Lost. For what it is, though, it's not bad. Images are sharp and bright, with no motion blurs or screen-door effect (faint lines between pixels seen on some LCD screens). As with most LCDs, blacks could be blacker, and some detail is lost in shadow, but overall I was very impressed with just how much detail was clearly visible on such a small screen. In the first few seconds of the Season 2 premiere of Lost, in a closeup on the eye of the mysterious occupant of "the hatch," I could discern individual Venetian blinds reflected in his iris.