Sharp's Aquos Enlarged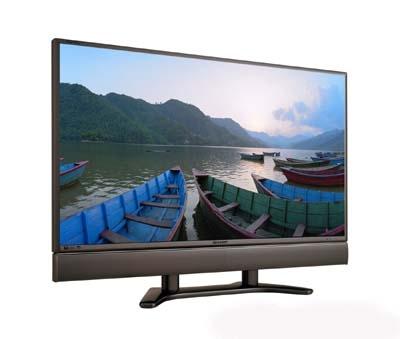 Sharp's Aquos LC-57D90U 57-inch LCD HDTV boasts blazing fast pixel response and enhanced color reproduction.
If flat-panel TVs could be custom tailored like suits, manufacturers wouldn't feel the need to keep introducing new screen sizes. But liquid-crystal displays can't be cut to order, so companies like Sharp choose the dimensions and hope customers will like the fit. This year's number: a Heinz-friendly 57. Inches, that is.
Sharp's widescreen Aquos LC-57D90U slides in between its 45- and 65-inch models. The 1080p display will be available in March for $16,000.
Sharp says the TV delivers a 1500:1 contrast ratio, a 176-degree viewing angle, and an astonishingly quick 4-millisecond pixel response time, which should enables it to handle fast-action scenes with an ease uncommon among LCDs. The LC-57D90U also incorporates a new "five-wavelength" backlight system that is said to yield more vivid reds and greens than previous models.
Connections include HDMI, dual wideband component-video, DVI-I, and dual FireWire (IEEE 1394). There's also a CableCARD slot.
Check out more CES news. Back to Homepage What's New on S&V
WHERE TECHNOLOGY BECOMES ENTERTAINMENT