Sharp Aquos LC-65D90U 65-inch LCD HDTV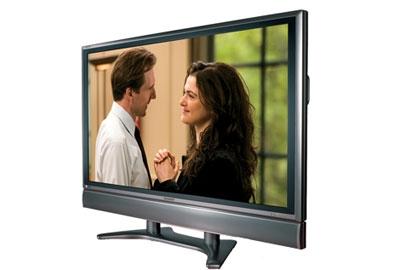 What We Think
There are cheaper options at its screen size, but Sharp breaks new ground with this biggest-ever LCD TV.
TV reviewers get to gaze at a lot of fantasy products. January's Consumer Electronics Show, for example, was chock-full of one-of-a kind 100-inch-plus plasmas, eye-popping SED panels straight from the lab, and all manner of things that no one really makes (except to haul to trade shows) and no one could ever really afford (save for movie stars and sports heroes).
Sometimes, though, a manufacturer actually tries to bring one of these beasts to market, fully knowing that it will sell but a relative handful of units. Of course, it's not about achieving volume, it's about The Statement. And so it is that the Sharp Aquos LC-65D90U 65-inch LCD HDTV- currently the largest commercially available LCD flat-panel television ever to hit the streets- is as much a public relations campaign for Sharp and LCD technology in general as it is a TV. With its physically enormous presence, 1080p high-resolution screen with more than 2 million pixels, and $21,000 price tag, there's just nothing small about it. Even before any discussion of how it performs, you have to be humbled by the mere fact that they can build it- much less have the audacity to do it in quantity.
Seeing a flat-panel form factor for something this big is appealing. Though the Sharp Aquos LC-65D90U is almost 62 inches wide, the panel itself is just under 6 inches deep, a ratio that should make for a breathtaking on-wall display. Barring a wall mount, a panel this big needs very solid support, for which Sharp provides a sturdy 17-inch-deep pedestal stand. At 174 pounds, the TV is surprisingly heavy given that light weight is usually seen as a benefit of LCDs. Dropping it into position is definitely a two-man job (and make 'em the burly kind).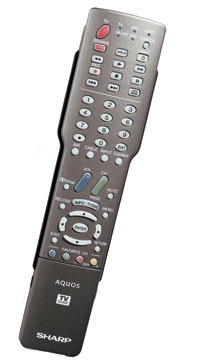 SETUP A full set of inputs adorns the LC-65D90U's back panel. One each of HDMI and DVI cover digital video, and a CableCARD slot with an integrated TV Guide On Screen program guide allows viewing of digital cable programs, including premium channels, without the need for an external cable box. Unfortunately, neither of the two digital inputs accepts 1080p signals, a disappointment given the imminent release of high-def 1080p Blu-ray discs and players and the set's impressive price tag.
Of the five available color presets in the menus, I found that Mid-Low was closest to the neutral-gray color temperature we strive for, which defines the overall background cast of the picture. A few adjustments in the service menu (see "Test Bench") brought it close to the ideal. Sharp's vast Color Management System (CMS) in the user menu also allows plenty of fine-tuning of the TV's color, which slightly accentuated red out of the box. Once I took the red down a couple of clicks in the Saturation menu, it was perfect. Like many LCD TVs, the Sharp Aquos LC-65D90U has a control to adjust the output of the LCD backlight. This is set very high at the factory to achieve better brightness, but you can get more realistic blacks by setting it lower. Don't go too low, though, or you'll lose shadow detail. I found -8 to be a good compromise, but even at this setting, the TV wasn't able to deliver the rich black of many plasmas.
LATEST VIDEO