Sharp Aquos LC-65D90U 65-inch LCD HDTV Page 2
The Short Form
$21,000 / 61.9 x 46 x 17.1 IN / 174 LBS / AQUOS.COM / 800-237-4277
Plus
•Huge size for an LCD panel. •Doesn't crush whites. •Good color reproduction. •Full 1920 x 1080 resolution.
Minus
•Limited reproduction of blacks. •Poor shadow detail. •Can't accept native 1080p HDTV. •One too many zeros on the price tag.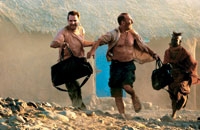 Key Features
•65-inch (diagonal) screen •LCD fixed-pixel display •Digital cable-ready tuner with CableCARD •rear inputs 1 HDMI, 1 DVI, 2 HDTV-compatible component video, 3 composite, 2 S-video, all with stereo audio; 2 Firewire; 3 RF antenna/cable; CableCARD slot •rear outputs 1 S-video; 1 composite-video; 1 stereo audio; optical digital audio
Test Bench
Color temperature (grayscale) was slightly cool out of the box with the Mid-Low color- temperature preset. For all but the HDMI input, this could be fully fixed in the service menu. For the most part, grayscale tracking was within ±150 K of the standard 6,500 K after calibration, though there were noticeable dips at 20, 40, and 70 IRE. Color decoding showed a +5% red error, which I was able to eliminate with the user menu controls. The Sharp Aquos LC-65D90U fully resolved a 1080i multiburst test pattern. Full Lab Results
PICTURE QUALITY
The Constant Gardener
, whose scenes vary from dimly lit interiors and night shots to bright African bazaars, provided ample opportunity to test the LC-65D90U's performance with DVDs. In many ways, the giant LCD served up an excellent picture. For example, in a play attended by the main characters at the beginning of Chapter 4, the bright oranges, yellows, reds, and cyans of the traditional African costumes appeared rich and vibrant. In Chapter 3, when Justin Quayle (Ralph Fiennes) must identify the body of his wife Tessa (Rachel Weisz), the room is illuminated by eerie green fluorescent bulbs that perfectly characterize the grisly scene. Thanks to the LC-65D90U's accurate grayscale reproduction, their haunting glow came across perfectly, with no hint of unwanted color shift. Indeed, the TV did a wonderful job of maintaining its grays, even on very dark material. A lot of LCD flat-panels turn deep shadows into purplish blobs; this Sharp went slightly blue in these darkest areas and lost a little detail, but fared much better than most.
The TV also did great handling very bright scenes, where it maintained tons of picture detail, especially in the highlights- something LCDs also tend to do poorly. In Chapter 10, during a scene in which drug-company employees distribute pills, I was actually able to see the outlines of the lapels on their all-white lab coats, even when they were standing out in the glaring Kenyan sun. But it had a much harder time reproducing details in dark shadows. For instance, just prior to the morgue scene, three figures are seated in shadow on the wall outside the building as Quayle enters, but I couldn't detect any features on the men's faces. This and other dark scenes also suffered from some false contouring, in which transitions between light and dark exhibit subtle banding instead of a smooth ramp.
Switching to high-definition material really underscored this TV's ability to resolve tons of detail. The enormous 1920 x 1080-pixel screen delivered a super-sharp image- to the point that it quickly revealed the flaws in excessively compressed HDTV broadcasts. But on good source material, the picture looked great. Watching Corwin's Quest on Discovery HD Theater, for example, I was able to see tiny hairs and eyelashes on a giraffe's face, as well as the fine textures of an eagle's feathers.
Colors on HDTV were just as impressive as on DVD. The uniforms and court decorations in the basketball games I watched lit up the screen. And the Sharp Aquos LC-65D90U 65-inch LCD HDTV presented rock-solid action, with none of the ghost trails from fast-moving objects seen on a lot of earlier LCDs.
BOTTOM LINE Overall, Sharp's LC-65D90U is one of the best LCD TVs I've seen, though it's not without some of the flaws that have plagued LCD panels since their beginning. Still, it pushes the envelope of what an LCD can do, delivering impressive size, detail, and color accuracy. Serious movie watchers will find stronger options at this size at a fraction of its cost. But for the serious spender who's more interested in making a statement than getting a bargain, there's plenty here to crow about.
Full Lab Results HDTV Info Center Back to Homepage What's New on S&V
LATEST VIDEO