Seoul Man
All photos by Scott Wilkinson
I just returned from three jam-packed days in Seoul, South Korea, spending almost as much time in transit as I did on the ground! Samsung invited a few US journalists, including Tom Norton and me, to visit some of its many facilities and meet with executives and engineers from its Visual Display Division, the part of Samsung Electronics that's responsible for TVs, Blu-ray players, and other home-theater products.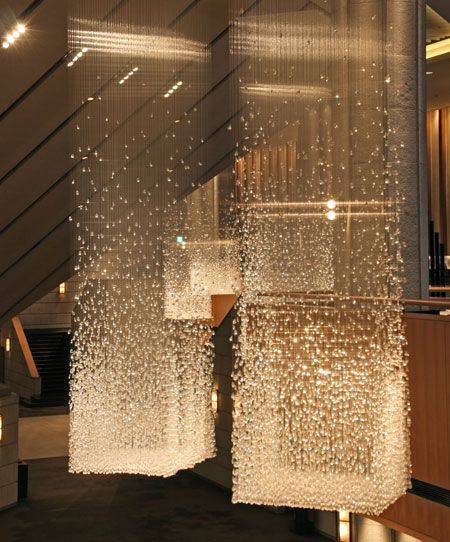 First up was the LCD production facility in Tang-Jeong, a famous grape-growing region two hours south of Seoul. Before we left for the day, I got to sample some incredibly delicious fresh grape juice—it's nothing like the bottled stuff—during breakfast at the Shilla Hotel, which was decked out with exquisite suspended-crystal "ornaments" in celebration of the Christmas season.
Samsung's security was very tight throughout the trip, so I couldn't take many photos of the facilities. Also, there had been a serious outbreak of the swine flu at Tang-Jeong, so we all had our temperature taken before entering. (Mine was a normal 37° Celsius.)
Tang-Jeong is home to the world's largest LCD production complex with two main buildings, each with four floors; each floor encompasses an area greater than 13 soccer fields. Another part of the campus is a joint venture with Corning that supplies the "mother glass" for Samsung's LCD TVs.
You might have heard of "generations" with regard to LCD and plasma manufacturing, a term that refers to the size of the mother glass that is cut into TV panels. Samsung is currently using Gen 8 mother glass for its LCD TVs, from which eight 46-inch or six 52-inch TVs can be derived. In the photo above, PR rep Jenny Ahn is standing next to a sheet of Gen 8 mother glass—she's 170 centimeters tall, while the glass reaches a height of 220cm and a width of 250cm. Also visible in the picture are examples of previous generations, which grow progressively smaller the further back in time you go.
LCD TVs are manufactured in three basic stages—fabrication, in which the LCD cells, TFT (thin-film transistor) backplane, and color-filter frontplane are made into a raw panel; module assembly, in which the backlight unit, control circuitry, and polarizer are attached; and final assembly into a TV. In Tang-Jeong, we saw a bit of the module-assembly process, which takes only four hours to complete, including two hours of heat aging at 115° Fahrenheit. Many inspection stages ensure the panels are flawless—any defect at all renders a panel useless.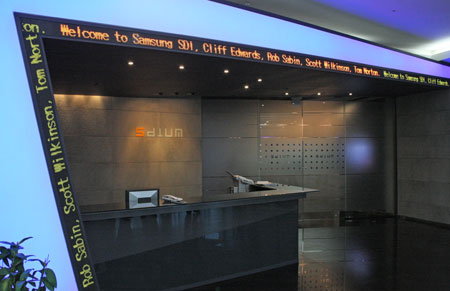 Next, we went to the Samsung SDI plasma factory in Cheonan, where we were greeted with a customized welcome sign over the reception desk. Our purpose there was to tour a fabrication clean room, which meant we had to don "bunny suits" and pass through two air showers. Sadly, we were not allowed to take any photos, but believe me, we looked pretty hilarious! It takes eight hours to make a plasma panel and another two hours to assemble a finished TV.
According to H.S. Kim, Senior Vice President of R&D for the Visual Display Division, plasma TVs represent about 15 percent of Samsung's unit sales, and the company's global market share is second behind Panasonic. Kim said that demand for plasma is increasing, and Samsung remains committed to plasma technology—all good news as far as I'm concerned.
After lunch, we were flown to the R&D facility in Suwon aboard Samsung's own helicopter. I was a bit nervous at first, but the ride was exhilarating and surprisingly slow and smooth. (It was also very loud, so I was glad I had my earplugs!) We were told that Koreans prefer living in apartments rather than houses, which was obvious from the air.
In Suwon, we learned that Samsung's unique ToC (Touch of Color) bezel is the result of a new injection-molding technology developed there. The company invested over $30 million in it, and 200 engineers created a process whereby new resins—transparent and opaque—are injected into a single mold to form the bezel.
I've always thought that a TV's bezel and other aesthetic design elements are relatively unimportant, except if they impact the picture—for example, a shiny metal bezel can be distracting when watching the TV. However, Samsung thinks these elements are significant in their own right, especially since market research shows that women have a strong influence on many households' buying decisions, and they deem design to be important.
The next day was spent back at the Suwon complex, where we received an extensive briefing on Samsung's history, product plans, and marketing strategy. It was also clear that the company strongly supports R&D, investing heavily in an infrastructure that promotes innovation over the long term. For example, Samsung has been developing its own video-processor chips and LED edge-lighting since 2005.
Another interesting thing I learned is the logic behind the company's current and future model numbers. For example, consider two LCD TV model numbers—LN52A750 and UN55B8000. Here's how to interpret these designations:
L = CCFL LCD, U = LED LCD
N = North American model
52, 55 = screen size in diagonal inches
A = 2008 model year, B = 2009
750, 8000 = series (3-digit = standard depth, 4-digit = slim depth)
Our last stop that day was the TV assembly plant for the Korean market, also in Suwon. We started with printed circuit-board (PCB) assembly, which is fully automated using surface-mount technology and lead-free solder paste—the only humans in that room were there to monitor and maintain the machines. People still install the connection modules before the PCBs are ready to be integrated into a TV.
Unlike a conventional assembly line, in which the TV moves on a conveyor belt and each person installs the same part over and over, Samsung uses what are called "cell" lines, in which one person assembles an entire TV. Amazingly, a skilled worker can finish 150 to 200 32-inch TVs per day; larger sizes take longer. That single facility can churn out up to 6000 TVs per day.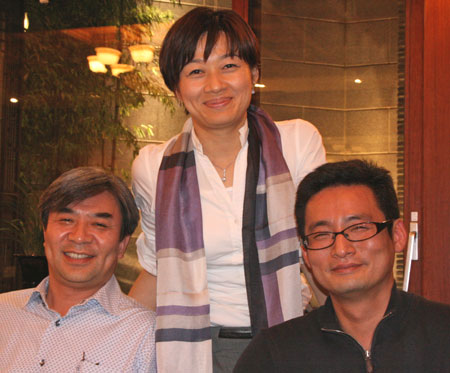 Dinner that night was a traditional Korean feast at Phil Kyung Jae restaurant, originally built as the residence of a royal descendant in the 1400s. The meal consisted of many small courses—including the ubiquitous kimchee (spicy pickled cabbage)—along with plenty of soju, roughly the equivalent of Japanese sake but with an alcohol content as high as 40 percent. Our hosts from the Visual Display Division (pictured above, left to right) were H.S. Kim; Sonia Kim, Senior Manager of Marketing Communication; and Simon Lee, Principal Engineer for the R&D Solution Group.
Our final day in Korea started at Samsung's Design Center in Seoul, where the design of products for 2011 and 2012 is already underway. Instead of making lots of physical models, designers and marketing people collaborate in a room with a wall-sized 3D projection system that lets them see the proposed design in a realistic virtual environment. On a smaller screen, they can try out different colors and accents and rotate the product through 360°.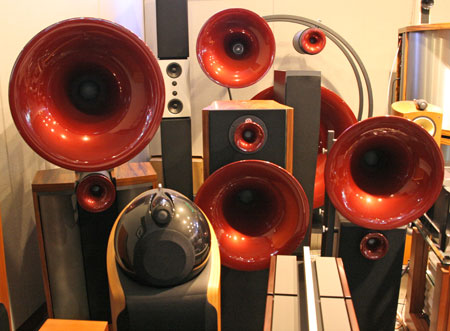 Samsung included just a bit of sightseeing in our itinerary that day, starting with the Electroland building in the Yongsan Electronics Market, Seoul's answer to Tokyo's Akihabara. Electroland includes four huge floors crammed with lots of independently owned and operated stores that are more like stalls in an antique mart. We spent most of our time on the floor dedicated to high-end electronics, such as the Acapella horn-based speakers shown here, and vinyl LPs—Stereophile's Michael Fremer would have had a field day!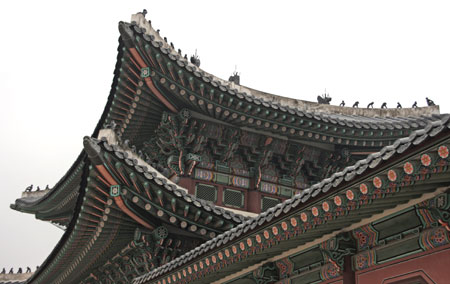 Next up was Gyeongbokgung, originally built in 1395 as the main palace of the Joseon Dynasty, which endured until 1910. The complex was burned down in 1592 during the Japanese Invasions and rebuilt in 1867. The grounds are extensive with many elaborate and colorful structures painted with mineral-based dyes reserved for royalty, and the roofs are adorned with animal figurines to ward off evil spirits.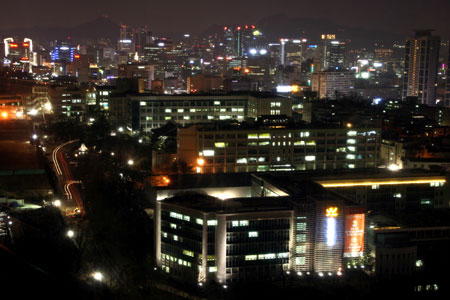 Finally, it was back to the airport for the flight home—which turned out to be the most turbulent I've ever experienced for much of its 10-hour duration!
Among the conclusions I came to during the trip was a greater acceptance of the term "LED TV," which has always struck me as misleading—after all, it really means an LED-illuminated LCD TV. But that's too long for an effective moniker, and LED illumination is significantly different than conventional CCFL (cold-cathode fluorescent) backlighting. Yes, "LED TV" can conjure images of a TV that forms its images with LEDs directly like the outdoor signage in Las Vegas, so it's up to journalists like me—as well as companies like Samsung and its retail salespeople—to educate consumers about the true meaning of this label. I remain convinced that LED illumination is superior to CCFL, and I look forward to seeing Samsung's latest implementation at CES 2010.
LATEST VIDEO