Sennheiser Brings AMBEO Quality to Soundbars and Headphones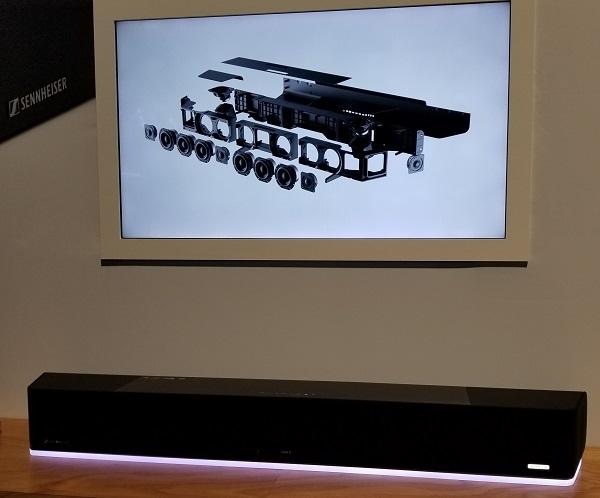 Sennheiser is focusing on their AMBEO product group in a big way at CES with the new AMBEO Soundbar and AMBEO AR One headset. They also were proudly showing off the Momentum True Wireless earbuds which are creating quite a buzz with their excellent sound quality.
The AMBEO Soundbar creates a 5.1.4 listening experience from a single soundbar. To ensure it's optimized for each listening environment, it has a room calibration mode. It should be noted that it works best when placed within five meters of the side walls and ceiling – in other words, best for a home theater, not a real theater.
The AMBEO Soundbar uses a total of 13 speakers with six 4-inch long-throw drivers, five 1" tweeters and two 3.5" top-firing speakers. The frequency range of the soundbar is 30Hz – 20kHz, without an external subwoofer, although one can be added if desired. It will be available in May for $2,500.
AMBEO features virtualization technology that creates a rather realistic 3D sound developed with Fraunhofer IIS. It has processing for Dolby Atmos, MPEG-H and DTS:X. It will also create a 3D listening experience from stereo and traditional 5.1 sources. It has a single HDMI eARC input and three standard HDMI inputs along with an optical and RCA/AUX input. It features Google Chromecast with Google Assistant and Bluetooth connectivity.
Also at CES was the AMBEO AR One headset which takes advantage of Sennheiser's partnering with Magic Leap. Together, they've developed new spatial computing applications that bring a whole new dimension, so to speak, to AR listening. They're available through Magic Leap now for $250.
Sennheiser also had demos of the Momentum True Wireless earbuds that, with a quick listen, might just live up to all the hype around them. Hopefully we can bring a full hands-on review of them later this year. They are available now for $300.
It's exciting to see Sennheiser breaking out into speakers with the AMBEO Soundbar. It will be interesting to see what else develops, especially with the partnering with Magic Leap. Watch this space.