Satellite Radio in Your Pocket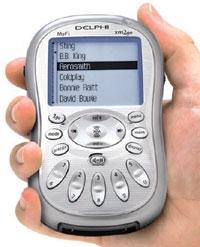 Confession: I don't own an iPod. I don't even really want an iPod. I know they're cool and store gazillions of songs, but somehow I've avoided falling under the spell. The only portable I've ever owned - and loved - was a Sony Walkman. Not being a big fan of "portables," I didn't think I'd ever give my heart to another.
But I'd been living with Polk Audio's XRt12 home XM satellite radio (click to read article), and I'd fallen for XM's eclectic programming mix - especially the great alternative channels (44, 47, 54) and The Mix (22), which plays a solid stream of current hits without the constant bombardment of Evanescence and Avril Lavigne. A device that made it possible to enjoy this kind of music anywhere might just win my heart. So when S&V asked if I'd like to review Delphi 's MyFi XM2go - the first Walkman-like satellite-radio tuner - I agreed immediately. I did have visions of wearing some kind of crazy hat antenna, though.
SETUP AND BASIC OPERATION The MyFi XM2go comes with the most comprehensive set of accessories I've ever seen. I gave them all a whirl, starting with the home accessory kit. The radio docks into a stand, which connects to your music system with a stereo minijack-to-RCA cable. A 20-foot cord connects the stand to the home antenna - the same squarish, slightly curved one that comes with all XM satellite radios.
The car kit includes a miniature antenna along with Velcro pads to affix it to the dash. Its cradle is similar to the home dock, with a variety of mounting brackets for securing it on or around the dash. For power on the go, a cigarette-lighter adapter is provided. A cassette adapter is part of the kit, but I used MyFi's built-in, wireless FM modulator to "broadcast" XM to my sound system.
For completely untethered satellite radio on the go, you can use MyFi's built-in antenna to pick up the satellite's signal and its detachable, rechargeable battery for up to 5 hours of headphone listening. A "wearable" antenna you can clip to your shirt or jacket that's said to improve reception is also included. You do get a carrying case as well as earphones, but I'd recommend an immediate upgrade for the latter.
The Short Form
DIMENSIONS 2 3/4 x 4 1/2 x 1 1/4 inches WEIGHT 7 1/2 ounces (with battery) PRICE $350; $9.99 a month for XM service MANUFACTURER Delphi, delphi.com, 877-463-3574 KEY FEATURES • Built-in antenna for totally portable use • Home and car accessory kits included • Built-in wireless FM modulator for the car • Stores up to 5 hours of programming
PLUS • XM wherever you are • 5 hours of recording time • Search by artist name or song title • Stock and sports updates
MINUS • Shaky reception with built-in antenna in some areas
PERFORMANCE
A portable should feel good in your hand and be easy to operate, and the MyFi scores well on both counts, though one-handed operation can be tricky. To give the tuner a real workout, my wife and I took a 350-mile road trip from our home in South Carolina to my parents' house in Florida , never once losing signal during the trip. Oddly, there was a two-hour stretch where the artist/song info on some channels was incorrect, but XM told us this was caused by a software upgrade on the broadcast end.
Reception near my home was erratic with the onboard tuner. If I stood in one place with the tuner correctly oriented (upright and having a clear view of the southern sky), then it was okay, though reception while walking or jogging was nonexistent. I shipped the MyFi to New York City - where there are terrestrial signal repeaters - so my editors could check it out. Reception there was fine as long as they stayed away from the subway and didn't wander too far inside a building.
For times when XM reception isn't possible (like in a building), built-in memory stores up to 5 hours of XM programming. While the tuner is in the home dock, you can schedule recordings of two separate programs, or just press the 2go button to start recording the current channel. Recorded programming played flawlessly, and you can scroll through all of your music, selecting songs at will. Sound quality sounded just like live broadcasts, which is to say better than FM.
There are 30 channel presets, stored in three banks of ten, plus a couple of cool tuning options. One is a scan that automatically cycles through your presets, and the other is automatic search by artist name or song title. If you're like me, even when you're listening to a song you like, you worry that you might be missing something even better. Tell the MyFi which artists (or songs) you like most, and it'll alert you whenever they're on another channel. Very cool!
When deciding what to listen to, you can browse by category (like Rock, Country, and Hits), or scroll channel by channel. The display toggles between channel name/number, artist, and song title. Another neat feature is the scrolling info ticker, which gives you price updates on up to 20 user-selected stocks and a host of sports scores.
BOTTOM LINE Love is definitely in the air. The Delphi MyFi XM2go is the coolest piece of gear I've played with in a while, plus it's reasonably priced. Whether I docked it at home, took it out in the car, or along on a jog, the MyFi put a phenomenal array of music at my fingertips. The search and scan options let me easily find what I wanted to hear. For total versatility, this baby is tough to beat.
LATEST VIDEO