Sanyo xacti HD1 Digital Camcorder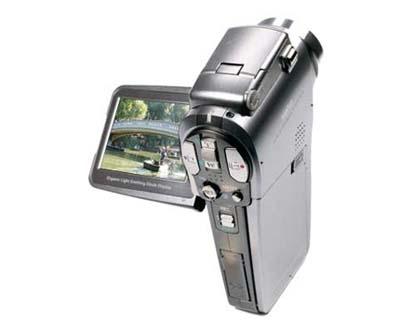 •Records 720p-format (1,280 x 720-pixel, progressive-scan) high-def video onto an SD card (not included) •Shoots 5-megapixel stills with flash •2.25-in (diagonal) organic-LED screen •10x optical zoom •Outputs: composite-, component-, and S-video; analog stereo audio; USB •3.125 x 4.75 x 1.5 inches •8.25 ounces •sanyo.com •800-421-0513
Sometimes, different technologies converge to create a new kind of home entertainment product. With the groundbreaking Sanyo xacti HD1 digital camcorder, it's three technologies. First: instead of recording to a tape or an optical disc like most camcorders, the Sanyo xacti HD1 saves video to a thumbnail-size SD flash-memory card. Second: its cutting-edge MPEG-4 data compression lets it store up to 40 minutes of high-def video on a 2-gigabyte (GB) card. Third: the HD1's resolution is a great match for your new HDTV.
The HD1 is the smallest, lightest (just over a half pound), and least expensive high-def cam to date. But a memory card isn't included, and high-capacity SD cards (don't even think of using one that holds less than a half gig) are neither cheap nor likely to be found at the corner drugstore. (The 2-GB Kingston Technology SD card I used for this review sells for about $175 online.)
The HD1 is supplied with a belt-mountable camera case, a tiny remote control, a rechargeable lithium-ion battery, an AC adapter, a docking station, PC and Mac software for transferring and editing your video, and both a component-video cable for hooking it up to your HDTV and a USB cable for connecting it to your computer.
Point-and-shooters will like that the HD1 was easy to use with its auto settings turned on, while experienced shooters should appreciate all the settings for adjusting focus, exposure, quality, and effects. There's even a voice prompt that announces the mode when you switch between, say, capture and playback, or standard- and high-def.
Falling into the point-and-shoot category, I took the HD1 to a park on a sunny afternoon, mounted it on a tripod, flipped it on with all its default settings, and recorded high-def video of a flock of seagulls frolicking in a flooded parking lot. When I got home, I put the camera in its docking station and used the component-video cable to hook it up to my 50-inch plasma HDTV.
The detailed reflections of the rippling water shadowed on the gulls' white bellies looked amazing, and the stereo sound from the built-in microphone was reasonably good. Motion was a little jerky, but Sanyo says this is normal for 720p high-def video shot at 30 frames per second (versus the 60 frames per second that broadcasters use). This shouldn't be a big issue for low-motion vacation footage, but anyone shooting Pop Warner football should use the 60 fps standard-def mode. Once shot, my footage transferred easily to my computer's hard drive for editing.
Something really cool: the Sanyo lets you shoot stills three ways. The dedicated still-image mode takes excellent 5-megapixel high-rez pictures. You can also freeze a frame while you're shooting video to capture a high-rez image. And during playback, you can hit pause, zoom in on part of the video image, and grab a low-rez JPEG. The dedicated still mode is so good that I wouldn't have any problem using the HD1 as my only camera. The battery, by the way, was good for nearly an hour of shooting or 1.75 hours of playback.
It might be the first card-based high-def camcorder, but the Sanyo xacti HD1 digital camcorder definitely won't be the last. And while SD cards won't hold a lot of footage, anyone who's had to sit through some tedious home videos will see the blessing.
Short, sweet, and high-def - what more could you want?