Samsung Smart Hub Streaming Platform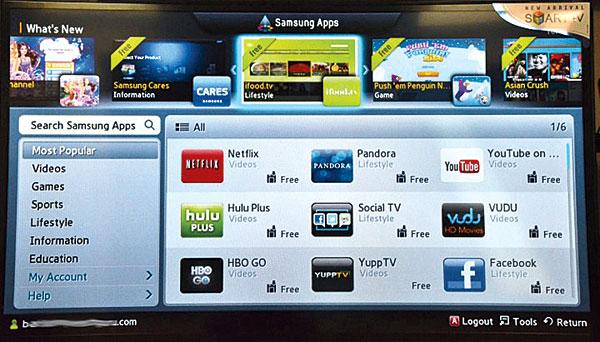 Price
: Included with select Samsung HDTVs & Blu-ray players
At a Glance
: Global search finds videos on home network and online services • Hundreds of lifestyle apps available • Excellent picture and sound quality
Since the dawn of network-connected televisions, Samsung has been leading the pack with a world-class streaming platform. Now dubbed the Smart Hub, it turns the TV into a robust media streamer that rivals the best standalone media players. Thanks to Samsung's open-source philosophy, developers have created hundreds of apps (sometimes exclusive) to run on the company's sets and Blu-ray players, and the Smart Hub can stream online video or media from your home network, surf the Web, and play games.
To check out the Smart Hub, I tried out the UN46ES6100 3D LED HDTV, a basic smart TV with the same streaming options as the step-up ES7500 and ES8100 series models. While the apps and Smart Hub are the same among all three, the step-up models enhance the Smart Hub experience with a built-in camera you can use for apps, face recognition (to automatically sign you into your account), and gesture control. They also have a microphone for voice control, and a dual-core processor to run more than one app simultaneously and surf the Web faster. An optional Samsung Smart Evolution kit will someday allow upgrading to future-proof the Smart Hub on these models.
Anyone with a smartphone will find it easy to install and set up apps. Once your set is connected to your home network (wired or wireless via built-in Wi-Fi), you set up a Samsung account to access the Samsung App store. To buy apps or movies from the Media Hub, you can add a credit card to your account or buy App Cash for $5, $10, or $20. The ES6100 has about 800 megabytes of storage for saving downloaded apps. Most are about 3 MB. I loaded the TV with apps to test and still had room for many more.
Video & Streaming Performance
The picture and sound quality of the Smart Hub's streaming media on the ES6100 were far superior to outboard media streamers I've tried. While that's a bold statement, consider both the direct internal connection as well as Samsung's ability to optimize the signal for its own display. As good as it was, it might be even better (or perhaps worse!) on the step-up ES7500 and ES8000 models, which boast much higher contrast.
Once Upon a Time on Hulu Plus looked better than when I viewed the same recorded video on my HD cable box. I streamed my go-to test video, Men in Black II from Vudu, with my Denon A/V receiver connected to the Samsung's TosLink digital audio output, and it resulted in the best surround sound and the clearest picture I've seen short of Blu-ray. Whispers I heard in the surround channels startled me, as did more wrinkles than I'd ever seen on Tommy Lee Jones' face.
Standard-definition YouTube and Redux videos often appear blurry and loaded with blocky artifacts when streamed to media players. The Samsung's upscaler cleaned these up, making them easy to watch despite their less-than-HD quality. In particular, the Redux videos were outstanding compared with other players. Videos saved to my Netgear NAS Duo drive were likewise high definition at their best. My HD file of Sherlock Holmes: A Game of Shadows displayed in higher quality than I have ever seen it.
The ES6100 is a Digital Living Network Alliance (DLNA)–certified media renderer and easily found the libraries on my compatible network-attached storage (NAS) drives and computers. It played every video format I tried, including obscure DivX and MKV files. You can also bring in content from Samsung's All Share apps, which connect to Samsung devices from cameras to computers and phones, or the Swipe-It! app, which plays videos, music, and photos stored on Android devices.
Video streaming was trouble free— no buffering, lost connections, or freezing video—with the exception of the Hulu Plus app, which often stalled and stopped playing videos after the initial commercials. I immediately checked other devices that didn't have the same problem. I am confident Samsung will fix this issue with future updates.
Samsung Apps
There are hundreds of apps, both common and proprietary, available for Samsung Smart Hub TVs. The number of apps for the Google TV platform pales in comparison. Hulu Plus, Netflix, Vudu, Amazon Instant Video, Pandora, YouTube, Skype, Facebook, Twitter, and a number of Samsung apps are preloaded.
It would take a separate article to cover all the wacky, interesting, useful, and basic apps you can download to the Samsung Smart Hub. For short-form video, there's Ted Talks, TMZ, CNET, Vimeo, Redux, and many others. Along with some of those apps mentioned earlier, you can buy or rent movies and TV shows from CinemaNow, Blockbuster, and Samsung's own Media Hub. The Media Hub shares videos that you can play on your Samsung TV, Galaxy Tablet, or smartphone.
Other apps are educational resources with illustrated slides and explanations. These seem a little out of place on a big-screen TV, but you can sit on the couch and get informed. Learn about African poisonous animals or how to cook African food. Step-by-step instructions in the Origami app show you how to fold paper into animals, or you can learn to fold your underwear in Closet Organizer.
T
wo featured apps are Samsung's Family Story and Fitness Videos on Demand. Family Story lets you connect to a group of family and/or friends who have Samsung devices. Together, you can watch a slideshow of videos that are saved to your phone, tablet, or a connected USB drive. Instant messaging is available as you watch together. The Fitness Videos on Demand include workout videos, some as short as 10 minutes. Samsung TVs featuring the built-in camera can display a video of you alongside the video of the instructor to help make sure you're staying in form.
Searching & Browsing
Samsung Smart TVs come with a global search feature. Available from any screen, you can search for a movie or TV title, or for an app. The Smart TV will search all of the videos in your connected home network libraries as well as all of the services available in your movie apps. A search for Limitless found the movie on my son's computer as well as on Netflix, Samsung's Media Hub, and Vudu. When you click Watch, the Samsung takes you straight to the video or the rental page. Search results for movie and TV titles also include everything from YouTube clips and videos on Facebook, to Web results.
It took a few minutes for the search results to include all of my connected devices, but all copies of titles were listed when it was done. The search feature was superb, but here again, Hulu Plus was the exception, with the search results failing to show TV episodes I knew were available on the service.
Surfing the Web on a TV isn't as smooth as on your computer, but the TV experience is improving. The Samsung 8100 series comes with a touchscreen remote, and there's a free Samsung Wi-Fi smartphone app available to provide touchscreen operation and keyboard entry for Smart Hub models. But if you use the supplied remote with the 6100 series, you're limited to its navigation arrows. The yellow C button on the remote lets you switch between Web pages by moving a pointer or skip from link to link. Fast-forward and rewind buttons page up and down. Some Web pages were slow to load on the 6100 I tested, though performance should be better on the 7500 and 8100 series due to the dualcore processor.
Final Words
Samsung has hit a home run with its fifth generation of Smart TVs. The easy-to-use Smart Hub streams just about anything you want in high-quality HD video and Dolby Digital surround sound when it's available. And the best part is that all you have to do is plug in your TV, connect it to your network, and use one remote control. With the right Samsung TV, you won't need another media streamer.