Samsung SL10D10 DirecTV/LCD Combo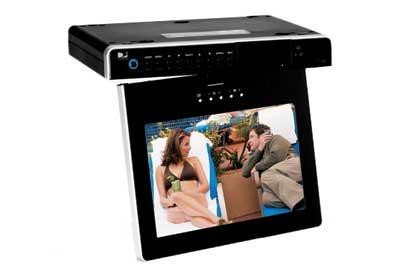 The Short Form
$499 / 2 x 10.6 W x 9.5 IN (LCD closed) / 5 lbs / samsung.com / 800-726-7864
Plus
•Slick form factor •Front-panel controls
Minus
•Small screen •Odd screen aspect ratio
Key Features
•10.2-inch LCD screen, 800 x 480 resolution •Composite audio/video input •Includes necessary hardware for under-counter mounting •Minijack headphone connection •Subscription to DirecTV and satellite-dish installation required
If you have satellite TV service, you know that the big drawback to adding TVs around the house has always been the need to add a new receiver for each set. In rooms with equipment racks or armoires, this isn't a dilemma. But in kitchens or offices, where space is at a premium, an extra component can be a deal killer. If you're one of DirecTV's 15 million subscribers, you may be happy to know that Samsung has resolved this crisis by creating the SL10D10, an all-in-one DirecTV receiver with a 10.2-inch LCD TV that's perfect for space-challenged areas.
SETUP First off, the Samsung SL10D10 DirecTV/LCD combo just looks cool. When in use, the screen has a slick, gloss-black frame, and with the LCD closed it's ultrathin, calling no undue attention to itself. It comes with all the hardware necessary for an under-counter installation (for a kitchen, this is the ideal way to go, and it's an easy do-it-yourself project). But the SL10D10 can also sit on a counter or desk, which is the route I took.
Assuming that a DirecTV satellite dish is already installed and correctly pointed, a coaxial cable from the dish is the only connection you'll need to make. You will have to activate DirecTV satellite service to receive programming; DirecTV charges an additional $4.99 per month for each new receiver, but their basic service now includes XM Radio channels - another plus for the kitchen or workshop.
PERFORMANCE The remote packed with the Samsung SL10D10 DirecTV/LCD combo is identical to those included with current-generation DirecTV receivers, so the learning curve for existing users is very slight. I loved that the SL10D10's front panel had controls for all the necessary commands, so you don't have to grab the remote to do everything. The front-panel buttons are backlit in white, and they change orientation based on how the screen is mounted.
With its 10.2-inch screen, the Samsung SL10D10 is meant to be viewed up close and personal. Even so, the image is bright, looks great off-axis, and handles glare well. The screen swivels 270 degrees horizontally and 180 degrees vertically, so it can be angled for the brightest image at any viewing position. The program guide - crucial when choosing among 250 channels - is easy to read, and I could make selections from about 8 feet away. Sound through the stereo speakers is adequate, though it could be drowned out in noisy environments.
Pressing the "Active" key on the remote offers some very slick options. For one, you can see local weather forecasts for your city as well as five others. Even better is the "Mix Channel" mode that lets you watch six real-time, full-motion feeds from different news, sports, or kids channels. Each picture-in-picture window is only about 1.5 x 2 inches, but for a sports fan or news nut, it's a great feature.
While I am a huge proponent of widescreen TV viewing, Samsung's choice to give the SL10D10 a wide aspect-ratio screen seems odd. Since the receiver doesn't decode any of DirecTV's high-def channels, and the vast majority of regular programming is in the traditional 4:3 aspect ratio, a 4:3 screen would have been wiser. Even weirder, the screen's measurements actually come out to a 15:9 aspect ratio, despite Samsung's claim that the ratio is the same 16:9 used for other widescreen TVs. Anyway, the result is that you can watch 4:3 images only with black bars on the sides, or in one of the stretch modes that slightly distort the picture.
BOTTOM LINE At $499, the Samsung SL10D10 DirecTV/LCD combo isn't exactly cheap. And if you'd rather save money than space, a traditional TV and standalone receiver would offer more options. On the other hand, if you've been looking for a way to add a TV to your kitchen, office, home workshop, or even master bath but couldn't figure out where to put the DirecTV receiver, the Samsung SL10D10 might just be the ticket.
Watch the Samsung SL10D10 in action!
LATEST VIDEO