Ultra Style: Samsung Serif Smart TV
Once again, Samsung has partnered with a noted industrial designer to rethink modern TV. Last year it was the magnificent S9W, an ultra-wide 21:9 TV designed by Yves Béhar. This year it's the modestly sized (and priced) Serif TV, created in collaboration with the Parisian design duo Ronan and Erwan Bouroullec.
Top to bottom, inside and out, the brothers set out to re-imagine every aspect of how a TV should look and function. "From the onset, we aimed to craft a modest and accessible object that fused our furniture design expertise with technology." Drawing inspiration from the "simple elegance" of typography, they settled on a sleek design whose profile resembles a capital "I"—serif face, of course—flared at the bottom to form a sturdy base and at the top to create a narrow shelf.
You can put the 40-inch TV on top of a credenza or—in a distinctive twist—screw legs into its base so it can stand freely as a piece of furniture (or art). There's even a woven fabric cover that can be magnetically affixed to the back panel to conceal the less-than-stylish bits.
Simplicity follows through to Serif's remote control and interactive smart TV interface, which boasts a unique Curtain Mode that creates an abstract, impressionistic veil of what's on the screen without turning the TV off, allowing apps and other features to still be accessed.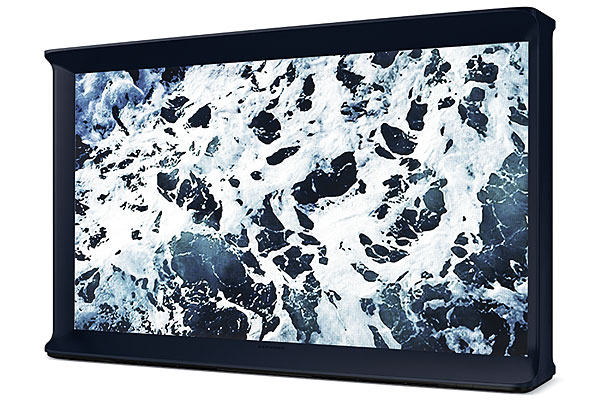 Why Serif in the first place? "Our research tells us there is a subset of consumers, largely underserved by the TV industry thus far, who care just as deeply about design and how their TV complements the aesthetics of their home environment," explains Samsung's Dave Das. That's not to say that technology has been sacrificed. Ultra HD resolution and high dynamic range (HDR) are on board, along with Dolby Digital Plus and DTS surround sound processing, Wi-Fi, Bluetooth, Samsung's Smart Hub menu system, and a quad-core processor to ensure fluid browsing and seamless switching between streaming, apps, and live TV. Connectivity? Covered with three HDMI inputs and an optical digital audio output.
The Serif TV costs $1,499 and is available at samsung.com and the MoMa Design Store—which offer the set in white or blue—as well as through high-end specialty retailers such as Vitra, Bo Concept NY, and Ligne Roset (white only).
Samsung • (800) 726-7864 • samsung.com