Roku Launches New Voice Remote, Express 4K+ Streamer, and Soundbar Pro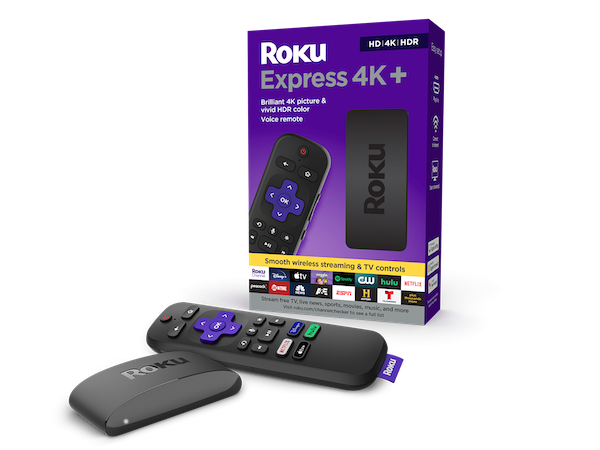 Roku has announced its Spring 2021 product line and new updates to the Roku operating system, Roku OS 10. There are a few new exciting products and features—some playing catchup with other systems' capabilities, and others that are leapfrogging ahead. 
Roku Voice Remote Pro
Roku has long sold an upgraded remote, including its Voice Remote that works with Roku streamers and TVs. This year they will release the Roku Voice Remote Pro that works with most Roku products and brings a new level of voice control. It's the first streamer/TV remote to include a mid-field microphone for hands-free voice commands. You don't have to pick it up off the coffee table as it will control your Roku TV or streamer when you say, "Hey Roku." Unless it's buried under the sofa cushions where it can't hear you, it will turn on or off the Roku TV, adjust the volume, or launch channels without you touching the remote. If you lose the remote, simply ask, "Hey Roku, where's my remote?" to activate the chiming remote finder feature. For those users who are uncomfortable with Roku "always listening," there's a physical switch to turn off the feature. When the mid-field microphone is turned off, you can press the mic button for voice control. 
The Roku Voice Remote Pro is rechargeable and will remain powered for two months or more with a two-hour charge. It works with any standard MicroUSB charger. 
Like previous upgraded remote models, the Roku Voice Remote Pro has two programmable buttons and a headphone jack for private listening. If you are using it with a Roku device, it can be set up to power on/off your TV, adjust the volume, and mute. 
The Roku Voice Remote Pro will be available mid-May for $30.
Roku Express 4K+
Now that even entry-level TVs are 4K, Roku decided that its entry-level streamer should also be 4K-compatible. The Roku Express 4K+ will be available mid-May for $40 and has an upgraded quad-core processor and dual-band wireless. Additional storage makes it faster to launch channels, search, and navigate menus. The plus refers to its compatibility with HDR10 and HDR10+ for Samsung TVs. Note that, unlike other Roku devices, it doesn't offer Dolby Vision support. 
The Roku Express 4K+ will come with the simple Roku voice remote with TV controls. This is an upgrade from the past Express remote as a user can "point anywhere" to control the device rather than require line-of-sight IR. The Express 4k+ can also be controlled via Alexa, Google Assistant, and Siri (with Apple Home Kit). 
Roku Streambar Pro
This year's Roku Streambar Pro will replace the Roku Soundbar. At this time, Roku hasn't announced any upgraded specs or details, but it appears the only difference from the previous model is that it now includes a Roku Voice Remote. The remote has two programmable shortcut buttons and a headphone jack for private listening. It's the same price as the Soundbar at $180 and will be available at the end of May.  
Roku OS 10 and the Roku Channel
Roku has been building the Roku Channel's content library, with the ad-supported free channel now offering 40,000 TV episodes and movies. The company also officially announced that they had acquired content from the the now-shuttered Quibi service, which will be available with commercials, and they have licensed the classic This Old House PBS series, initially hosted by Bob Vila starting in 1979.  
All recent streamers, Roku TVs, and soundbars will be getting Roku's new operating system, Roku OS 10. The update has already begun rolling out to existing customers. With it comes a few desired features, including a Virtual Surround setting for Roku's streaming soundbars. A feature available on other soundbars, Roku's Virtual Surround simulates home theater, creating sound that appears to be coming from around the room. Virtual Surround will be easy to turn on and off as it is in the device's quick menu accessible by pressing the start button on the remote. 
With OS 10, Roku has finally incorporated Instant Resume that makes it faster to restart a show you were previously viewing. For example, if you are watching a show but exit the app to the home screen, the next time you launch that app, it will take you directly back to resume the show where you left off. Without Instant Resume, launching an app would take you to the app's home screen, where you would have to navigate and restart the show. At launch, Instant Resume will be supported on the Roku Channel, AT&T TV, FilmRise, STARZ, Plex.tv, and be available on more channels in the future.  
Another new handy feature is Automatic Wi-Fi detection. This is not just for setup. The device will dynamically monitor your Wi-Fi and alert you if there is another band available with a faster speed. Switching to the faster connection will be as easy as clicking "ok." 
Voice entry for onscreen keyboards is a feature that I am happy to see. When you need to enter information—a search term, login, etc.— with the onscreen keyboard, you can opt to speak the words instead of typing. Combining this feature with the new Voice Remote Pro will make logins and search within channels a cinch. Roku OS 10 has also improved search within channels by displaying results as a partial overlay with content in the first row, followed by rows of other matches from other channels. 
In Roku OS 10, users can customize the Live TV Channel Guide. Channels can be hidden or added to a favorites list to make it more convenient to navigate to those you watch. A "recently visited" filter will show only the channels you've been viewing.
For gamers who own Roku TVs, there is an improved automatic setup for game consoles. When a console is connected to an HDMI port, it will be recognized by the TV, which will detect its capabilities. Variable Refresh Rate, high frame rate video, THX Certified Game Mode, and Auto Low Latency Mode can be automatically set or adjusted in the TV's advanced menu.