Roku 4 Streaming Media Player Review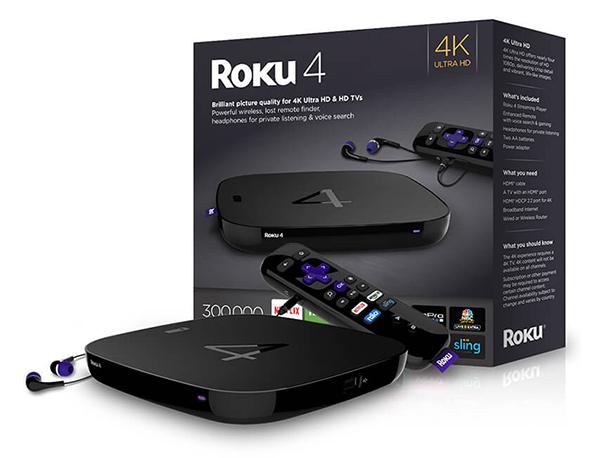 PRICE
$130
AT A GLANCE
Plus
4K streaming to UHDTV
Agnostic search finds titles in multiple services
Notifications when specific movies become available

Minus
Remote mic is inaccurate
Search can't find specific episodes of specific seasons
THE VERDICT
If you own a 4K TV, this is a slam-dunk. If not, the advances in hardware are still enough to step up from a Roku 2.
One must wonder if Roku waited to release its fourth-generation media streamer until the aptly named Roku 4 was capable of streaming 4K content. The newest Roku box can connect to compatible UHDTVs to stream 4K movies, TV shows, and videos from Netflix, Amazon, YouTube, M-Go, and a growing number of 4K streaming sources. And though 4K streaming is the Roku 4's main appeal, improvements in hardware and the software interface make it the best Roku box yet.
As media streamers have continued to shrink in size, the Roku 4 moves in the other direction; it is considerably larger than earlier models. About the size of a salad plate, it doesn't fit in the nooks and crannies of your media center. But while larger than previous Roku's, it is relatively flat and still unobtrusive.
Its remote control looks much like the Roku 3 remote. This is still a small remote that can fall between your couch cushions. But fear not: A button on the Roku 4 main unit makes the remote play an audio signal to help you find it. The remote has a port for headphones (first introduced with the Roku 3), and it still has A and B buttons for gameplay. Roku has carried over the direct play buttons it provided on the Roku 2 and the most recent version of the Roku 3. These provide instant access to Netflix, Amazon, Sling TV, and, unfortunately for Roku, Rdio, which announced as we were going to press that it was filing for bankruptcy, shuttering its service, and having its assets acquired by Pandora. Also carried over from the updated Roku 3 is a button to activate voice search, which replaced the 10-second rewind button on the earlier Roku 3 you might still own today.
The voice search function came up immediately with the press of the button on the remote, but it rarely understood me. Although I tried to enunciate clearly, a search for Friends brought up results for "rent." It heard Inside Out as "find out." However, it would appear the problem was the remote mic and not the search software. When I used the newly designed Roku app for iPhone to do a voice search, the results were perfect every time (even when I mumbled a bit).
Because Roku doesn't own its own streaming service (other than its partnership with M-Go), search results were agnostic—a welcome change for those who might be used to Amazon Fire's Prime-centric searches. The search for Friends, for example, showed that it was available on Amazon, M-Go, Vudu, and Netflix. When the search was done in the Roku app, the results appeared on the phone where I could tap on the season I wanted to watch. It did not, however, allow me to pick the episode on the phone. I chose to watch Season 8 on Netflix, and it immediately started playing episode one of that season on the Roku 4. It was easy enough to navigate from there to another episode of my choice. Still, it wasn't direct to the exact episode I wanted to watch. Despite this minor flaw, it performs global search better than other top streaming players.
The biggest draw of the Roku 4 is the ability to connect to a 4K TV to stream UHD content. It requires that the receiving TV has HDCP 2.2 digital rights management. Roku isn't kidding about this requirement. When I connected the Roku 4 to a 2014 Samsung UHD TV that lacked HDCP 2.2, the setup menu offered no 4K display option. Likewise, 4K channels and content did not appear. Testing the Roku 4 required that I update the TV with Samsung's SEK 3500 UHD Evolution Kit. Adding the Evolution Kit provided the TV with HEVC decoding and up-to-date HDMI connections with HDCP 2.2. Once connected to the new box, the 4K content became available.
Roku is making it easier to find UHD content with its 4K Spotlight channel, which recommends 4K movie, TV, and video titles. It became quickly apparent that there has been an increase in UHD offerings in the past year. M-Go has added 4K to their list of movie rentals, and it may mean I'll be using M-Go more than I have in the past. While Amazon sells UHD movies for $26, M-Go offers 4K titles to rent for $5.99. Titles included a couple of indie films, as well as a spattering of new and old releases.
Content
One of the great benefits of Roku has always been its extensive channel (app) lineup. Channels include everything from Hulu to Vudu, Amazon, Google Play Movies, Nat Geo, HBO Go, HBO Now, Plex, Playon, and on and on. Numerous niche channels include an extensive mix of travel channels, including PTA (Planes, Trains, and Automobiles), as well as channels to watch videos from a Simple.TV and many private channels. It doesn't have iTunes, and some of the cable OTT channels like Starz and Nat Geo haven't made authentication deals with Dish Network. But other than that, I'm hard-pressed to find that the Roku is missing content.
Performance
The Roku 4 uses the Roku OS7 operating system, which includes a feature that allows a user to follow movies, TV shows, and actors. As new movies become available on streaming services, new TV show episodes are added, or new movies are released with a followed actor, OS7 lists them in your Roku feed.
New hardware upgrades to the Roku 4 include a Quad-Core processor and 802.11ac Wi-Fi with MIMO. The processor is screaming fast when opening apps and scrolling screens. Picture quality is as stunning as you would expect from 4K. If the Roku 4 has one fault, it's that it doesn't pre-load content. It can be a choppy start when streaming 4K content, and I found it was better to get things going then pause the video and take a few minutes to get popcorn and snacks so it had time to load. After a few minutes, streaming was smooth and beautiful. There are just enough tweaks and upgrades to make me glad I got the Roku 4. It's a sure thing if you have a 4K TV (as long as it has HDCP 2.2), and it's reasonably priced at $130.
Specs
Dimensions (WxHxD, Inches): 6.5 x 6.5 x 0.8
Weight (Pounds): 0.9
Connections: HDMI 2.0 (with HDCP 2.2 for 4K), Ethernet, Optical Audio, Micro SD
Audio Output: Up to Dolby Digital Plus 7.1