Roku 3 Media Streamer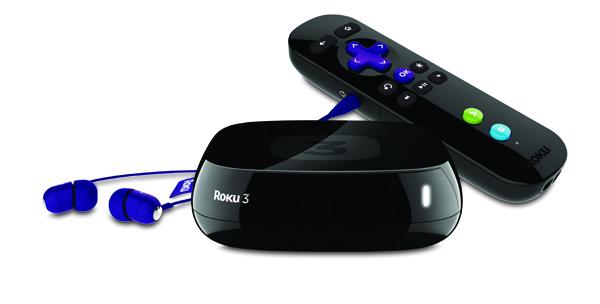 PRICE
$100
AT A GLANCE
Plus
Remote control with headphone jack
Global movie title search
Zippy processor for quick navigation and search
Minus
Can only be connected via HDMI
THE VERDICT
Performance improvements and a new interface make streaming easy and keep Roku ahead of the competition.
Where other companies that make media players seem stuck in endless delays in the release of new models, it seems that Roku rolls out a new option every few months. I'm not complaining. Its newest release, the Roku 3, is my favorite so far. I use a Roku box with my bedroom TV because my tech-challenged partner can easily understand how to navigate its menus. Roku 3 has now added a headphone jack in the remote that mutes the TV when you plug into it. No longer do I have to endure listening to explosions, gunshots, and car-chase scenes while I'm trying to fall asleep. Performance improvements plus a new interface and box design continue to keep Roku ahead of its competition.
The Roku 3 is more rounded and slightly smaller than the Roku 2. Roku 3 has dropped the composite video connection found on the Roku 2 and can only be connected using HDMI, which may dissuade some who use the Roku for an older TV. Like the Roku 2 XS, there's a side USB port to connect an external hard drive or flash drive and play your saved media using a Roku USB media channel. While the Roku 3 is Wi-Fi enabled, it does have an Ethernet port for a wired connection to your home network. Connect it to one of the new 802.11ac adapters from Linksys, Western Digital, or D-Link to take advantage of faster streaming from AC routers.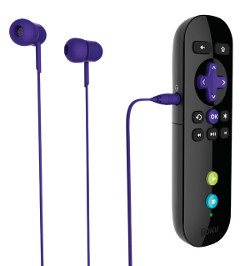 The new remote looks similar to the Roku 2 XS remote. Like the previous model, it has a built-in accelerometer that allows you to swing the remote to play games like Angry Birds or Jeopardy . Otherwise, it's simple, with just a few buttons. Whatever it lacks is available on the robust Roku remote app for Android and iPhone. Direct buttons in the app open the Roku box's channels. While the Roku remote doesn't have a QWERTY keyboard, the remote app lets you use your smartphone's keyboard to type in logins or search terms.
Global search is part of the newest Roku firmware update included on the Roku 3. Type in a title, actor, or other related data, and get a list of results from online services that are available on Roku, along with the price of rental and free options from Netflix and Hulu Plus. Click on the result to go directly to the movie and start streaming.
The Roku 3's new firmware has abandoned Roku's carousel channel menu for a common grid display. Channels you have downloaded or purchased on past Roku boxes will transfer to your Roku 3. You'll still have to type in logins or activate the Roku on various streaming sites, but at least you don't have to go back to the channel store to re-download each app individually.
Content
Roku has spread its wings. When I reviewed the Roku 2 XS there were 400 available channels. Now the Roku store offers more than 750 entertainment channels. It has everything from popular online video sites (Vudu, Amazon Instant Video, Crackle, HuluPlus, Netflix) and music channels (Pandora, Spotify, Slacker, Live365, rdio, tunein) to subscription channels like Epix and HBO Go. Channels have been added to access live TV and to stream your music, movies, and photos from a USB drive or your home network using the PlayTo app and an Android phone. Photos and music stored on your smartphone can also be streamed to the Roku box using the Roku remote app and tapping Play on Roku.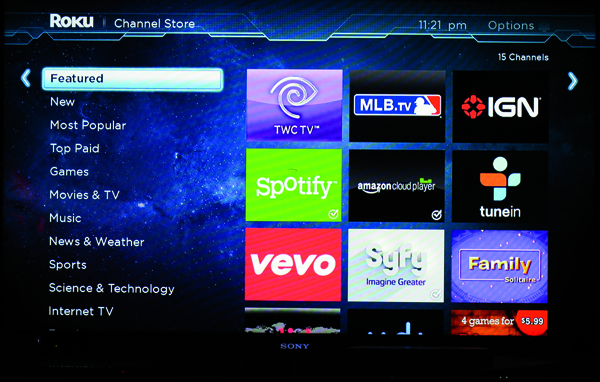 There are a few channels that make live TV available on your Roku 3. Time Warner Cable recently released the TWC TV channel that allows subscribers to stream up to 300 channels of live TV to their Roku 3 box. Live TV and DVR recordings of broadcast TV are available on the Simple.TV channel if you also have a Simple.TV box.
Performance
The Roku 3 is a solid performer. Full 1080p HD video is clear and free of compression artifacts or other noise. It is capable of 7.1 Dolby Digital Plus passthrough, which I tried out on a Vudu stream of The Dark Knight Rises . In the opening airplane sequence, I felt like I was being shot at from all sides. Listening to Spotify was equally rewarding. The clarity of midrange and high frequencies was a testament both to the Roku's audio quality and the improvement in streaming music quality.
The Roku 3 is now equipped with dual-band wireless so it can connect on the 5-gigahertz band that typically has less interference and streams faster. I never experienced more than a few seconds of buffering at the beginning of a show. It has a more powerful processor that makes navigating menus smooth and fast. This is particularly helpful for large media libraries and the new global search feature.
Final Thoughts
Menu and remote app upgrades, the addition of the headphone jack on the remote, and the ability to access home media libraries make the Roku 3 one of the best media streamer choices. It can access live TV similar to Boxee's Live TV feature. Its global search competes with Google TV. And while it may require an Android phone to play from your home libraries, it does a good job and can play the MP4 and MKV files I transferred to a flash drive and connected to the box. Maybe it's time to move the Roku from the bedroom to my home theater.