The Rock Market is Booming Page 4
Meanwhile, "I wanna destroy you," sang Robyn Hitchcock as he reunited with Kimberley Rew and the other Soft Boys (London; matadorrecords.com). I usually stay away from such marquee events at SXSW, but this one was too good to resist - especially in light of the wonderful reissue of Underwater Moonlight (Matador). And it was gratifying to see a plugged-in Hitchcock bouncing off a live-wire Rew. Unfortunately, the quaintly named Austin Music Hall is more like an airplane hangar, and the boomy sound was hardly in keeping with the Boys' old New Wave aesthetic.
Then again, the Cash Brothers (Toronto; cashbrothers.com) didn't reap sonic dividends from the shoebox that is Momo's, where the alt.country.rock of their debut, How Was Tomorrow (Zoë/Rounder), lost some of its muscle. They also had trouble keeping guitars in tune, admitting: "Texas weather does weird things to strings."
The transition from studio to stage can do other things, too. Rhythm of Black Lines (Austin; rhythmofblacklines.com) can make art out of repetition, but in a lonely club at one in the morning, its jams sometimes sounded jammed. Still, if you crave the mod-progressive tilt of King Crimson's Discipline, track down Set a Summery Table (Sixgunlover).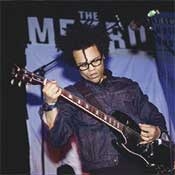 The Incredible Moses Leroy (San Diego; mosesleroy.com), a.k.a. Ron Fountenberry, is a pop collagist with a big playlist on Electric Pocket Radio (Ultimatum), but at SXSW he led a band that steamrolled his songs' finer points. And whereas Call and Response (San Francisco; silcon.com/~analogdj) seems agreeably pomo on its self-titled debut (Kindercore), its sweet and sunny music struck me as impossibly pre-mo at Emo's.
Of course, the variety of "venues" is also one of the great things about SXSW. You could walk the trade-show floor and find singer/songwriter Sarah Harmer (Kingston, Ontario; sarahharmer .com) in Yahoo!'s booth, performing highlights from her accomplished You Were Here (Zoë/Rounder). You could also stroll downtown until you reached one of SXSW's best unofficial sites, the buskers' corner of Sixth Street and San Jacinto, where Braxton Hicks (Dover, Delaware; braxtonhicks .com) was in residence one night. Actually, it was nearly two in the morning, yet the six musicians - including one using his drumsticks on the nearest streetlight pole - gave it their all. They also gave me a copy of a four-track demo whose acoustic/electric material has great potential.
---