Taking Roku's Streaming Stick Plus on the Road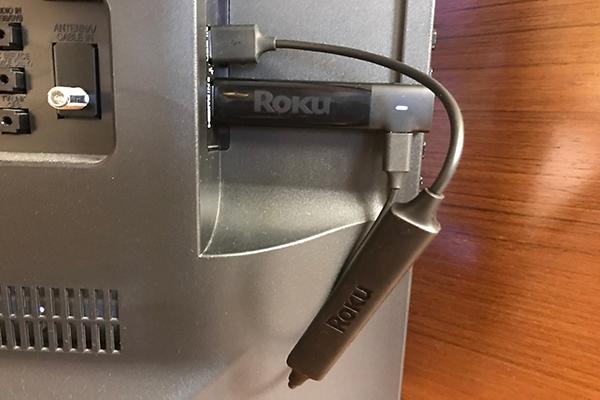 With the addition of 4K HDR streaming, the new Roku Streaming Stick+ ($70) is powerful enough for your home theater
and
portable enough to take on the road. A recent trip took me to several cities where I was able to test out the Stick+ on a number of hotel TVs, including a 4K HDR Samsung model (!) in a cottage where I stayed.
While still small, the Streaming Stick Plus is longer than previous Stick models. It connects directly to an HDMI port in the same way a thumb drive attaches to a USB port. If it's too big to fit into a tight space — as was the case in one hotel room where the TV was almost flush to the wall — all you have to do is request a free HDMI extender cable from Roku, which provides installation flexibility by allowing the Stick to hang down instead of sticking straight out.
Roku provides a USB extension cable and wall plug to power the Stick+ from an electrical outlet, though it's unlikely that it will be long enough to reach the wall. The more practical choice is to power the device via the TV's USB port. The downside is that the Stick+ turns on and off with the TV. Fortunately, Roku's new processor is quite a bit faster than the previous generation of Sticks, which reduces startup time.
Once you power up the Stick and choose a language, setup is straightforward. The Roku automatically detects the display resolution of the TV to which it's connected, so it reconfigured itself every time I connected it to a TV in a new hotel room. If you've ever owned a Roku and have a Roku account, initial setup is a breeze. Roku remembers what channels you've downloaded to your device(s), and will automatically set up the Stick + with your chosen channels.
Many channels offer a sign-in choice of entering an activation code on the service's website or typing your credentials directly on the Roku screen. The easier choice was to sign in using the Roku app on my iPhone, which is more convenient than using Roku's remote to navigate an onscreen keyboard.
The remote hasn't changed much from previous models. Each generation offers different direct channel buttons. The Stick+ remote has buttons for Netflix, Hulu, Sling, and Playstation Vue, which makes it a perfect cord-cutting device as the buttons provide quick access to streaming movies, on demand TV, basic cable stations, and live TV.
Unlike the remote included with the top-of-the-line Roku Ultra, there is no headphone jack so if you want to listen in private, you'll have to use the app and listen through headphones connected to your phone.
In line with Roku's dedication to simplifying streaming, the remote that comes with the Stick+ is easy to set up to control the power and volume of the TV to which it is connected. Instead of having to enter codes and choose a TV model, the Stick+ automatically detects the TV's make and model via its HDMI connection. Music begins to play on the TV and you simply click on a displayed message to confirm that you hear the music. A message then asks if the music has stopped playing. That's it. The only thing I had to do when I moved on to my next hotel room was go into the Roku's Settings menu and select reset to enable the auto-detect feature for the new TV.
All Roku remotes now have a microphone for using the company's excellent voice search feature, although you can't use voice commands to open apps or navigate through menus like you can on an Amazon Fire Stick or Apple TV. No worries, though, because Roku has an excellent menu system. Apps (or channels as Roku calls them) appear in a grid that can be organized to show the services you access most often on the home screen. Scrolling to the bottom of the menu list brings you to the top of the list in a continuous loop, which is a heck of a lot more convenient than having to scroll back up to the top, especially if you have 130 channels like I do.
Other streaming devices I've tested while on the road have had difficulty connecting in hotels due to authentication requirements. No so with the Roku. The Stick+ immediately recognizes that it is in a hotel (or dorm room) and displays step-by-step instructions for how to connect using your smartphone.
Having the ability to stream 4K movies is important consideration for me when I'm home and, fortunately, the Stick+ scores high in this area. As of this writing, Roku has 13 channels that stream 4K: Netflix, Amazon Video, Vudu, YouTube, Fandango Now, Curiosity Stream, PLEX, Roku Media Player, Smithsonian Earth, Spectiv, Tastemade, Toon Goggles, and UltraFlix. Among those, Netflix, Amazon Video, and YouTube can also stream HDR. But the Stick+ only supports the HDR10 format, which means you won't be able to stream movies on Vudu in HDR because that service supports DolbyVision.
The Roku 4K Spotlight channel displays 4K content available for streaming on a variety of channels and a subsection that lists movies, TV, and videos available in 4K HDR. Click on a title of interest and Roku takes you to the channel where it can be streamed. I found 4K movies including The Huntsman Winter's War on Fandango Now, 4K travel and documentary videos on YouTube, and several 4K movies and TV shows on Amazon Video. There are even 4K videos on the Spectiv background video channel.
While Roku's Streaming Stick+ supports 4K HDR, it doesn't decode Dolby audio, but it can pass through Dolby Atmos and other formats to a connected AV receiver.
The Roku Streaming Stick+ delivers excellent sound and picture quality and is an excellent choice for streaming while on the road. It may not be the only streaming device I need to own, but it's getting there.