TiVo Premiere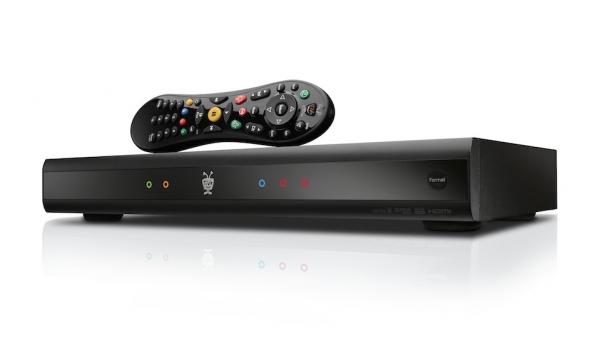 As entertainment options become more and more plentiful, so do the variety of ways to access and enjoy them. Even without cable, the possibilities seem practically endless. Could there be one box that takes all these options and makes it simple, easy and fun to access it all? The TiVo Premiere might be poised to do just that.
In 1999, TiVo revolutionized how people watch TV. The idea of pausing live TV was a game changer. "TiVo" became a verb long before "Google" did, and it racked up fans like crazy. Anyone who's ever had a TiVo and then had to downgrade to another DVR knows how superior TiVo is. I know it was a sad, sad day when I moved from a house to a north-facing apartment and was forced to break up with my DirecTV/TiVo combo box. I sorely missed its user-interface, superior features and intuitive design. You can't imagine my joy when the TiVo Premiere showed up on my doorstep.
The TiVo Premiere ($79.99) is a 1080p full HD DVR. It has storage for up to 45 hours of HD content. (The Premiere XL ($299.99) offers 150 hours of recording time, plus THX-certified audio, while the Premiere Elite ($499.99) holds 300 hours and has four tuners.) The monthly subscription runs $20/month with a one-year commitment, or $499 for a lifetime subscription. Sadly, that's for the lifetime of the unit, and it's not transferable from an old unit to the Premiere. Record two shows while watching a third, pause, replay live TV, jump ahead 30-seconds in one click, jump back a few seconds to review something - the Premiere has it all. But a lot is new.
Long-time TiVo users will instantly notice the new "face" of TiVo. Attractive new Flash-based graphics (TiVo used the same UI concept in their design for the Insignia connected TV) guide users through a lengthy set-up procedure. Plan to spend at least 30-45 minutes setting things up. Although the system can use a phone line to "phone home" for channel guide information, the Premiere's features are best utilized by connecting an optional TiVo Wireless USB Network Adapter. Besides accessing the channel guide, program suggestions and more, this also opens up a world of internet video and music options. More on that later. Getting online was very straightforward; just keep your keycode nearby if you have a secure line. When my router died during the review, reconnecting with my new router was painless.
I intentionally set up TiVo without a cable connection, although it has a slot for a CableCARD. Instead, I connected a TV broadcast antenna and as part of the setup procedure, it ran a channel scan and then accessed a channel guide for all my local over-the-air stations. Using the guide is simple and intuitive. You can see what's currently on all the stations, and another column shows you what's coming up on the channel you've highlighted. There's a lag when switching screens as the Premiere loads all these pretty graphics; the lag is so great that occasionally I wondered if I had hit the right button, and I appreciated more than ever the sound effects that let you know you did. One of my favorite features of the new interface is that your current content continues to play in a small window while you're searching. In addition, TiVo has a browsing feature that highlights content it thinks you might enjoy. On the downside, some of the screens don't appear to have changed much since earlier generations of TiVo. But, you (hopefully) aren't going to buy this just for the graphics.
In addition to what's broadcast locally, TiVo has partnered with online video sources, so you can easily access Netflix, Amazon Instant Video, Blockbuster on Demand and Hulu Plus, in addition to YouTube. The Premiere has all the features you expect from TiVo for finding shows to watch, and the search engine works across all platforms. So if you search for "House," it not only finds upcoming broadcasts, but also finds episodes online for rent or purchase. TiVo also connects with Pandora Internet Radio, Rhapsody, and MusicChoice. Online videos look great, but you'll need a decent high-speed connection to really enjoy the streaming video. For example, with slow DSL, YouTube videos did just fine, but streaming HD from Hulu Plus had issues. It would be nice if slow-speed users could downgrade the signal, sacrificing video quality for a less jumpy end result.
Although the basic remote that comes with the Premiere is more than adequate, I also checked out the new TiVo Slide Remote ($39.99). Instead of tedious text entry using an on-screen keyboard, this hides a full QWERTY keyboard under a slide-out, backlit panel. Setting up Wishlists and a Season Pass couldn't get easier - although I wish you could transfer data like this from an old TiVo to the new Premiere. The only other complaint about the remote is that it has two round controllers, one for navigating onscreen menus and the other for "transport" control: play, fast-forward/rewind and pause. I'm sure I would have gotten used to it after a while, but initially, I kept hitting the wrong controller.
The Premiere has an app for iPad that lets you search for programs remotely. Also, anyone can schedule a recording remotely from TiVo.com online or from a mobile phone, not just an iPhone. Even more innovative is the TiVoToGo software that transfers TV programs you've recorded on TiVo to a computer or handheld device. You can set it so that something you want to watch will be recorded and transferred to your device automatically.
There are so many different ways of getting entertainment these days. It's becoming prohibitively complicated. The TiVo Premiere brilliantly cuts through the clutter. Former TiVo users will like its new features, and new users will be blown away by the superiority of this DVR compared to most others. The Premiere is one box that makes entertainment simple, and fun again. Welcome home, TiVo, welcome home.