Review Round Up: Soundbars Page 3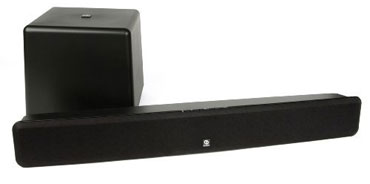 Boston Acoustics TVee Model 20
Key Features
Price: $300 Bostonacoustics.com
• (2) 1½ x 6-in mid-/high-frequency drivers; 100 watts total system peak power
• Subwoofer:

6-in woofer; volume control


• Dimensions + Weight Soundbar:

31 x 3¾ x 4 in; 8½ lb


• Subwoofer:

10½ x 9½ x 11 in; 11 lb



The design premise for Boston Acoustics' TVee Model 20 appears to be this: People buy soundbars because they don't want to be bothered with speaker stuff, so let's make a soundbar system that's as simple as possible to set up and use. Thus, the Model 20 is an all-in-one system with a powered soundbar and a separate powered sub. Realizing that an abhorrence of visible wires is another reason why people buy soundbars over conventional speakers, it made the subwoofer wireless.

The soundbar's black plastic body is relatively petite, and its black fabric front is mainly devoid of controls. There are only four small buttons on the top lip, for power, mute, and volume up/down. Moreover, to keep operation super-simple, there's no separate remote. Instead, the bar is designed to learn commands from another remote (such as your TV's remote) to control volume and mute. Alternatively, you can just use the TV's internal volume and mute features when using its variable audio output to drive the Model 20. To help match levels, the TVee has an input sensitivity control.

Boston's black-plastic downward-firing subwoofer is simplicity incarnate, offering up a 6-inch woofer, a volume control, and little else. Being wireless, of course, it can go anywhere — but users will preferably spend some quality time auditioning it in different locations to find one that sounds best. (Against walls or in a corner are good places to start.)


PERFORMANCE
Since this is a low-priced system, I was expecting lowpriced sound, but I was pleasantly surprised. Spectral balance was quite good, with decent low- and high-frequency extension. OK Go's "This Too Shall Pass," from Of the Blue Colour of the Sky (be sure to check out the Rube Goldberg video of this song on YouTube), is a catchy tune with a milkshake-thick mix. The TVee clearly conveyed all the musical lines, reproducing details like the trashcan hi-hat, echoed vocals, plinky piano, and swirling synths. However, I did hear some coloration on the lead vocals and prominent backup vocals. Kings of Leon's "Sex on Fire," from Only by the Night, has a rough mix, with hard snare, jangly percussion, and fuzz guitars aplenty — all of which the TVee took in stride, reproducing them quite cleanly.

Boston's sub adds a solid floor to the mix at modest listening levels, but as one would expect given its diminutive size, it has both low-frequency-extension and output sound-pressure-level limitations. For example, on "This Too Shall Pass," the bass guitar sounded properly muscular, but the massive kick drum lacked any chest-massaging ability. On the other hand, the soundbar itself doesn't output ear-splitting levels either, so the soundbar and sub are nicely matched in that regard. If you don't care to shake the foundations, or if your walls are thin and your neighbors crabby, this duo will do just fine.

Movie playback didn't pose any problems. With no onboard surround processing, soundstage width is confined to the dimensions of the bar. The TVee 20's inherent midrange clarity helped to untangle more than a few lines of dialogue in 3:10 to Yuma, while the small subwoofer held its own against explosions and chugging steam locomotives. On the other hand, at loud volumes, the subwoofer maxed out with audible distortion in the explosive action scenes from The Dark Knight. At more modest levels, however, its performance was quite good.

Bottom Line
Although some soundbars sound okay without a sub, most people will probably sooner or later go searching for that lowest octave. And while paying extra for a sub is bad enough, tripping over its wires might be worse. The Boston Acoustics TVee Model 20 solves these problems with a nicely integrated, wireless system. And it provides good performance at a very low price. If you're shopping on a tight budget (who isn't?), this is an excellent choice.
LATEST VIDEO