Review Round Up: Soundbars Page 5
KEF HTF8003
Key Features
Price: $800 (HTF8003);$1,200 (HTB2SE-W sub only) Kef.com
• 3 coaxial drivers with 3-in midrange and ½-in tweeter; (3) 3-in woofers; (3) 3-in passive radiators
• HTB2SE-W subwoofer: 10-in woofer; 10-in passive radiator; 250-watt amplifier
• Dimensions + Weight Soundbar: 37¾ x 4¾ x 3¼ in; 13¼ lb
• Subwoofer:

17¼ x 15¼ x 7½ in; 26¼ lb



There are no decoders, amplifiers, surround sound processors, or other electronics of any kind in KEF's HTF8003. Instead, it relies on good, old-fashioned sound quality to make its presence known via matched left-, center-, and right-channel speakers.

Each speaker behind the fabric grille covering its sleek aluminum tube contains two drivers (one of them is a coaxial speaker with two elements) and a passive radiator. No gimmicks or tricks; they're boldly aligned across the front of the bar. Simple rubber pads and metal brackets allow placement on a shelf, and a metal wall mount is provided as well. Connections are made via six binding posts.

Hooking up the HTF8003 is as easy as wiring three speakers. Unfortunately, the spring-loaded binding posts do not allow use of traditional banana plugs and, oddly, weren't very good at securing small-diameter speaker wire. As with any speakers, I noted their response limitations and set my receiver for a "small speaker" configuration. Also, LFE content should clearly not be directed to these channels.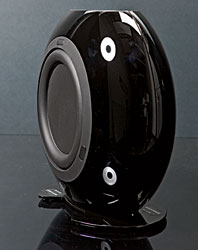 PERFORMANCE
I don't think I've ever heard a KEF loudspeaker that I didn't like. (Honestly, KEF engineers must sneak into my house at night and perform secret hearing tests on me, because all its speakers sound like they were tuned to my specific taste.) The HTF8003 is no exception. Sure, it's not in the same league as the company's pricey tower speakers, but it has the same unmistakable sound quality.

On Phoenix's "Lisztomania," from Wolfgang Amadeus Phoenix, the dry vocals were tight and spectrally balanced, the shimmering hi-hat was crisp (hmm, just a touch too crisp, but not harsh), and the electric guitar's upper harmonics were crystal clear, though maybe a tad too prominent. This meter-wide soundbar may lack surround modes, but the stereo-panned guitars and keyboards had a respectable spread. On truly monumental music — like the orchestral version of Clint Mansell's "Lux Aeterna," from the film Requiem for a Dream — the distant chanted vocals, urgent violins, timpani rolls, militant percussion, and soaring chorus sounded simply awesome.

For the low end, KEF provided its HTB2SE-W subwoofer. What can I say? This subwoofer is a work of art and a technological masterpiece. Whether placed vertically or horizontally, its egg-shaped styling is dramatic. And it's wireless, receiving audio from a transmitter that connects to your receiver. (It also has wired connections.) Either way, when I paired it with the HTF8003, I found the quality of its bass to be as dramatic as its styling. For example, on Kings of Leon's "Sex on Fire," from Only by the Night, the upfront, pounding toms were reproduced with plenty of firepower, and the kick drum was rock solid even at loud levels. When this subwoofer is paired with the HTF8003, the result is bliss.

Reproduction of movie dialogue in 3:10 to Yuma and The Dark Knight was excellent. As I found when listening to music, the HTF8003 has a propensity for presence, and this voicing distinctly boosted intelligibility without imparting coloration or other unnatural artifacts. Instead, dialogue was clean and clear.

With no surround modes or other processing, the sound field reflects exactly what three speakers sitting close together would sound like. That's nowhere close to an immersive experience, and the big action and chase scenes in Dark Knight were sonically reduced compared with some of the other models in this test. Of course, many people will augment the HTF8003 with surround speakers, but because the sound quality was so good, I was content with its small sound field.

Bottom Line
If you're looking to simplify your speaker situation but don't really want to dive completely into the powered-soundbar thing (perhaps you already have a perfectly good A/V receiver on hand), the KEF HTF8003 is just the ticket. By consolidating three speaker cabinets into one, it cleans up the front of your room while keeping everything else (including possibly your rear speakers) the same. Even better, its sweet sound is probably an upgrade from whatever you're listening to now. If you want a low cabinet count, stylish looks, and classic KEF sound, look no further.
LATEST VIDEO