Review: B&W P5 Headphones Page 2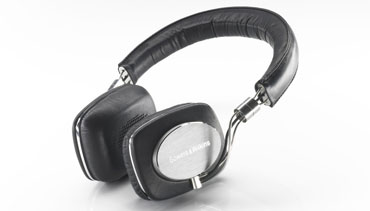 B&W clearly wanted the P5 to deliver a true luxury experience right out of the box. Everything about it oozes class, from the container and travel case, to the headphone itself with its supple New Zealand sheep's leather headband/ear pads and brushed stainless-steel framework. There's barely a sliver of plastic to be found anywhere. I have an XL noggin that usually tests the maximum limits of headphone size, and with the P5s I found its largest setting to be just about perfect.

Many travel-oriented headphones use active-cancellation circuitry to lower ambient noise levels, but B&W feels (and I generally concur) that this approach often results in weird tonal balance problems that negatively impact sound quality. For the P5, the company went with a much simpler solution that it calls noise isolation, which means designing the headphone to block out as much external noise as possible. To achieve this end, the P5's ear pads are cushioned using the same type of memory foam you see on some mattresses, which forms a tight-fitting seal with your outer ear. The closed-back design also helps block out external noise, as does the extra-sturdy metal construction.

As you'd expect from on-the-ear headphones, the P5 applies a moderate amount of pressure on your ears. The super-soft leather makes it very comfortable for shorter listening stints, but after an hour or two I would get the urge to lift it off my head for a few seconds to give my ears a rest. Many around-the-ear headphones make my ears sweat, but I found that enough air circulated with the P5 to avoid any sauna effect.
LATEST VIDEO